Updated: Dec 18, 2017
Published: Aug 19, 2016
Companies transforming education through Virtual Reality and Augmented Reality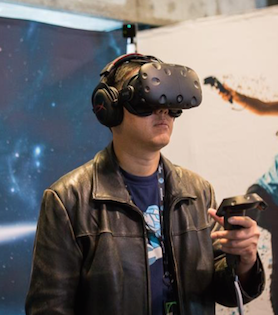 Post by Dave Okamoto, Senior Product Marketing Manager, AT&T Developer Program
The methods and tools that teachers are utilizing today have progressed significantly since the days of chalkboards, slide rules, and #2 pencils. Students are now learning in much more interactive ways, through the use of technologies such as laptops, tablets, and interactive "smart board" whiteboards. Virtual Reality (VR) and Augmented Reality (AR) could be the next technologies to transform the educational space.
Edgar Dale, an American educationist who developed the Cone of Experience – found that people generally remember 90% of what they see AND do, as opposed to remembering just 10% of what they read, or 30% of what they see. This is where VR and AR in education can be extremely beneficial, as these technologies will engage students in a completely new way, which should ultimately help improve their memory retention.
Companies Focused on Education through AR/VR
Several companies are currently building innovative platforms, applications, and immersive content focused on education in VR. We're highlighting below a few of the more innovative companies that we've researched, and will update this list over time.
Alchemy VR "believes in fully immersive storytelling, where the viewer no longer watches a story unfold on a television screen, but is instead placed inside the scene with action taking place all around them." Alchemy VR is working in partnership with several leading technology companies including Samsung, Google Expeditions, Sony, and HTC, and is in partnership with museums such as the Natural History Museum in London and the Australian Museum in Sydney. View the promotional clip of their award-winning First Life VR, narrated by Sir David Attenborough – a ten-minute short documentary that transports the viewer back to the Cambrian Oceans as they were more than 500 million years ago.
Blippar is a visual discovery browser that uses AR, artificial intelligence, and computer vision technology to transform how people connect with the world. The Blippar for Education platform includes a suite of three products tailored for teachers: an Educator Dashboard, an Educator Community, and a special Educator version of BlippBuilder. Through this platform, teachers will be able to make static images and diagrams come to life and add dynamic assessments during to text.
Cerevrum combines VR, cognitive neuroscience, and data-driven machine learning to improve your cognitive abilities. Ceverum has been described as a new approach to VR education – players are tasked with completing challenges to win the approval of gods in a universe filled with powerful spirits. Players are presented with a number of problems that they must use their brain to overcome rather than simply shooting their way out.
EON Experience AVR is an AR- and VR-based personalized learning library developed by EON Reality. It engages students with gamified AR/VR lessons across subjects such as anatomy, astronomy, biology, geography, history, and physics. EON Experience AVR was developed to teach the skills by enabling learners to explore, play, work as a team, compete, and be rewarded for achievements through AR/VR lessons – with the focus on learning while doing.
Google Expeditions enable teachers to bring students on virtual trips to places like museums, underwater, and outer space. Expeditions are collections of linked VR content and supporting materials that can be used alongside existing curriculum. These trips are collections of VR panoramas — 360° panoramas and 3D images — annotated with details, points of interest, and questions making them easy to integrate into existing curriculum.
Immersive VR Education's Lecture VR platform recreates historic lectures from the past and records any current live lecture to be replayed infinitely allowing viewers to learn in a more visual and engaging way. Lecture VR allows students to be joined by classmates from all over the world, and provides class tutors the ability to login from remote locations and answer students' questions. The company's goal is to provide a platform educators can utilize to enhance their students' education and to provide an alternative method for distance learning programs that give users a sense of being in a real location taking part in a real class.
Nearpod VR includes Virtual Field Trips, which brings real-world experiences to the classroom. Nearpod has a number of available, and the platform is easily customizable, allowing teachers to incorporate questions or quizzes into the lessons.
Unimersiv, dubbed as "the largest platform for VR educational experiences," believes that VR has introduced new levels of experiential education. Through Unimersiv, virtual 3D worlds allow students and teachers to visit places that would otherwise be impossible– they can go to space, historic places, deserts, or foreign countries without physically travelling there.
zSpace delivers a new way of learning with its flagship VR product, zSpace. Focused on STEM education, medical instruction, and corporate training, zSpace inspires and accelerates understanding through virtual reality. zSpace was named "Cool Vendor" by Gartner, Inc. and awarded "Best New Product" by Tech and Learning Magazine.
For more articles on AR, VR, and all things video, see our new AT&T Video and VR site.
---
Share this post