Updated: Dec 31, 2016
Published: Dec 31, 2016
VR/AR Challenge finalist Tone Tree provides a glasses-free AR experience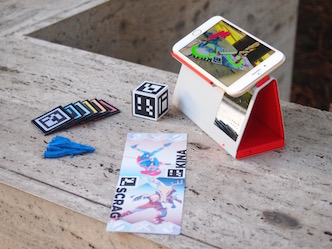 We received 67 submissions to our first ever AT&T VR/AR Challenge. After much deliberation, we've narrowed down the finalists (and one alternative) and will fly them to Las Vegas to demo their solutions at the 2017 AT&T Developer Summit and compete for a grand prize of $20,000. Here's your chance to learn about the finalists as we introduce each one in a dedicated blog post.
When Brian Cook, Ronald Sardarian, and Max Escaler met as roommates at Rensselaer Polytechnic Institute, they quickly learned they shared an interest in creative, accessible technologies. Together they formed Tone Tree and created an art project that turned the walls and floors of a building into an augmented reality (AR) musical instrument. At the projects premier, a little girl's wonder with the instrument inspired the team to push the idea further. After many iterations, an intense accelerator program led by Intel Education, and countless hours of development and user testing, they created OAK, a flexible platform for AR.
Oak is a platform that brings glasses-free AR apps and games to your tabletop. Just place your phone on the Oak Dock and your table will turn into an AR asteroid field, a music studio, or a battleground. Oak makes great augmented reality accessible for consumers and developing with AR easy for programmers. See how it works.
We caught up with the California-based team to learn more about their process and their outlook on developing for AR.
Q: What does the AT&T Developer Program and contests like this mean to you?
A: Aside from being a great opportunity to get feedback and test our app, we love to make friends and trade ideas with the AR/VR community!
Q: Why should the audience vote for your project?
A: Oak is a unique approach to AR. We want to get AR into as many hands as possible. Instead of developing expensive holograms, we are creating a robust, affordable platform for your phone that you can start using right away.
Q: What advice do you have for new developers just getting started in the field?
A: Find a space you are passionate about (e.g. Gaming, Construction, Cooking, etc.), and start talking to people who feel just as strongly. Learn about them and figure out how your passion for AR/VR can make their life better or more fun.
Q: What is the development background of all the team members?
A: Brian Cook has helped designed interactive technologies for world-class institutions like the Whitney Museum and venues around the world. Last year he completed a Master's Degree in Integrated Electronic Arts at RPI.
Ronald Sardarian is a skilled software engineer specializing in computer vision and AR. He has been building Games and Interactive Applications since Middle school.
Max Escaler has experience in marketing, branding and electrical engineering. In the past, Max has helped launch a marketing campaign for a wine company in Singapore, and designed an antenna system to connect rural schools to the Internet for a start-up in the Philippines.
Q: What technologies are you most excited about?
A: We love computer vision and mobile technology. We believe that mobile is the future of AR and it will bring a massive change to how we live our lives.
Q: What are your future plans for your project?
A: Our AR Card Game is the most popular of our three prototypes. As the first step in launching the Oak Platform, we plan to simplify the Oak hardware and release the game as a product in the near future.
Q: If you win, what do you hope to do with the prize money?
A: If we win, we hope to use the prize money to make more great AR apps for gaming, entertainment, and creativity.
What do you think of Oak? Do you think you can really get an AR experience on a tabletop? Let us know in the comments.
---
Share this post