Updated: Dec 28, 2016
Published: Dec 29, 2016
VR/AR Challenge finalist THiNKIMMERSIVE takes uses VR to explore the national parks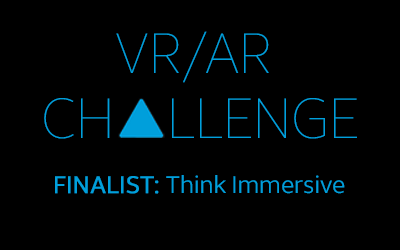 We received 67 submissions to our first ever AT&T VR/AR Challenge. After much deliberation, we've narrowed down the finalists (and one alternative) and will fly them to Las Vegas to demo their solutions at the 2017 AT&T Developer Summit and compete for a grand prize of $20,000. Here's your chance to learn about the finalists as we introduce each one in a dedicated blog post.
After spending too much time behind his computer hardware, Director of Technology and Photography, Radian Antarikso decided on a whim decided to travel across the U.S. with the goal of visiting and learning about as many National Parks as possible during a two-week expedition. While following him on his journey via social media his New York-based teammates Shannon Kester, Tina Annino, and Johnny Dunn wanted to join along… at least, virtually.
We talked with New York-based team members set out to raise awareness and educate others on the importance of real world experiences, and to remind each other that technology can assist and enhance these interactions.  They created a 360-degree immersive experience showing the beauty and variety of our national treasures. We talked to the group to learn more about their individual background and their interest in virtual reality (VR) and augmented reality (AR).
Q: Tell us a little bit about your team and how you worked together to create your entry:
A: As part of the Visual Mercenary Group and our THiNKIMMERSIVE VR/AR collective, we are co-workers, but began as very close friends. So we continue to share and exchange ideas and experiences on a daily basis.
Although we're different in many ways, we thrive on this diversity, as this supports our complimentary skill sets. We hope this comes through as we pair technology with our own passions and interests.
Q: What does the AT&T Developer Program and contests like this mean to you?
A: It is an honor to be selected as a finalist and we highly appreciate and look forward to the chance to exchange ideas with others in this dynamic field.
Q: Why should the audience vote for your project?
A: We do hope the audience realizes and agrees with the importance of using these technologies to encourage and support education – especially around natural experiences and connections.
Q: What advice do you have for new developers just getting started in the field?
A: Align with people, issues, and technologies that you are passionate about. Embrace and learn from the challenges, and realize those challenges are necessary for innovation.
Q: What is the development background of all the team members?
A: Radian Antarikso: Director of Technology and Photography is proficient in all of the available 360 photo and video capture and stitch methods, Unity Game Engine, C#, PHP, WordPress, JavaScript, Angular, Drupal, 3D Studio Max , Character Studio, Havok Physics Engine, After Effects, Flash, and HTML5 Canvas.
Shannon Kester: Producer/Project Manager has a working knowledge of Adobe Creative Suite, social APIs, and WordPress.
Tina Annino: Designer/Animator with a working knowledge of Adobe Creative Suite, social APIs, and WordPress.
Johnny Dunn: Coding Intern who has a working knowledge of JavaScript, Python, Unity3D, WordPress, MySQL, MongoDB, and PHP.
Q: What technologies are you most excited about?
A: It's really the convergence of technology that is most exciting. To see the big players try to top each other, the start-up ideas and communities build off of each other, with VR and AR technologies being the driving force. We feel Samsung has done a phenomenal job with its Gear VR at making VR attainable, while Unity has helped unleash creators, and we can't wait to see the opportunities Magic Leap will offer!
Q: What are your future plans for your project?
A: We'd like to add true spatial sound, more robust AR features and functionality, work on promotion to increase awareness and user adoption
Q: If you win, what do you hope to do with the prize money?
A: This prize money will help fund the next excursion/project as well as the gear we need to capture it in the most engaging way possible!
What do you think of the National Park Experience? Let us know in the comments.
---
Share this post