Updated: Dec 29, 2016
Published: Dec 28, 2016
VR/AR Challenge Finalist Faraday's Lab Uses VR to Teach People Basic Physics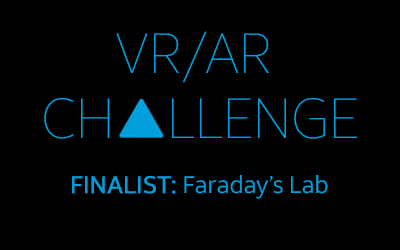 We received 67 submissions to our first ever AT&T VR/AR Challenge. After much deliberation, we've narrowed down the finalists (and one alternative) and will fly them to Las Vegas to demo their solutions at the 2017 AT&T Developer Summit and compete for a grand prize of $20,000. Here's your chance to learn about the finalists as we introduce each one in a dedicated blog post.
When Faraday's Lab team members saw a 7-year-old boy playing Fantastic Contraption, a VR game to solve mechanical riddles by assembling virtual vehicles with different parts, they realized how quickly a young boy could figure out some physics and mechanical rules by trial-and-error. The team began to wonder if they could create an environment to train a different kind of physic intuition in VR?
MIT neuro-scientist Josh Tenenbaum is doing research in studying the cognitive video game engine inside the human brain that shapes the way human brain interprets and predicts the physical world. We also noticed that it is not common to see electromagnetic interaction within games. In addition, VR can provide a deep impression if we provide a story and science history is always fun to learn. After few discussions, Faraday's Lab was started.
We caught up with team members Jackie Lee of Palo Alto, CA, Yero Yeh of San Francisco, CA, Chih-Shiang Chou of Santa Clara, CA, Yen-Ling Kuo of Cambridge, MA, and Alice Yang, of Cambridge, MA to learn more about their project and their team.
Q: Tell us about your project?
A: Faraday's Lab is a three-minute VR experience that demonstrates how to learn basic physics within an immersive, interactive, and rich historical context environment. Richard Feynman said, "Learning sciences is hard because it requires a lot of imagination." We designed Faraday's Lab to enable players to take Michael Faraday's perspective of seeing the "invisible lines of force."
During the experience, the player holds a bar magnet to interact and explore a series of electromagnetic experiments from the 19th century. Through the process of interaction, the player is able to see and experience the invisible magnetic field in order to gain intuitions and impressions with physics and stories. We hope this approach can provide an alternative way of learning physics while enjoying the playful interaction.
Q: Tell us a little bit about your team and how you worked together to create your entry.
A: We have one architect passionate about the history of sciences, two software engineers with physics background, one research scientist in physics, and one storyteller. We have been working on this project during a hackathon, weekends, and nights. The core team worked together to create this VR app in California and two teammates in Massachusetts helped solve engineering issues and build the stories. We built the 3D scene according to Michael Faraday's laboratory and discoveries. We implemented electromagnetic interactions based on Maxwell's equations of electromagnetism. It was not obvious to build vector calculus math with realistic electromagnetic simulation using limited real-time computing resources; However, our team is able to make a demo to show this is not impossible in VR.
Q: What does the AT&T Developer Program and contests like this mean to you?
A: This contest extends our momentum to focus on VR science experiment for education. It was the right time for the team to keep focusing on this project and complete the demo in order to get more feedback and discussions.
Q: Why should the audience vote for your project?
A: While improving K-12 STEM (science, technology, engineering, and math) pedagogy has been a top priority in United States, students still struggle to learn sciences. Faraday's Lab uses VR technology to turn learning abstract scientific theory into a more hands-on, exciting, and practical experience for learning elementary level of electromagnetism. To transform science education, we aim to prepare more students for the STEM field with better pedagogy.
Q: What advice do you have for new developers just getting started in the field?
A: VR is still too new for everyone, so you need to be patient. You don't need to be a game developer to do VR development because none of us made a game before.
Q: What is the development background of all the team members?
A: We have four software engineers/research scientists and one member with a background in education. Our architect/prototype designed the scene and made sure every part can be assembled at the end. Two research scientists with physics background implemented the magnetic interaction based on Maxwell's equations with C++. One software engineer laid down the foundation of building dynamic vector fields in Unreal Engine. Our storyteller/educator helped build storylines and tune interaction.
Q: What technologies are you most (excited) about?
A: The immersive-ness of VR is a new way of get impressed simultaneously by a lot of well-orchestrated elements – visual, audio, spatial perception, interaction, and storyline. However, immersive-ness is not an easy thing to be addressed right. This is where we see the opportunities for VR and science education, and we can do it.
Q: What are your future plans for your project?
A: We will be finishing up Faraday's Lab and release it on VR online stores for more feedback. We will develop more Faraday's Lab-like VR science education experiences into part of the ScienceVR project that has a series of classic science experiments. We are aiming for an alternative way of motivating people to learn elementary sciences in Virtual Reality.
Q: If you win, what do you hope to do with the prize money?
A: We would like complete the whole experience for Faraday's Lab and improve the project based on CES feedback. We will conduct user studies to systematically learn about every interaction towards VR science education and how to integrate with STEM agenda. We will finish up Faraday's Lab with more polished VR 3D assets, audio, and materials for high-quality VR storytelling (because the VR environment will give the user an impression from the first sight). We will be using the prize money to make the VR education experience more complete and well-crafted.
What do you think of the app? Let us know in the comments.
---
Share this post