Updated: Dec 18, 2017
Published: Aug 12, 2016
The future of virtual reality and sports – Olympics provide a sneak peek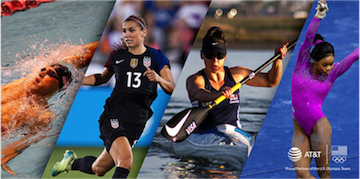 Post by Jeff Clark
The 2016 Summer Olympics are happening right now in Rio de Janeiro, Brazil, and like many households, my family and I are spending a good deal of our free time watching the athletes challenge themselves and each other for Olympic gold. In addition to the regular venues shown on DirecTV and Uverse, I took time to watch some highlights and matches recorded in Virtual Reality (VR) on the Samsung GearVR.
VR adds an additional perspective to watching sports. One of the keys is good camera placement so you get a feeling of being much closer. The ability to follow the action with your eyes and turn to look at the athletes is especially engaging. Being able to look around the venue during pauses in the action makes the games more realistic and takes away the remote feeling you get when watching via traditional methods.
There are a few challenges that come with watching the Olympics via VR. Just like sitting in the stands at an event, action that is far away can be harder to see. It's easy to miss something if you don't happen to be looking the right way. The best equipment today still doesn't have the resolution needed to match the experience of actually being there which can make it more difficult to see action far off. Of course, it can be hard to reach for the popcorn when you have a VR headset on.
Popcorn challenge aside, the future of sports and VR looks bright. I can see a day, soon, when increased resolutions on headsets relay an experience that is almost like being there. A scenario where the user will have the option of moving from position to position to see that jump shot replay from under the basket, and where player info can be found by just looking at them and pressing a button or making a gesture. By the time the next summer games come around, VR is poised to possibly be the best way of experiencing all the action.
Even with the technical challenges we have today, if you have a GearVR and an interest in the Olympics or other sports you should definitely check out the action in VR. I recommend watching the daily highlights, including the opening ceremonies for a taste of what could become the next great way to watch sports.
Download the NBC Olympics app and the GearVR version to get started. You will need to login with your TV provider credentials (your AT&T Uverse or DirecTV credentials will work) to see the action.
What are your thoughts? Do you think VR can be the next great way to watch sports? What challenges does the technology need to overcome? Will you write the "Where is my popcorn" app? Let me know in the comments below.
For more articles on AR, VR, and all things video, see our new AT&T Video and VR site.
---
Share this post