Updated: Dec 18, 2017
Published: Dec 09, 2016
10 Pivotal movies featuring virtual reality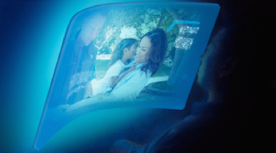 Once a core element of science fiction and Hollywood technothrillers, virtual reality (VR) is becoming mainstream. Whether we will be jacking-in for fantasy experiences or viewing events remotely, our life may soon mimic many ideas from Tinsel Town.
Take a look as we run through the 10 ground-breaking movies featuring virtual reality:
10. Gamer (2009)
Set in the not-too-distant future, where mind-control technology allows gamers to control criminals in a massive multiplayer online game called "Slayers," gamers control criminals in a modern close-combat war simulator.  While we hopefully won't be controlling other humans anytime soon, augmented and virtual reality systems combined with new motion capture technology like the Microsoft Kinect, will bring Gamers closer to the living room.
9. Virtuosity (1995)
An artificial intelligence (AI) is supplemented with the personality traits of the top 20 serial killers to train police officers using virtual reality. Things go horribly wrong when the AI escapes the confines of virtual reality. We've seen real-world released AI turn rogue by interacting with people on social media and even many search queries are influenced by a semblance of AI. Let's just hope machine learning stops there and doesn't carry on by adopting some of humanity's more regrettable traits.
8. Strange Days (1995)
This 1995 film set at the turn of the century follows an underground dealer peddling not in drugs or goods, but virtual experiences that allows users to disconnect from the real world to achieve their greatest desires. Whether it is experiencing the ski slopes of Aspen, returned extremities for amputees, or just experiencing the world through another's eyes, this underground trade created a way for people to leave their real world troubles behind. While our virtual experiences lag behind this 20-year-old technothriller, today we can freely use VR to watch virtual dinosaurs, glide through the mountains, or even watch a football game from the sidelines.
7. Surrogates (2009)
There might be a possibility that the person you talk to one day isn't present. While today we have drones and mobile telepresence devices, Surrogates takes the next logical leap and combine these two technologies as a way for people to interact without leaving their homes by using robotic drones as their real-life surrogates. Much like how drone regulations have been enacted because it is hard to know who is behind the camera, Surrogates investigates how the people behind the machinery aren't always what they seem. Today, we have the ability to use mobile, connected telepresence devices to move and interact with a remote environment—the next step may be connected, mobile robots.
6. Avatar (2009)
The James Cameron blockbuster takes a concept touched on at the end of Strange Days, where users experience the real world through the eyes of someone else. In Avatar, that concept is used to explore a new, alien world that is uninhabitable by humans without support. Recently, advances in controlling drones through virtual reality have made this a possibility and real-world uses for this technology are already present in search and rescue and scientific exploration. While we may not be sending connected surrogate lifeforms to another planet anytime soon, it is possible that we may be sending mechanical drones to explore uninhabitable portions of earth while we stay safe and secure.
5. Inception (2010)
While it may not fall squarely into the VR category we think of today, the concept of Inception uses a trope found throughout sci-fi and technothrillers—the ability to view and manipulate the subconscious mind in a virtual world. Even today, Time Warner and The Nielsen Company is studying how virtual reality affects the subconscious, meaning that a company planting an idea in our mind like Inception may be closer to becoming a reality in our lifetime than we would think.
4. The Matrix Trilogy (1999, 2003)
"There is no spoon." Matrix is what happens when the reality we know is actually the virtual reality to reality, but it all comes down to your favorite color pill. Currently, most of our VR experiences use decent computer-generated graphics to generate experiences we are unable to replicate in the real world. Live action VR is becoming more tangible and soon, we may be able to "jack-in" to our own real-world matrix experiences.
3. Star Trek: First Contact (1996)
Resistance is futile. The eighth feature length motion picture of the Star Trek franchise brings the Enterprise crew in contact with the Borg. Making its motion picture debut on the star ship Enterprise is the holodeck, which allows a realistic virtual world where the crew can interact. This allows for some interesting historical interactions to fulfill crew fantasies while on the journey through the final frontier. While holographic interactions aren't possible yet, new tactile gloves and bodysuits are making virtual realities even more realistic.
2. Tron Series (1982, 2010)
Just when you thought it was safe to bring a computer into your home, comes Tron, where Programs battle for sport and control of the mainframe. As a User, you are transported into this virtual world to free the oppressed programs from the Master Control Program. When Tron was released in 1982, this was a novel idea, and in 1996 we finally started our own virtual lives when the first massively multiplayer online game titles were released. "Won't that be grand? Computers and the programs will start thinking and the people will stop."
1. The Lawnmower Man (1992)
"By the year 2001, there won't be a person on this planet who isn't hooked into it, and hooked into me." – Jobe Smith (Lawnmower Man).  Stephen King's The Lawnmower Man is a progressive look at how virtual reality can help in therapy. Of course, being Stephen King, things go horribly wrong, but today we are seeing virtual reality being used for various anxiety, panic, and traumatic stress disorders. Aside from the theme of the movie, many of the hardware devices used in the movie are the same design of virtual reality devices we are using today.
Honorable Mention: Assassin's Creed
Assassin's Creed is based off the hit video game where by using a virtual reality machine called the Animus allows users to live their ancestors' life and experiences. Assassin's Creed will be released in December 2016.
Virtual reality has been used in films over the last thirty years. Over this time, the use of VR in cinema and in the real world has evolved. Initially when VR debuted in films, it was used as it is today—to view and interact in fantasy worlds. In these experiences, the user was interacting in the space as themselves, providing new and unique experiences. Over time, the VR experience in films changed to having users experience the world around them through the eyes of somebody else. Whether it is interacting in the real world through a machine or a fantasy world through a biological entity, the idea of being somebody else is prevalent through recent VR use cases.  With recent releases like Inception and Assassin's Creed, films may be evolving again to use virtual reality to hack our own subconscious to explore the unknown and the real world will likely follow their lead.
Where do you think films will take the use of virtual reality next?
For more articles on AR, VR, and all things video, see our new AT&T Video and VR site.
---
Share this post