Updated: Jan 04, 2016
Published: Jan 04, 2016
Top 20 Innovative apps presented at the 2016 AT&T Developer Summit Hackathon and video coverage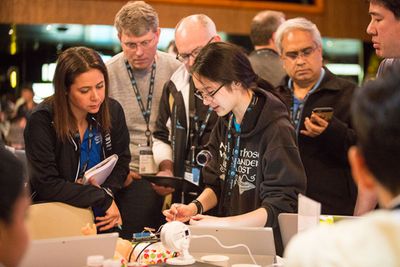 They came, they hacked, and they created incredible apps. Judges selected the top 20 teams to present their apps at the end of the event. Teams had three minutes to explain the problem they were solving, how their app accomplished that and demo it. Providing medical assistance, safe driving, and inventive new ways to interact with TV were a few themes that stood out amongst the 20 teams that presented.
We also had a live stream of the event courtesy of Geeks Life. If you didn't get a chance to watch the presentations, you can watch the recorded feed on Geeks Life. Without further ado, here are the apps presented at the 2016 AT&T Developer Summit Hackathon.

1. Team Baby's Breath: In an effort to combat sudden infant death syndrome (SIDS), this team created a solution to monitor the baby at all times. Using sensors, the app monitors the baby's breaths. If there is something to be alarmed about, the sensors can nudge the baby (often this can be enough to resume regular breathing) and send an alert message via Alexa. While parents are en route to the baby's room, the app will turn on the lights in the room and provide pictures of the baby in the room on your phone. Baby's Breath is "keeping generations safe so they can enjoy their life together."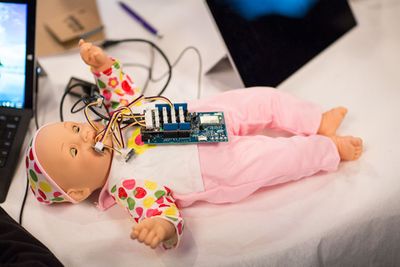 Technologies used: Intel Edison Board, Samsung Smart Technology, Alexa, M2X, AT&T Digital Life

2. Team Colorado: This team created a mobile and DIRECTV app that lets friends and family watch their favorite shows together. With this solution, a friend in New York can watch a show on DIRECTV and enter comments about the show as they are watching. The comments are saved and, when you view the show, your friend's comments appear on the screen at the time of the show when they made it. It's like you were watching your favorite show together.

Technologies used: AT&T Flow, Digital Life Alert, Node, Angular, Ionic, Native Android, DIRECTV

3. Team KineticCare: This team brings the concept of medical monitoring technology to the home. Using a SmartHub for the home, the app captures the vital stats of a user (for example, monitoring similar cardiac information about a patient as would a hospital). In the event of an emergency (cardiac episode), the system automatically alerts the appropriate emergency personnel. If the person felt well enough, they could hit the 911 button themselves or stop the call if they are indeed alright. Another element provides the data to the city so that they can better manage emergency vehicles.

Technologies used: M2X, AT&T Flow, AT&T Drive, Windows 10 IoT, Android, SparkFun Edison Blocks, Philips Hue Lights, WebRTC, Digital Life

4. Team Help I've Fallen: This solution is designed to detect if a person has fallen. When a person falls, the app notifies a son, a daughter, or even a neighbor (you can designate a person) that the person has fallen. The notified party can then check to see if the user has fallen by selecting one of the responses, such as push-to-talk to initiate a conversation, unlock the front door, or flash lights (useful for emergency personnel who might be on the way).

Technologies used: Plantronics headset, Samsung SmartThings, Digital Life, WebRTC, xMatters APIs, Node.js, AT&T Enhanced PTT APIs

5. Team Bingeez: Get p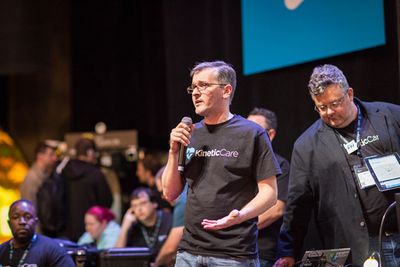 aid to watch TV. You simply pick a genre, and the TV will play the show that will pay you for watching. It will keep track of how much you earned while watching the show. Whatever credit you have at the end of the month will be deducted from your AT&T bill, and the remainder is added to a Bingeez credit card. Companies can use the dashboard to monitor a campaign, check on promotions, and more.

Technologies used: M2X, Sponsored Data, Data Rewards, Digital Life

6. Team See and Read: A multi-screen e-Reader that can help teach children to read. The app consists of two profiles: reader and viewer. While in the viewer mode, the child will see corresponding images along with the word for that image on the screen. Combining words with images can help kids learn to read. There is also a game component that includes quizzes.

Technologies used: Sponsored data, HTML5, WebSockets, DIRECTV

7. Team Vize: An app designed to incentivize kids to go to college. Based on a Scrum Board, the app has a bunch of tasks that work together to complete a project. As you the use completes tasks, you receive points that can be redeemed for rewards. This app could work in a classroom setting or kids can play against other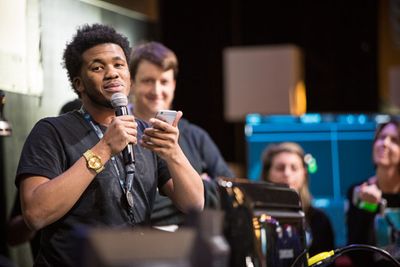 users around the world working on a sponsored project.

Technologies used: Sponsored data, Swift, native iOS (Swift), Firebase, Kandy.io, ATT Data Rewards, ATT Sponsored Data

8. Team Odysseus: The goal of this app is to stop texting and driving. The app allows parents or the user to set phone use restrictions when the car is in motion. Just because the user is driving a car doesn't mean a passenger can't use their phone. The app creates a bubble around the driver seat so if the phone is outside the bubble someone else can still use the phone.

Technologies used: Intel Edison, M2X, Native Android, AT&T Data Rewards

9. Team ElderEZ: Applying contextual awareness to elder living. As you get older, you can use this solution to dictate things you'd like to accomplish such as "unlock the car door" to your Plantronics headset. The door would be opened.

Technologies used: Plantronics, Samsung SmartThings, AT&T Drive, Parrot Rolling Spider, Bt.tn

10. Team School Zone Angel: With a focus on eliminating distracted driving in school zones, this solution uses beacon technology to identify a school zone. When in a school zone inbound calls will be interrupted, outbound calls will automatically stop, and a verbal message that says "cell phone use is prohibited in the school zone" would be emitted from the handset.

Technologies used: Android, Node JS, IQ Connexus (from Portnexus), Tango Networks, Mobility API (AT&T Office Direct), AT&T Enhanced Push-to-Talk API, WebRTC, and AT&T Drive

11. Team LevelUp: With this app, kids must complete chores to earn points to unlock rewards in the connected home. For example, a child wants to enter the game room, but the door is locked. As the child completes a certain amount of chores in the home and earns rewards, the game room door will automatically unlock.

Technologies used: Angular.js, AWS, Node.js, Materialize, Bootstrap, Jquery

12. Team Mirror Mirror: This solution uses the mirror as a central command dashboard for the home. You use gestures and voice commands to manage the smart devices such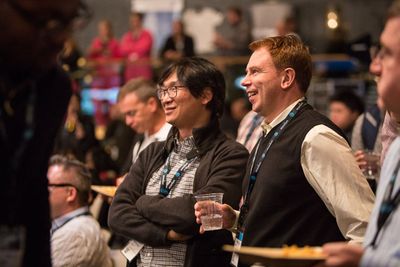 as locks and thermostats in your home. It also collects data about the amount of energy you use in the home.

Technologies used: AT&T Digital Live, M2X, Flow, Sponsored Data, Data Rewards

13. Team Mercury Life Saver: When catastrophes occur, ordinary people do extraordinary things, and this app can help. For example, if someone witnesses an accident, they can press the help button in the app. An emergency responder at a hospital receives the information and can advise the person who initiated the report how to assist the people on the scene until first responders arrive. If the two somehow become disconnected, the person at the hospital will have the caller's number and can call them back.

Technologies used: SMS API, WebRTC, Phonegap/Cordova, Node.js, Near Field Search Google API, Geospatial API, 4G LTE

14. Team Quiz.TV: Parental controls that help reduce how much TV kids watch. This app is designed to make TV more interactive and more educational. Parents can pause TV by activating quizzes any time of day. The quizzes must be completed and answered correctly before the TV will continue broadcasting a show.

Technologies used: Ionic/Cordova, Socket.io, JavaScript, Angular, Watson, DIRECTV, IBM Bluemix, WebRTC, Kandy.io, AT&T Data Reward API

15. Team Home Brain: A combination of hardware and software aimed at conserving and protecting resources through monitoring your environment. It can measure and monitor things such as energy efficiency, water quality, and gas leaks.

Technologies used: 310C, I2C, C, Linux, Node.js, sensors, AT&T Smart City, AT&T Flow Designer, M2X, NodeRed, AT&T Flow, IBM Bluemix

16. Team MemoryLane: An app created to improve the quality of life for those affected by Alzheimer and their caregivers. The app has multiple use case scenarios including providing patients with audio and visual cues to take medications on time. Also, the app automatically turns on lights in the room, if a patient gets up in the middle of the night. It also provides activity reminders such as "take a walk."

Technologies used: Native Android App, AT&T Push to Talk APIs, FRDM Board, Alcatel OneTouch XESS, ARM mbed

17. Team SafeRoadz: An app that uses sensors and the data they collect to make cities safe for drivers. Sensors detect what type of hazardous condition is on the road (pothole or a slick spot) and report that data to city administrators, who can send out alerts about road conditions to other drivers on the road.

Technologies used: Intel Edison, M2X Bluemix, Google Cloud APIs, AT&T Flow, M2X, Ionic, Node.js, Firebase, Javascript

18. Tea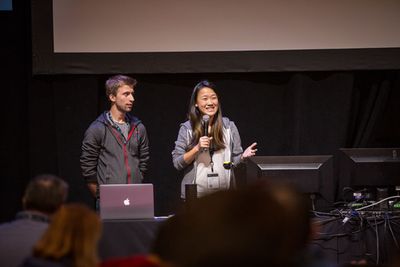 m Peer: A web-based app that communicates with hardware (in the scenario presented it was a video camera) to send position and action commands to the camera. Another example is having a camera setup in your home, and you can use the app to check-in while out of town. If you see the lights are on, you can send a command to turn off the lights.

Technologies used: Unity, Samsung Gear VR, Amazon AWS/Lambda, JavaScript, M2X, AT&T Flow Libraries, HTML/CSS/JQUERY/Bootstrap

19. Team SnapDirect: An app for use with DIRECTV, each family member has a board that they use to save "content" seen on TV. For example, say you're watching a show, and you like the outfit a character is wearing. You can save information about the outfit to your board and share it with social media or perhaps, even purchase the item. You can also use the feature to save geographic locations. "SnapDirect brings your experience to life in a snap."

Technologies used: comNode.js, JavaScript, Android OS, Palse, CSS, HTML, ARO, DIRECTV

20. Team Voatz: A mobile app that redefines the voting experience. The high-security voting platform uses the biometrics on your phone and multiple forms of ID to confirm your identity. Once confirmed, you can cast your vote. Security isn't one-way; users can customize privacy controls and determine how long their personal information will stay in the Voatz system.

Technologies used: M2X, AT&T Sponsored Data, AT&T Data Reward, Whitepages PRO, Native iOS app, Blockscore ID Verification API, Blockchain.info API, Typesafe Play Framework
Please notes that many of these apps can do more than what's described here, these descriptions are a recap of the team presentations. Want to see how all the magic happened? Watch the video below.
Do you have a favorite app in this group? Let us know which one it is and what you like about it in the comments.
---
Share this post