Updated: Aug 28, 2015
Published: Aug 28, 2015
Top 10 Summer Blockbuster Films and the Tech That Made Them Great
Guest post by Dave Curlee, with Dave Peterson and Gord McLeod from Geeks Life
Make sure to add your 2 cents in the comments section so the next movie you go to is on the AT&T Developer Program! See terms and conditions attached.
It's Summer Time, Summer Time, Sum-sum-summer Time!
When I say "Summer Time" what's the first thing that comes to mind? Vacation? NO SCHOOL!?? Taking a dip in the pool? Those all scream SUMMER to me. More and more, I'm starting to equate huge movies with summer. Let's take a few minutes and talk about the enigmatic "Summer Blockbuster" and the technology that the films brought to the cinema.
When did this concept of blockbusters start? When do you remember it first becoming a thing? I've been noodling over this for a bit, and think that my first recollection of it, was back when I was a kid. I remember going to see Star Wars at the movie theater. I clearly remember it being packed in there, too. I also remember the WOW factor hitting me when that star destroyer first came screaming onto the screen.
As it turns out, Star Wars was the second box office record shattering summer film. Until 1975, movie studios considered the summer movie season to be a financial graveyard. "Who wants to sit inside a dark movie theater when they could be hanging ten at the beach??"
Dave Peterson, GeeksLife.com Editor In Chief remembers when all that changed. It was the day in 1975 when the legendary Steven Spielberg dropped a killer shark on the world. In the '70s and '80s, no one delivered the summer popcorn munchers like Steven Spielberg. "Jaws" is enjoying its 40th anniversary this year, and in many ways, it set the model for summer blockbusters. It was the first movie I remember that people bragged about seeing, and then bragged about seeing it multiple times. Stars Roy Scheider, Richard Dreyfuss, and Robert Shaw all delivered iconic performances while adding a number of quotable movie lines to the pop culture canon. Set at a beach resort town on July 4th weekend, it's the perfect summer film if you enjoy a little sun, a little surf, and a few tattered tourists.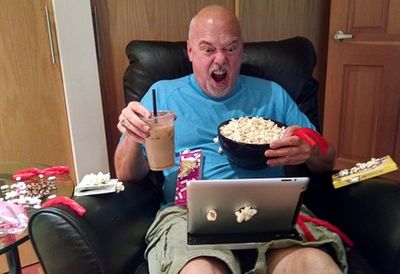 So, if Jaws introduced us to the summer blockbuster, then it begs the question, "What are the best Summer Blockbusters of All Time?" And what technical accomplishments (real and fictional) made them unforgettable? This list may not be the definitive, most financially accurate list, but it's the GeeksLife.com list and well, that makes it better.. 😉 The list is ordered by release year, for your convenience.
10. Jaws (1975)
To sell the concept of a giant predator just off the shore, Jaws went the direction of having a mechanical shark (famously nicknamed "Bruce") after shark experts told the filmmakers that they wouldn't be able to train a real shark for the role.
9. Star Wars (1977)
Back in the early 1970s, George Lucas was scribbling a space opera on a yellow legal pad. After battling with studios, naysayers, spending a few million dollars and having a nervous breakdown, George Lucas was having lunch across from a movie theater in LA and noticed a huge line of people waiting for tickets. He asked what the hubbub was about and was told that they were waiting to watch a new space movie, "Star Wars." Even he was surprised by its success.
A huge part of the film's appeal was in the special effects. Lucas wanted to do things that had never been done in film before and established a new company, Industrial Light and Magic (ILM), to pull it off. For that first film, ILM developed technologies such as the motion control camera system that used a computer to move the camera exactly the same way through a model setup as many times as was necessary to get the shot.
8. Raiders of the Lost Ark (1981)
"Raiders of the Lost Ark" introduced us to Indiana Jones, an archaeologist with a whip, a gun, and more mileage than years. Whether running from a giant boulder, fighting Nazis for a sacred relic, or facing his fear of snakes in an Egyptian tomb, Harrison Ford brought us along for the ride of our lives. While Spielberg and co-creator George Lucas showed new generations the fun that could be had with the Saturday matinee movie serial style. Just don't trust that guy Satipo – there is no way he's throwing you the whip.
For the shot of the Pan Am clipper spinning up its engines to take Indy to Tibet, the filmmakers used an actual airplane they found in a land-locked retirement. A matte painting was used to make it appear to be resting in water next to a dock, and only one propeller is seen turning because only one engine still functioned on the plane.
7. E.T. The Extra-Terrestrial (1982)
When "E.T." phoned home, millions of viewers around the world answered the call. Just one year after Raiders, Spielberg was back to rule another summer. This time he was taking us on a tour of suburban California as seen through the eyes of an alien explorer who got left behind when his ship departed.
E.T.'s look was the work of Italian sculptor Carlo Rambaldi, whose work had previously been seen in the 1976 remake of King Kong and Alien. The three E.T.s (a walking costume worn by an actor, a puppet operated with cables, and one run with electronics for finer detail facial expressions) took six months to complete at a cost of $1.5 million.
6. Ghostbusters (1984)
"Don't cross the streams." In 1984, New York was attacked by Gozer the Gozarian. Who? I don't know, but he/she was one bad mother. Saturday Night Live alums Bill Murray and Dan Aykroyd were joined by Harold Ramis, Ernie Hudson, Rick Moranis, and the lovely Sigourney Weaver for a new kind of ghost film: "Ghostbusters." One where they can be lassoed and captured by backpack-sized nuclear accelerators, hopefully without destroying the whole city. The world loved it and an instant cult classic was born.
The film was nominated for an Academy Award for its supernatural special effects, but ultimately lost to that year's Spielberg blockbuster, "Indiana Jones and the Temple of Doom."
5. Back To The Future (1985)
A slacker. A mad scientist. A DeLorean that's a time machine. Kissing your mother… What more could you ask for? Spielberg hit it HUGE again, this time as executive producer, with what has become a classic, beloved movie that almost still holds up. I say almost because in today's high-def home viewing experience, we can see the age makeup pretty clearly on the old version of doc, but the story is solid and the DeLorean is still on every fanboy's must have list. And the fact that so many iconic images and one-liners have permeated our culture cements this as one of the greatest of all time.
The film also gave us a major contribution to the realm of fictional technology with the Flux Capacitor (which, of course, makes time travel possible).
4. Jurassic Park (1993)
"Jurassic Park" struck a chord across the world. The idea that science might be able to restore the dinosaurs captivated the imagination of young and old alike. The movie showed us what dinosaurs might actually look like in a way we'd never seen before. It was one of the very first big summer blockbuster CGI hits, and changed the way we looked at film forever. When audiences got their first good look at dinosaurs that existed only in a computer, they were also glimpsing a special effects trend that continues to this day.
Twenty-two years later and now we have "Jurassic World," in many ways it's a love letter to that first "Jurassic Park" film. One of this summer's biggest hits, the filmmakers sought to recapture the sense of wonder, excitement and terror that "The Lost World: Jurassic Park" and "Jurassic Park 3" largely failed to deliver.
3. Independence Day (1996)
The world is being invaded. Alien ships are hovering over every major city, and they're unresponsive. Then the clock runs out and the purging of Earth begins. Something unexpected happens: Earth unites and uploads a little virus to the mother ship and boom! Randy Quaid dies and Will Smith wins. And win he did. From that movie forward, we stopped thinking of Smith as the Fresh Prince, and started thinking of him as a gigantic summer blockbuster leading man / action hero.
"Independence Day" really brought the summer blockbuster into the '90s in a big way. After its release, and for many years to come, that July 4th weekend became the huge moving target to hit for movie studios. The film was also notable for being an early example of a plot that turned on a geeky principle – the uploaded computer virus that crashed the invaders' computers, and eventually their starships.
2. Star Wars Episode I: The Phantom Menace (1999)
Like it or hate it, there is no denying that this was one of the most anticipated movies of all time. It had been 16 years since fresh Star Wars stories had been seen on the big screen. An entire generation had grown up and started having their own kids. The season was ripe and "The Phantom Menace" hit big.
George Lucas' return to his iconic universe was marked by a heavy reliance on digital sets and characters that had actors spending a great deal of their time on green screen sets reacting to things that they wouldn't see until many months later when the film was finished.
1. The Avengers (2012)
Comic book and superhero fans had been waiting for this kind of a movie for decades. Marvel had already proven that they could score big with fans with "Iron Man," "Thor" and "Captain America," and now it was time for the "Avengers" to assemble. With Joss Whedon both directing and writing the screenplay, this was a comic book film that could be enjoyed by both lifelong fans and people who knew nothing about the characters.
Tech-heavy moments such as the S.H.I.E.L.D. heli-carrier rising from the ocean to take flight, and the final battle in New York City placed viewers firmly in the comic book realm. As often happens, New York came out on the losing end of this meetup, but the audience was the clear winner.
What Do You Think?
So, there's the 10 movies released in the last 40 years that have made the biggest splash in our summers, and the technology highlights that made them possible. Everyone's got their own favorites, so what movies would make your geeky blockbuster summer list? Let us know in the comments.
Remember your comment gives you a chance to win a $35 Fandango gift card. Your next movie could be on the AT&T Developer Program!
Interested in other movie posts on our blog? See 10 Apps Star Wars Characters Might Create and The Incredible Manifestation of 12 Bizarre Back to the Future II Tech Trends We Use Today
---
Share this post