Updated: Dec 17, 2012
Published: Dec 17, 2012
Top 10 Hackathon Apps of 2012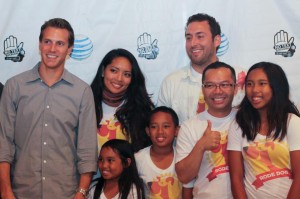 As 2012 comes to a close, it's exciting to look back at our accomplishments. Altogether we've sponsored 29 hackathons in four different countries resulting in over 500 new mobile apps! Thousands of developers joined us in creating apps for everything from texting while driving to fitness competitions and social services. It's been an exciting year for the AT&T Developer Program and we're looking forward to kicking off 2013 with a bang at our upcoming Developer Summit in Las Vegas.
With over 500 apps to choose from, coming up with our top 10 was not an easy task. We looked at several categories including UX, innovation, and how well it addressed the problem(s) we set out to solve at the hackathon. Here are our top 10 in no particular order:
Grade Support – Grade Support is a revolutionary app that is designed to aid a student to track his/her grades and ways to improve them. The parents are notified at every grade change with a text, email, push notification, or a combination of these. The students can tell what their grades are currently, what their grades will be after a specific assignment, and can use a universal search bar that searches the best websites for a particular subject to guide the student in the right path. They are able to contact tutors/mentors or teachers with a text message if they need more help. They have a graph of their current grades, and can see their current and future assignments, and can complete them. The student is essentially supported to have a better grade at school, and to learn more. (Palo Alto – Social Good)
Relay – This mobile app allows people to express themselves in public spaces by creating art in augmented reality. The broader goal is to start a conversation about how we appropriate our common space. (Boston)
Rode Dog – Created by 11-year-old Victoria Walker and designer David Grau. My parents have a really bad habit of texting and driving. I'm really worried that if I'm not there to tell them to stop, they could get into an accident. Rode Dog is a web platform and mobile app that prevents people from texting and driving. It sends a loud bark to your phone when it detects usage while on the road. (It Can Wait Hackathon – Santa Monica)
MEDS (Mobile Emergency Dispatch System) – Mobile Emergency Dispatch System (MEDS) allows you to harness the power of your smartphone to provide similar functionality as that of OnStar or ADT. Normally, these services are only offered through new vehicles or expensive home surveillance systems. On the flip side, MEDS allows you to take advantage of all of these features from the convenience and accessibility of your smartphone. MEDS is designed to be used anywhere, by anyone. (Miami)
Remedi – Get a handle on your medical insurances the free and fast way. Remedi does all the work of organizing and categorizing your medical insurances for you on your mobile device. Provides alerts on appointments and prescription pick-up and identifies your provider information. Locate local physicians in your network. Access reviews of medical providers. Helps you make healthcare decisions you feel good about. (Los Angeles)
FollowMe – Our app makes road trips more fun! We allow people traveling in multiple cars to navigate using our app. Each user will be able to view and interact with their friends and their location so nobody gets left behind. All cars plot on your map making it easier to follow one another. To makes things fun, we have added group chat between cars so people can communicate about things to see on the way, places to stop, or to just tell you how slow you are driving! When someone finds a Point of Interest and agrees that everyone wants to make a pit stop, one car can change the route for everyone else and presto, everyone's route is changed! (San Francisco)
PoachBase – A recruiting service that uses Crunchbase data to determine which startups may soon fold, and who's worth swiping away from them. (TechCrunch's Disrupt NYC)
Local-Motive – Local-Motive is a location based app service that allows the user to find nearby charities, fundraising, and volunteering opportunities. This will be a double win for users seeking services, and also organizations who desire a social avenue to promote their charity endeavors. (Miami)
RaaSIO (Robotics as a Service IO) – Provides a cloud service platform for rapid deployment of integrated mobile, cloud, and robotics autonomy. (Seattle)
3rd ° (third degree) –- An app that allows users to connect to a conference system that will queue their questions for a moderator that can visually manage the questions in real-time, but in a non-linear fashion". (Atlanta – WebRTC & Call Management APIs)
There were a lot of amazing entries that didn't make this list, so if you're looking for more inspiration, be sure and checkout all of the hackathon recaps on our blog.
If you'd like to learn more about our hackathons, read Alex Donn's articles on Why You Need To Attend An AT&T Mobile App Hackathon and Are You Ready For a Hackathon? You can also find a list of upcoming hackathons on Eventbrite.
Let's hear from you: What were some of your favorite apps developed in 2012 and what types of hackathons would you like to see more of?
---
Share this post