Updated: May 22, 2014
Published: May 22, 2014
The Internet of Things: Rube Goldberg Eat Your Heart Out!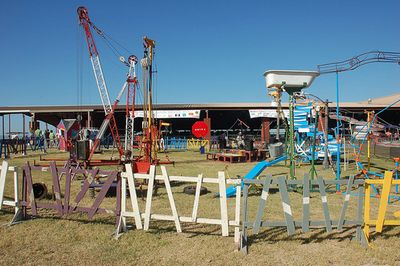 By Peter Rembiszewski, Principal Product Dev Engineer
What do a shoe, a bucket of water, a car, and globe have in common? Maybe nothing, maybe world domination, or just maybe they can get you to work faster by working together. How, you may ask? The answer is through the Internet of things, the new inventor's playground.
We have all seen them, those crazy machines that do simple tasks with a huge number of very complex activities that seem unrelated. Perhaps it all starts out with a shoe on a pendulum which swings to hit a bucket, which causes a bucket to tip over and pour out its contents, releasing weight on a lever, which allows a miniature car to roll down the other end of the lever and strike a globe, which begins to roll down a channel and hits you in the head, thus waking you up and getting you running. Ok, so maybe this is not the best Rube Goldberg machine out there, but you get the picture of how it works.
Now you may be asking, "Why in the world would I want to make a series of such unrelated objects work together?" With a few simple substitutions, you will begin to see that this may not just be a reality, but may be highly useful, as well. Let's start with the shoe mentioned in the scenario above. Increasing we are seeing an explosion in the area of wearables — enhanced clothing and accessories (glasses, watches, pendants, jackets) that can gather data as we use them. The bucket of water represents the smart objects and appliances such as refrigerators, coffee makers, rain sensors, etc. that are all connected and able to send/receive data and react accordingly to events or changes. The car represents the huge amount of connected vehicles. Finally, the globe represents the Internet itself.
Suddenly, we can see where each of these items has a piece of data that can be used by itself, or shared with each other to create very complex systems that can do amazing things. Many of these ideas and technologies are not new, but recent advances in miniaturization of computing platforms, abundance of connectivity options, and cloud computing is making this a reality.
Great examples of smaller computers include the Raspberry Pi, Arduino Uno, and Intel Nuc. ARM, Intel, and others are pushing the sizes even smaller with projects such as the Edison board, an SD card based platform. These smaller and smaller chips are allowing processing platforms to be placed in the interior of everyday appliances. With a little ingenuity and a 3D printer, any number of accessories can be envisioned.
These devices can all communicate via Ethernet, Wi-Fi and GSM, as well as one of the newer standards, Bluetooth 4.0, Low Energy. This latest specification of Bluetooth is geared at optimizing the sending and receiving of small amounts of data. This is allowing for the use of smaller antennas and batteries for sending data. We are not talking about hours on a charge anymore (such as is the case with a Bluetooth headset), but months or years.
Finally, the explosion of cloud usage is allowing a lot of processing power to be moved away from devices to the cloud. Agents in the cloud can store, aggregate and process all of the data being captured by all of the things (devices and sensors) and can decide what information to pass between each. These analytics can also become a veritable goldmine for data scientists granting the ability to identify patterns of usage.
Hopefully this has started the wheels turning inside your mind about all of the potential within the Internet of Things. There is enough in the game for developers, hardware manufacturers, data analysts, and everybody else to play. In future blogs, I will be making a deeper dive into different pieces of this area, such as Bluetooth LE or the Raspberry Pi.
So if you have a great idea that others may think is a little outlandish, the Internet of Things may be the perfect place to you.
Photo via Flickr from Patrick under Creative Commons
---
Share this post