Updated: Sep 07, 2014
Published: Sep 07, 2014
The Gap – Part 1: General Versus Specific Computing Devices
By Guest Blogger Sean Newton of STMicroelectronics
The year was 1981, a significant year in technology…for me, anyway. I was a high school student visiting a friend in Oregon for a few days during winter break. His family owned an Apple II computer. For those, life-changing few days, I gained my first experience programming in a higher level language on that Apple II computer. Of course, we were also enjoying some of the games available. When my parents met me at the train station on the return home, I eagerly regaled them about the experience and was surprised when we stopped by a business computing store. My father was way ahead of me. He went in and bought an IBM PC.
Prior to that event, I had been enthralled with programmable calculators. Both my grandfather (a surveyor) and father (a chemist) were early adopters of the HP programmable calculators (goodbye slide rulers!). The first one I remember tinkering with was the HP-65. It could read/write programs from/to magnetic strips.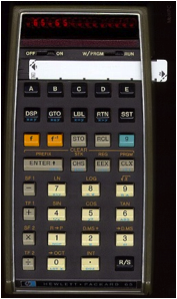 Image from http://www.hpmuseum.org/65.jpg
A few years later, my father bought an HP97S. Hours of programming fun.
Finally, in 1981, the same year, my dad bought his IBM PC, the HP-11C made its debut. This was the ultimate calculator: small, handheld, and programmable. I used it through college and at work through the 90's. Programs were stored in non-volatile memory with a maximum of 231 programmable steps.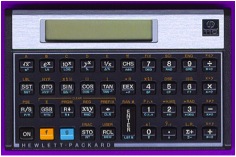 Image from http://www.hpmuseum.org/11c.jpg
With the arrival of the IBM PC in our home, the world of computing really opened up to me. The graphics capabilities alone were astonishing. The first word processing and spreadsheet programs instantly made typewriters and calculators obsolete. And the fact that you could save all your work on a 5 1/4″ floppy drive was simply head-spinning.
However, there was only one major downside: form factor. Like the old console stereos and the large, blocky TV sets, it was pretty much a big, solid, and fixed piece of furniture. Anytime you had to relocate it, you had to disassemble all the pieces, reassemble it, and ensure it had electrical power. Since there was only one, multi-sharing was the norm. "Dad! Get off the computer; I have to finish my English report!" (Although playing the games was really the first order of business). My HP-11C calculator would become my primary portable computing tool of choice until I started using my first "laptop" (or back then "portable") computer. If you're an engineer, you may have a similar history.
Another striking difference was the power required for both devices. The IBM PC had to be plugged into and tied to a wall for power (using a 63.5 watt power supply). Consider the HP-11C; it used 3 SR44 coin cell batteries (run-time power of ~1mW) and there are reports of the batteries lasting up to 20 years – check it out.
One thing was immediately obvious, although I didn't have a term for it until much later. I call it "The Gap" – the difference between the computing device necessary for a general computing appliance (e.g. PC, notebook, laptop, smartphone) and the specific computing device (e.g. handheld calculators, remote controls, thermostats).
I will expound upon these differences in part 2.
---
Share this post