Updated: Dec 15, 2014
Published: Dec 15, 2014
The Future of Wearables will be Shaped by Developers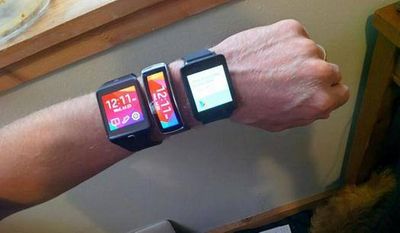 By Dan Ledger, Principal, Endeavour Partners
If you're building or working with wearable technology, these are exciting times. 2014 has been a particularly interesting year with the likes of Apple, Google, and Samsung bringing powerful new device platforms into the market. And several other players have been releasing an increasingly diverse collection of wearable products that are enabling a broadening set of use cases.
The devices we see today are already a vast improvement over the devices that entered the market just 18 months ago. What is particularly exciting about this space is not the progress we're making today, but rather the promise of what wearable devices will become. The industry is working toward experiences for wearable users that extend well beyond the relatively simple activity trackers and smartwatches of today. In the future, wearables will provide a unique set of experiences that help more of us live healthier, happier and more productive lives.
The path to this bright future is going to be difficult. The broader industry must address several significant challenges before it can begin to realize these idealized experiences and truly achieve mass-market adoption of wearable technology. These issues run up and down the stack from shaping consumer perceptions to designing lower-cost components and more robust biosensors (and everything in between).

Developers are going to be playing an increasingly important role in helping the industry work through the array of challenges that it faces. Developers now have access to hundreds of APIs from device manufacturers and service providers, and an increasingly diverse set of device platform SDKs upon which they can develop apps. With these resources and the data that will be generated from these devices, developers will now begin accelerating the pace of innovation in both the design of wearable experiences and the benefits that these experiences provide. These apps and services will provide benefit to a broader, more diverse population than fixed function devices do today, and they will help keep the wearables experiences novel (and hopefully help address the high abandonment rates we see today). Most importantly, they'll help us crack the significant challenges we face in terms of deriving meaning and insights from the vast amount of data we're collecting.
Developers will face their own set of challenges as they begin working on apps that run on wearable devices, or services that use the data from them. We are in relatively uncharted territory when it comes to user experience design, and there are many platform and API horses in the race to which you can hook your wagons. Regardless, there are immense opportunities for developers, and the industry desperately needs their creative and novel thinking.
I'll be moderating a panel exploring the potential of wearable devices at the 2015 AT&T Developer Summit. Watch for the track session entitled Executive Panel: Wearables – Connecting Fitness & Health for Consumers. I hope to see you at our panel and the Developer Summit.
---
Share this post