Updated: Mar 04, 2014
Published: Mar 04, 2014
Telecoms.com Award Recognizes AT&T for Innovation and Excellence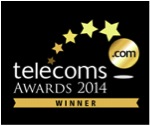 At AT&T, we're working hard every day to deliver new, innovative services that help developers succeed. One of those services, the AT&T Speech API, recently won an award on February 24th at Mobile World Congress (MWC) in Barcelona for Best Consumer Cloud Offering.
The award was open to mobile and wireline service providers as well as operator/supplier combinations worldwide. It was based upon innovation of service offering, functionality, flexibility, targeting, collaborations, and uptake and usage.
It was an honor to receive this award from Telecoms.com and highlight the Speech API at MWC. As we push to innovate, this service is just one example of where AT&T is helping to enable developer success. Here are a few other ways AT&T is bringing innovation to developers:
Sponsored Data
With Sponsored Data, data charges from eligible users are billed directly to the sponsoring company while the customer simply enjoys the sponsored context from AT&T's mobility network and is delivered at the same speed and performance as any non-Sponsored Data content.
M2X
As the "Internet of Things" continues its rapid expansion, AT&T is leading the charge with our M2X platform – a fully managed cloud-based service for network connected machine-to-machine (M2M) devices.
Connected Car
Our state-of-the-art Drive Studio highlights the innovative world of 21st century capabilities and services that we want to bring to vehicles; greatly enhancing not only safety but convenience and efficiency.
And much more…
We're not stopping here. As the world becomes even more mobile, we are entering remarkably exciting times. From web-based calling to enabling speech in your apps, we're working to build the services that will help you the developer, innovate quickly and provide a differentiated experience to your customers. We're very excited about where we are, the road ahead, and that we'll have our great developer community grow along with us.
---
Share this post