Updated: Oct 08, 2016
Published: Jul 17, 2013
Talk More. Play More. Get Speech for Unity.
Five lines of code – that's all you need to speech enable your app using the AT&T SDK for Unity. It's simple, flexible and powerful. Our objective was to empower developers building games and other apps using the Unity engine to easily invoke the AT&T Speech API. Speech adds a new dimension allowing gamers to multi-task – issuing voice commands while playing MMOs or for quick load outs in RPGs and much more.
The SDK leverages the power of the Microsoft® .NET platform and AT&T services. This includes a wrapper library, full API documentation, guides to installation and setup, and working code samples. The wrapper library significantly reduces the complexity of building applications that use the AT&T API Platform services.
The wrapper library provides access to the following AT&T APIs:
Speech To Text, Speech To Text Custom, Text To Speech
SMS, MMS, In-app Messaging from Mobile Number
Location
Notary
Payment
Call Management (Beta)
Advertisement
Adapting AT&T Speech API
Read the steps below to see how easy it is to integrate speech into your app with AT&T Speech API:
1. Copy ATT_MSSDK.dll into the source code. This library is available in the package at:
2. Create an instance of RequestFactory class, by passing API Key, Secret, Endpoint and Scope information.

API Key – API Key of the registered application in AT&T Developer Portal.
Secret Key – Secret Key of the registered application.
Endpoint – The API gateway end point.
Scopes – List of scopes registered by the application.
3. Capture the audio using Unity 3D functions.

4. Pass the captured audio to create a wav file. (NOTE: Speech API accepts other formats as well. Please refer to the Speech API documentation)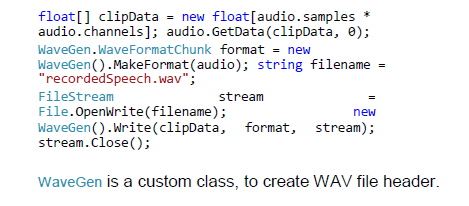 5. Call the SpeechToText method of requestFactory instance.

6. Capture the response from the API gateway

7. Use the transcribed Text to perform your own game activity.
Once you have downloaded the SDK, you will have all the tools and documentation to start working on your app. With this additional step, you can become a free member of the AT&T Developer Program and get support throughout your development process.
Demos for your thoughts
Watch a short video on how the AT&T Learning Services built an engaging and interactive E-Learning tool using the Speech API and Unity game engine.
Experience a simple character customization demo we built using the same tools and learn more how you can build similar capabilities.
Now, to begin adding speech into your game, download the AT&T SDK for Unity.
---
Share this post