Updated: Dec 30, 2014
Published: Dec 30, 2014
Survival Guide: 10 Essential Tips for Getting the Most from the 2015 AT&T Developer Summit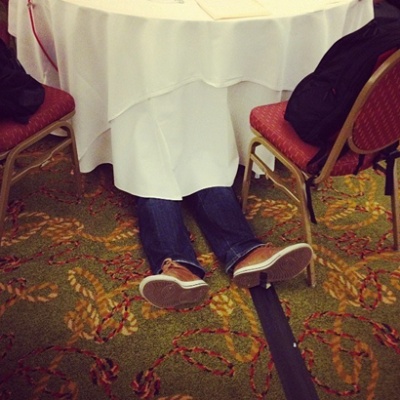 The 2015 AT&T Developer Summit is fast approaching. This year is going to be better than ever. At the hackathon, there will be over $100,000 in prizes up for grabs. Be sure to check out Hackathon Best Practices for some great tips. Our conference is packed with great speakers discussing Connected Home, Wearables, Connected Car, App Strategies, WebRTC and Voice, and Internet of Things. That can be a lot to take in over three days. We've created this survival guide to help you make the most of your experience at the conference.
1. Check out the Partner Technologies Before Heading to the Hackathon
We've assembled an impressive group of sponsors who are bringing some great tools with them for you to use when creating apps at the hackathon. You don't have to wait to get to the conference to see what's going to be available. Visit our Partner Technologies page to get an idea of what will be at the event. There are even links to documentation, software, and code samples. This can be a helpful guide when deciding which tools you'll use to build your apps.
2. Pack Your Bag Wisely
You're probably traveling to get to the conference, so be sure to pack all the tech (tablets, phones, computer, chargers, etc.) you need. You might also consider bringing a portable power strip so that you don't have to look for available outlets to charge your gear. If you plan on hitting the strip or attending CES after the event, bring an extra pair of shoes. In Las Vegas, things are further than they appear, and you can easily walk a ton of miles in a day. An extra pair of shoes can be a lifesaver for your feet.
3. Read the Challenge Guidelines
In addition to the prizes for Best Overall App, there are eight Accelerator Challenges and five Kicker Contests that are part of the competition at the hackathon. Read the requirements for the other challenges and create an app that could qualify for multiple awards. If you want a chance at winning the big prize of $25,000 for the Best Overall App, you'll need to use AT&T APIs.
4. Start Networking at Registration
Developer Summit draws people from all over, each with their own skill set and knowledge. Registration is a great time to start a conversation with other attendees. You don't need to come to the hackathon with an idea of what you want to build. By talking to other people during registration, you can see if your skills would work well for an idea they want to present. Use it as an opportunity to scout potential teams you'd like to join. If you're not sure how to start a conversation, read "What to Expect at Your First Hackathon" for some great talking points. Hackathon check-in is from 8:00 am to 10:00 am on January 3rd at the Palms Casino Resort. Looking to join a team before you head to Vegas? We can help; just enter your contact information via this form before January 3, 2015.
Not participating in the hackathon? You can still network at conference registration taking place on January 4th from 5:00 pm to 9:00 pm. After you pick up your badge, join the fun at the meet and greet where there will be beer, wine, and hors d'oeuvre's and introduce yourself to other industry professionals. You never know whom you might meet.
5. Don't Be Afraid to Ask for Help
Hackathons are a fantastic place to pick up new skills and learn different ways to accomplish a task. Fellow team members are an excellent source, and you're all working towards a common goal, so let them know when you're not sure how to accomplish a task. Event partners will have technical folks on hand that can answer questions about working with their products. You should tap all of these resources for help. Additionally, mentors Wesley Chan, Immad Akhund, and Jamie Wong will be at the hackathon. Be sure to check at the event on how to get some time with them.
6. Keep Hydrated and Remember to Eat
Las Vegas can be extremely dry – even in the winter – so it's important to stay hydrated. There will be plenty of liquids at the event for you to help keep you from getting dehydrated. We'll also have plenty of delicious food and snacks at the hackathon to help keep you going. If you've been to a hackathon before, you know the food doesn't disappoint.
7. Time Management is Key to Success
Developing an app in just 24 hours can be overwhelming. That's why it's imperative to create a timetable at the start of the event. Break every part of the project into tasks and assign a given amount of time to complete it. Pick a time captain, who will make sure everyone completes their given task in the allotted time. This will help you from going too far down the rabbit hole on a single aspect of the app.
8. Practice your App Presentation
Your team has built a great app in just 24 hours. You're in the home stretch. Select the best speaker on your team to lead the presentation. That person should practice what they're going to say at least three times. The message should be clear and highlight the app's benefits. When presenting your app to the judges, be sure to articulate clearly what the app does, originality of the idea, and difficulty of the technical implementation.
9. Get to the Keynote Early to Get a Good Seat
The keynote is on January 5th from 9:00 am to 10:30 am. That also happens to be the day before CES when a lot of press conferences take place. Media come from all over the world to attend the show. Part of their jobs is to cover all the press announcements. They will get to the keynote early to set up to cover the AT&T news. Don't wait until the last minute to get in line for the keynote. If you want a good seat, get to the Pearl Theater at least half an hour early.
10. Have a Conference Strategy
In addition to the track sessions taking place from 11:00 am to 5:00 pm on January 5th, there will also be an expo hall and developer's lounge happening at the same time. There are six tracks: Connected Home, Wearables, Connected Car, App Strategies, Web & Voice, and Internet of Things that have back to back sessions. There will be a ton of useful and interesting information presented. Since they're all happening simultaneously, you won't be able to make it to every one. Before arriving, spend time perusing the Developer Summit schedule and decide which you want to attend. Then make a list (or create calendar appointments) of those sessions. It's helpful to include backup sessions as well, in case the original one you wanted to attend is full.
Most of all we want you to have fun! We hope you can make it to the Networking Party starting at 5:00 pm on January 5th where you can mingle with industry rock stars. Speaking of rock stars, don't miss our annual Summit's Rock @ Rain. It's an exclusive event for conference attendees. Dinner will be served at 7:00 pm, followed by a performance from Neon Trees on the Rain stage.
There's still time to register for the 2015 AT&T Developer Summit taking place January 3-5 in Las Vegas at the Palms Casino Resort. If you have any other tips on surviving the event, share them in the comments below. We look forward to seeing you there!
---
Share this post