Updated: Aug 26, 2013
Published: Aug 26, 2013
SpeechTek 2013
Speech industry experts and enthusiasts gathered in New York last week to learn, share and discuss all things speech.
The event helped confirm that speech technology will be one of the ways in which people regularly interact with devices (of all kinds) in the future…and that there is still no single application that has gotten the experience exactly right. But that's what makes speech exciting. We've seen what's possible. Now a lot of smart people are trying to make the elusive, easy-to-use voice interface a reality.
Some folks from AT&T had the opportunity to share their perspectives with SpeechTek attendees:
Principal Member of Tech Staff, David Thomson talked about Dynamically Reconfigurable Statistical Language Models
AVP of Tech Research, Dr. Mazin Gilbert participated in 2 panels: Natural User Interfaces in the Connected Car and Voice, NLU, AI, and the Dawn of Intelligent Systems. Mazin also had the opportunity recently to share his perspective on Our Smart Future with Todd Haselton of TechnoBuffalo.
Sr. Product Marketing Manager, Jason Unrein shared the AT&T strategy for encouraging broad adoption of speech technology by covering current functionality of the AT&T Speech API, as well as planned enhancements that are already available as Alpha APIs in the AT&T Foundry.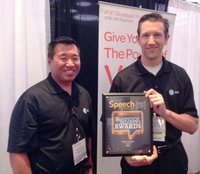 The AT&T team receieved a Vendor Contendor award from Speech Technology Magazine and all in all, it was an interesting 3 days that inspired everyone to keep innovating new ways to use speech technology to make life easier.
---
Share this post