Updated: Oct 31, 2012
Published: Oct 31, 2012
Speech API: Handling Corrective Action, Low Confidence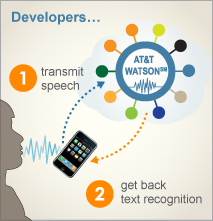 Speech recognition has improved greatly in recent years, but like all forms of input, inaccurate results will need to be accommodated for. Accommodating the different levels of accuracy will as part of your application design will improve the overall impression users have of your product.
Occasionally, a null result or low confidence results will be returned.
For these results, it generally desirable to avoid displaying these and have the application gracefully indicates the results were low – perhaps through a message such as "I didn't quite get that, please try again".
If you detect a series of several consecutive low confidence results, you may wish to inform the user to try phrasing their request using different words
For all results, it is desirable to provide a mechanism for editing the transcribed content returned by the Speech API. This mechanism should complement the device or platform for which you are designing.
For longer (generally non-command) utterances, always provide an opportunity for the user to edit the transcribe input.
It is also a good practice to provide a mechanism for selecting individual words and phrases so that they can be corrected without needing to redo the entire utterance.
It is desirable that you provide a means for "redoing" the entire utterance without requiring the user to manually delete the passage
---
Share this post