Updated: Oct 30, 2013
Published: Oct 30, 2013
SIC / AT&T Wearables Hackathon – Seattle – Event Recap
Last weekend we hosted the SIC / AT&T Wearables Hackathon in Seattle, Washington at the Reactor Incubator. We packed the event with wall to wall developers and even ended up overflowing into the spillover rooms. We partnered with CIE Seattle, as well as the Reactor Incubator, to bring in a number of students from local area high schools as well as game developers who pumped out a number of innovative games within the 24 hour hackathon.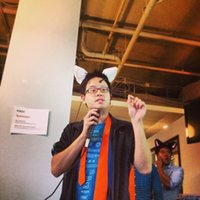 This specific hackathon was focused on wearables and gaming with key sponsors being ARM, Cypress, Plantronics, Neurosky, and Reactor, all of whom brought in fun hardware and gaming expertise for the developers. The challenge was for the developer to design or utilize a wearable device that addressed a real world problem or was fun to interact with. Boy, did the developers deliver big time. Additionally, there were a very wide variety of attendees with vastly different yet very important skill sets that turned up to hack the weekend away. In attendance were a couple of couturiers that even brought their sewing machines to
make custom gloves
! If you would like to check out more pictures,
look on Twitter
and check out the
facebook page
.
So what were the teams competing for? Check out this impressive list of prizes:
1st Place – $500 in gift cards for the team to split; Free SIC gold conference passes for 2014, Nokia Windows Phone, Microsoft Kinect, and Microsoft Arc Touch Mouse.
2nd Place – $300 in gift cards for the team to split; Free SIC gold conference passes for 2014, Microsoft Kinect, Microsoft PC Games Age of Empires III & Flight Simulator X, and Microsoft Arc Touch Mouse.
3rd Place – $200 in gift cards for the team to split; Free SIC gold conference passes for 2014, Microsoft PC Games Age of Empires III & Flight Simulator X, and Microsoft Arc Touch Mouse.
Additionally, Plantronics stepped up to the plate with more prizes, as well as loaning out their fantastic PLT headsets:
1st Place – $500 for the team to split.
PLT team members on site were also giving away a limited number of awesome PLT headsets [Gamecom 780, BackBeatGo2 and Voyager Legend] to a few lucky devs using PLT technology in their app solution.
So who are the winners? We will update this post with the winners after I make the announcement at the SIC after party. If you are in the Seattle area, feel free to drop by for a drink and say hi to the finalists!
<UPDATE!>
The winners are:
1st Place Overall – HackCouture.io

2nd Place Overall – PetSpy

3rd Place Overall – GoalPhysics


Plantronics Special Prize – Coach2.0
All told, there were 18 teams that presented an insane amount of apps:
HeartAlert – This app will sense your heart rate, log all the info and give you an average heart rate per day.
PetSpy– Keep a remote eye on your pets by attaching a Plantronics headset to the pet. The app also makes sure that your pet sitter is really walking the dogs. Surveillance For Puppies – Fitbit for Dogs.
ProPal – Working at day-to-day scenarios that are common for humans, but tough for electronic gadgets, this app keeps track of what you do, and gives visual presentation of the key indicators of activities.
Runner Groove – This is an endless runner app with special abilities such as quick dodges left/right and jumping.
Coach 2.0 – Coach 2.0 gives coaches the data they need to make critical decisions. The hope is that Coach 2.0 can help prevent physical injuries by surfacing the number of hits a player has taken, the number of times they have fallen, etc.
HeartHop – FitBit meets Mint. It's a mobile app with a calorie intake tracker integrated with a wearable heart rate monitor to notify wearers of calorie budget, calorie burn, and inactivity.
SmartChair – Sitting in your office chair for long hours is bad for your health. Our smart chair technology can monitor how long you have been sitting, and tells you when it's time to take a break. This will result in a healthier working style and less medical cost.
Metalhead & The Gauntlet (

HackCouture.io)

– Custom gesture detecting glove platform that's combined with a gesture detecting earphone.
GoalPhysics – This product is a soccer training app that provides digital analytics via wearable IOT devices to the player. The app monitors biometrics such as head position, kick power, and neural attention to provide the player with real-time data about their shooting technique. The data gets registered in the AT&T M2X cloud (which can be used by coaches to assess individual or team performance over time).
KneeHab – The goal of our "serious game" is to increase intrinsic motivation in post-op orthopedic patients performing their physical therapy rehab.

The functionality of the app supports this goal by allowing the patients to do their rehab at home with the data being captured and transmitted to professional caregivers for review.

We've incorporated key elements of successful rehab and meaningful play into our app such as personalized feedback and surprises as individuals tend to perform better with knowledge of their performance. This supports our goal of increasing intrinsic motivation, which is what patients need to get them through their months of rehab.

AttentionHat – Do you want to know your attention level through out the day? Wear this hat.
SoundPad – SoundPad (

soundpad.kissr.com)

lets you use your trackpad as a synthesizer. Text it to your friend to share using AT&T's SMS API.
SocialCopter – Using the plantronics headset we can control an AR Drone quadcopter.
http://developerboards.att.lithium.com/t5/AT-T-Developer-Program-Blogs/SIC-AT-amp-T-Wearables-Hackathon-Seattle-Event-Recap/ba-p/37117
---
Share this post