Updated: Oct 18, 2012
Published: Oct 18, 2012
Share Your Views on Mobile Development and Win!
The AT&T Developer Program is sponsoring VisionMobile's Developer Economics 2013 report and portal. Now in its 4th year, Developer Economics 2013 is the de facto research report and portal on the app economy. This year will be focused on recommended best practices for the tools, services, and APIs that developers use to build, market, and monetize their apps.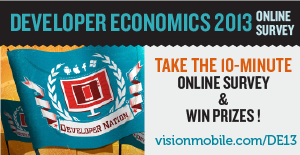 Join the research on mobile devs and tools. Take our Developer Economics 10-minute online survey and get a chance to win prizes including the popular Samsung Galaxy SIII!
---
Share this post