Updated: Dec 18, 2017
Published: Feb 17, 2016
Shape the future for a chance to win $50K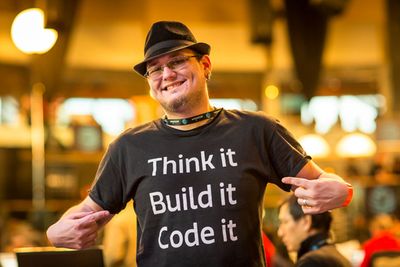 Hackathons are an amazing way to turn an idea into an app in a short period of time. How do you take it to the next level and transform it into something more? We have the answer for you: an innovation challenge. Unlike hackathons, these events focus on products and prototypes that work well – meaning a lot of the kinks have been worked out. Think about that feature you wanted to add to your app, but didn't have time to during the hackathon. That feature would be in the product/app that you submit to this challenge.
In that spirit, we're holding a contest called the Shape Challenge where students, developers, and entrepreneurs can enter their product/app for a chance to win $50,000. Submit your app now for a chance to be one of the top 20 teams to pitch their app at AT&T Park in San Francisco on July 15-16, 2016. Here are the three categories:
Smart Cities: We are looking for apps that explore how technology can be integrated into cities for cost-reductions, citizen well being, sustainability, and economic development. Fields of interest include energy and utilities management, transportation, and implementing smart infrastructure solutions. We'll consider submissions that use or contribute to AT&T technologies like M2X and Flow Designer.
Augmented Networks: Beyond just connecting two points, networks should be able to grow with increased intelligence and capabilities. Do you have a solution for a network or content delivery challenge, whether it's mobile, satellite, Wi-Fi, or wireline? Some example augmented network topics include Software Defined Network (SDN), Micro-services, and VR Delivery. We'll consider all submissions that use or contribute to AT&T technologies, and follow Domain 2.0 Vendor Guidelines for Virtual Functions.
Connected Things: The Internet of Things (IoT) revolution is upon us and we're seeing new ways of connecting things in our surroundings. The next generation of connected things will deliver high-convenience, boundless capabilities, and an awe-inspiring vision of the future. Have an exciting way to connect tech through mobile, satellite, Wi-Fi, or wireline? Perhaps you have a new use of Smart Textiles, Wearables, Industrial Robotics, or Drones. We'll consider submissions that use or contribute to AT&T technologies such as M2X or AT&T-certified modules.
Now for the Prizes:
An overall winner will receive $50,000
First place winner in each category will win $15,000
Student winner will receive $25,000
Check back on our blog for more information about submission dates and challenge details. In the meantime, if you have a project that you've been working on that would be a good fit keep fine-tuning it so it will be ready to be submitted to our challenge.
Open to US residents of majority age. Enter by 5/6/16. Void where prohibited. Subject to official rules available here.
---
Share this post