Updated: Dec 18, 2017
Published: Jul 05, 2016
Check out the Qualcomm IoT Hardware Kit that can help you win $5,000 at Shape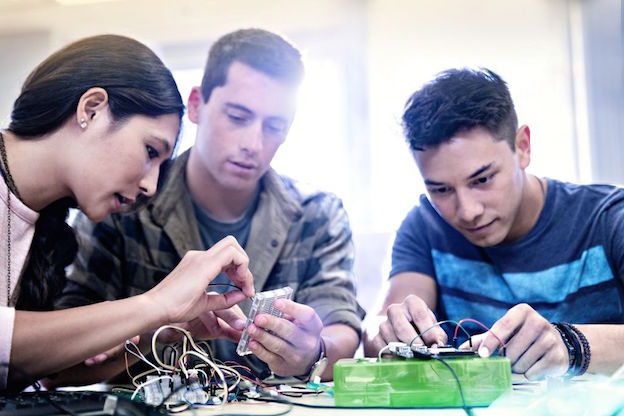 During the webinar you'll learn more about the IoT Hardware Kit that Qualcomm is providing for teams to use while at the hackathon and get an inside look at the DragonBoard™ 410c. The Qualcomm Technology Challenge focuses on smart city Internet of Things (IoT). Participants will need to develop a solution utilizing the DragonBoard™ 410c that both a Mayor's Office and citizens can use on a day-to-day basis to improve the livability, sustainability, and connectedness in a city. Entries should make use of the connectivity available with the DragonBoard™ 410c and components provided in the IoT hardware kit.
What's Inside: IoT Hardware Kit Details
If you're planning on submitting an app to the Challenge, you'll need to check out one of the IoT Hardware Kits from Qualcomm. All the components will be yours to use for the entire time at the hackathon. Here's a look at what's included:
Touchscreen display: 

LILLIPUT 10.1″ FA1012-NP/C/T 16:9 LED Capacitive Multi-touchscreen monitor

96Boards 

Sensors Mezzanine Adapter by Seeed

96Boards 

UART Adapter Board by Seeed

Breadboard with jumper wires: 

IB401 400-point Experiment Breadboard, microtivity

Voltage-level translator: 

SparkFun Voltage-Level Translator Breakout – TXB0104

Logic Level Converter Bi-Directional: 

SparkFun Logic Level Converter – Bi-Directional – BOB-12009

Sensors and accessories:

Grove 10DoF (Accel, Gyro, Mag, Pressure, Temperature) IMU

Grove Digital Light Sensor 

(see Grove Digital Light I2C Sensor Application Note for tips on enabling this)

Grove Gesture Sensor

Grove I2C Color Sensor

Grove Button Sensor

Grove Buzzer Sensor

Grove Sound Sensor

Grove Touch Sensor

Grove Rotary Angle Sensor

Grove Smart Relay

Grove Mini Servo

Grove LCD RGB Backlight

I2C Hub

Grove 4-pin Male Jumper to Grove 4-pin Conversion Cable

Wireless keyboard with touchpad: 

Logitech Wireless Touch Keyboard K400

Micro SD with Linux in case you prefer using instead of Android that is preloaded
Micro USB to USB cable
USB 2.0 Travel Hub 4-port expander

USB Ethernet Adapter

Ethernet cable
In the meantime, if you want to learn more about working with the DragonBoard™ 410c, check out the resources and sample code provided by Qualcomm Developer Network. There's still time to register to attend the Shape Hackathon on Friday, July 15-16 at AT&T Park. When you sign up to attend the Shape Hackathon you also get access to AT&T Park so you can explore all the exhibits.
---
Share this post