Behind the Scenes: Meet the winner of the Entertainment Project Underrepresented Filmmaker Award
Behind the Scenes: Meet the winner of the Entertainment Project Underrepresented Filmmaker Award
by
Posted on
07.17.2017 03:00 AM
---
In April, we called for submissions for the AT&T Entertainment Project, an open competition seeking imaginative, undiscovered short films from aspiring professional and student filmmakers. Filmmakers answered the call, all hoping for a share of $20,000 in prizes, meetings with AT&T Entertainment executives, and their films to potentially air on the AUDIENCE Network on DIRECTV. Now here's your chance to get to know more about the winner of the Underrepresented Filmmaker Award Sarah Smith for her short comedy D.Asian.
D.Asian is the story of fitting in with the rest of the kids in your 4th grade class. For ten-year-old Daniel that means owning the latest in Hello Kitty fashion, liking the cutest boy in class, and convincing yourself you're Asian when everyone else thinks you're white. At its core, D.Asian is the story of a child seeking to clarify who he is in relation to those he identifies with most. It's a timeless tale of that period in our lives when we crave the acceptance of our peers, but regardless take a stand and for the first time say "No, THIS is who I am." D.Asian tries to capture the universally understood struggle to be different – and for that to be okay.
We caught up with Smith to learn more about her experience making the short and her thoughts on filmmaking.
Q: How did you come up with the idea for your short film?
A: D. Asian started as a short story penned by my writing and producing partner, Phillip Guttmann, and was based loosely on his own childhood memories. I then adapted the short story into a screenplay and we set off to producing the short film.
Q: How did you and the crew work together to create the short?
A: Phillip and I have been writing together for many years, and finally, with D. Asian, we felt we had something we should produce. Many of the crew members I either knew as long time friends or were referred to me. Jeff Maksym our DP, for example, I didn't know him before D.Asian, but we clicked pretty quickly and since we've worked on a bunch of other projects together. He's also a wonderful director so we were able to speak the same language. Sari Lennick, who played Ms. Hartnett, was someone Phillip had gone to grad school with at the Actor's Studio, and we were thrilled that she agreed to do the project. We got the young actors through a brilliant casting director named Melanie Crescenz. Casting kids is very difficult, but she found the right balance between professionalism and innocence, particularly with Davis Desmond who plays the lead. She did such a fabulous job on a very short turnaround. We didn't even have time to see anyone in person and we cast completely from tape, which is far from ideal. I wrote the script and we were shooting less than three weeks later. And we all had day jobs, so it was very tight. In post, I would say the score was the most challenging part. To get the tone right it took a lot of trial and error. I was fortunate enough to work with the talented Mike Dobson whom I met while we were both working at The Young & The Restless. Here's some more information on the cast and crew:
PHILLIP GUTTMAN, WRITER/PRODUCER
Phillip Guttmann is a writer, clinical social worker and teacher. In theater, he worked on and off Broadway with The Araca Group, Labyrinth Theater Company, The Play Company and the New Group. His plays have been produced in New York at Chashama, Westbeth and the West Bank Theater. He was a finalist in the Cherry Lane Theater Mentor Festival, was selected by ABC to participate in their writers' development program and served as a member of the GLAAD Media Awards committee for Theater. More recently, Phillip's career has focused on issues pertaining to social justice. From 2012-2017, Phillip worked for the New York City public defender, and The Legal Aid Society as a social worker. Phillip holds an MSW from New York University and an MFA in playwriting from The New School.
JEFF MAKSYM, DIRECTOR OF PHOTOGRAPHY
Jeff Maksym is a Los Angeles-based Filmmaker. Before moving to Los Angeles, Jeff worked extensively in the NYC Fashion industry as a videographer. He is also the Director/Co-Writer/Co-Creator of the ground- breaking, interactive comedy web series, The Mimi & Flo Show, which has over 2.5 million hits worldwide. He was also the editor of the 4th season of Illeana Douglas' Ikea-sponsored web series Easy To Assemble. Currently, Jeff's in development on the musical comedy series Family: The ERBA Story. Jeff is a graduate of the Film/TV program at New York University's Tisch School of the arts.
MIKE DOBSON, COMPOSER
Mike Dobson is a piano-based composer who has worked as a network television music supervisor for over 25 years. He's worked on such scripted dramas as General Hospital, Days Of Our Lives, The Young and the Restless, and The Bold and The Beautiful. While at The Young and the Restless, Mike won three Daytime Emmys for Outstanding Achievement in Music Direction and Composition. In addition to Mike's professional television work, he is currently studying at UCLA's Film Scoring program.
MELANIE CRESCENZ, CASTING DIRECTOR
Melanie Crescenz is a Los Angeles-based casting associate/director. She graduated from Temple University with a BA in Film and Media Arts. While studying film at Temple, Melanie got her start working in casting on the M. Night Shyamalan film, The Village. In addition, she's worked on many great projects, including, Suite Life on Deck, Shake it Up, Children's Hospital, New Girl, Sex Tape, Fresh Off The Boat, and Wet Hot American Summer. She currently works for Susie Farris Casting.
Rest of the Film Crew:
Cedric Chabloz, Los Angeles, CA (1st AD)
Pamela Walls, Los Angeles, CA (School Teacher)
Randy Hoffman, Los Angeles, CA (School Teacher)
Paula Cwikly, Los Angeles, CA (2ND AD)
Seaton Trotter, Los Angeles, CA (1st AC)
Lenard Walsh, Los Angeles, CA (2nd AC)
Justin Pope, Los Angeles, CA (Production Sound Mixer)
Vivian Gundaker, Los Angeles, CA (Wardrobe Supervisor)
Larrison Campbell, Los Angeles, CA (Hair and Makeup Supervisor)
Sean Bolger Los Angeles, CA (Production Assistant)
Cheryl Leibert Mahoney Los Angeles, CA (Production Assistant)
Cathy Reyes Lightfoot, Los Angeles, CA (Post Production Supervisor)
Mark DeSimone, CAS, New York, NY (Re-recording Sound Mixer)
Justine Baker, New York, NY (Re-recordist)
Eric Johannsen (Visual Effects and Color Correction)
Cast:
SARI LENNICK, ACTRESS, MS. HARTNETT
Sari Lennick studied acting and philosophy at the University of Southern California and earned her Master of Fine Arts in acting, from the Actors Studio at New School University, in New York City. Sari has appeared in numerous independent films, including the Best Picture nominated Coen Brothers' film A Serious Man, which earned her a Gotham Award nomination for Best Ensemble and the 2010 Robert Altman Independent Spirit Award. She also appeared in Woody Allen's Café Society as Evelyn. Sari's current projects include The Drama Queen, a comedic web series she writes and produces.
DAVIS DESMOND, ACTOR, DANIEL
Davis Desmond is a veteran of 16 years in the entertainment industry and made his first appearance on television as a baby falling from heaven on the Drew Carey Show. Since then, Davis has worked steadily in features, television, new media, commercials, print, and short films. He has worked with Donald Sutherland, Jacqueline Bisset, Heidi Klum, Jay Leno, Jimmy Kimmel, Ariana Grande, Dana Delaney, Ed O'Neill, Charlie Sheen, and many others. Davis has the distinction of being the youngest performer ever nominated for an award, when he was recognized in the "Best Breakthrough Performance" category at the Visionfest Film Festival at Tribeca for his lead role of Johnny in the short film The First Hope.
Rest of the Cast:
Misha Huang, Los Angeles, CA (Ling-Ling)
Cheyenne Nguyen, Los Angeles, CA (Joy)
Kaylee Byon, Los Angeles, CA (May)
Cady Mariano, Los Angeles, CA (Hannah)
Karen Kolkey, Los Angeles, CA (Jill)
George Liu Los, Angeles, CA (Kevin)
Jamie Warner, Los Angeles, CA (Jonathan)
Q: What was your biggest challenge and how did you overcome it?
A: Finding a way to make the setting feel period was one of the biggest challenges. With such a small budget we had to really pick our battles, so we leaned primarily on our props as a way to establish our story in the late 1980s.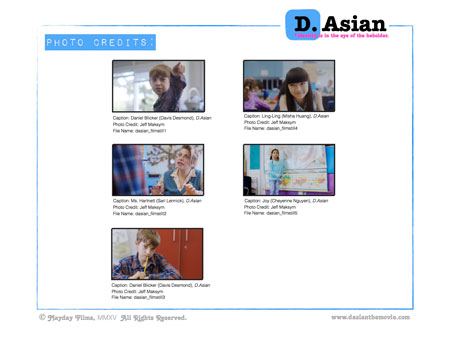 Q: What do you find most interesting about making short films?
A:
With short films, in large part because of the small scale of the production, you really have your hands in all parts of the filmmaking, from script, to buying props and wardrobe, to finding the locations, editing, you name it. Everything that you put in front of the frame is your choice, good or bad, and I think you learn so much from that process. Also, short films really challenge you to focus your story and be very clear with your execution.
Q: How did you first get interested in filmmaking?
A: I think from a very early age I loved movies and the way they could transport you to a different place. Films like E.T., Flight of the Navigator, The Never Ending Story, D.A.R.Y.L., The Explorers, The Goonies, anything with kids really. I was particularly attracted to films where kids were going on adventures. My Mom used to put on plays for the extended family in our living room, so I always liked the idea of "putting on a show" for people. But I didn't discover filmmaking until I went to college and found out you could actually study it. I knew immediately this was what I wanted to do, and I had finally found a path to begin the journey. That's when I transferred to NYU.
Q: Who have been your biggest influencers in the film industry (directors, writers, teachers, etc.) and what have you learned from them?
A: Certainly the filmmakers of the 70's have had a profound influence on me, but also contemporary artists from the 80's like Basquiat and Haring, who were able to convey very complex ideas about culture and identity in playful, yet thoughtful ways. Stand-up comedians like Garry Shandling and Louis C.K. have had a big impact on me as well. Garry Shandling's work, at its core, was largely about needing and searching for all manner of love. I find a lot of truth in that. And Louis C.K.'s work as a filmmaker I find inspiring because it's so simple, but also very clever. I particularly like the way he executes his more surrealist ideas in a very grounded way. Writers like Sarah Vowell and Kurt Vonnegut influence me in the way that they address thorny subjects with a certain sense of humor that makes you laugh, but also allows you the space to think about these subjects more deeply, in a way you might not otherwise.
Q: What advice do you have for new filmmakers just getting started in the field?
A: Keep making films. That's the only way to learn. I think Ira Glass's take on "The Gap" captures the creative struggle perfectly. I wish someone would've said the things he covers on "The Gap" that to me when I was twenty.
Q: What video technologies do you see shaping the future of film and content creation?
A: Certainly, I think VR will play a major role. Also any technologies that puts filmmaking and distribution tools into the hands of anyone, which is already happening, will give more people, from more diverse backgrounds, a voice. I think the biggest challenge now is how do you break through the noise to get attention.
Q: What does the AT&T Developer Program and contests like this mean to you?
A: First, it's a nice bit of validation for your work; it certainly inspires you to create more. Second, it's a great platform to allow more people to see your work. With so much content available, a contest like this can really highlight your work and help break through the noise.
Q: Is this the first time you've entered your work in a contest?
A: We've been fortunate enough to play in several festivals around the world, and won a few awards, but we've not entered a contest before.
Q: What are your future plans for your project?
A: We're really proud that D.Asian was able to play festivals all around the world. Right now we're looking forward to developing our next projects, a short form comedy series about an animal healer, and an action short about a woman who has lost everything, and is determined to fight back and take what's rightfully hers.
Q: Why should the audience vote for your short film?
A: Hopefully it makes people laugh and think a little bit about labels and what it means to belong.
Q: If you win, what do you hope to do with the prize money?
A: Put it towards the next project, of course!
---
Share this post
Comments