Behind the Scenes: Meet the creator of TWEEN, an Entertainment Project finalist film
Behind the Scenes: Meet the creator of TWEEN, an Entertainment Project finalist film
by
Posted on
07.14.2017 01:00 AM
---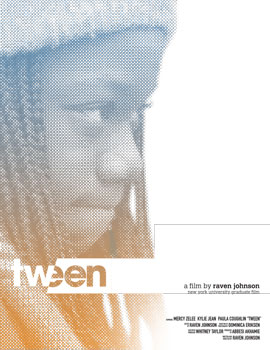 In April, we called for submissions for the AT&T Entertainment Project, an open competition seeking imaginative, undiscovered short films from aspiring professional and student filmmakers. Filmmakers answered the call, all hoping for a share of $20,000 in prizes, meetings with AT&T Entertainment executives, and their film to potentially air on the AUDIENCE Network on DIRECTV. Now here's your chance to get to know more about one of the finalists. We'll be screening the shorts at AT&T SHAPE, Tech & Entertainment Expo on July 14-15, 2017 at Warner Bros. Studios in Los Angeles.
Meet Raven Johnson creator of the film TWEEN, a drama that explores friendship and race through the eyes of a 12-year-old, black girl. One of Johnson's goals with the film was to start a conversation about race and racism in America. Growing up in a predominately white suburb in Minnesota, Johnson experienced many racially charged incidents with friends and peers that she's still unpacking decades later.
We caught up with Johnson to learn more about her experience, her influences, and what she hopes to accomplish as a filmmaker.
Q: How did you and your team work together?
A: My cast and crew were amazing! I have so much love for them it's almost ridiculous. The majority of the cast are my family members, who are all non-actors, but are so naturally talented in front of the camera. My cousin plays the lead! I was also fortunate to work with a small crew of my NYU Grad film family who are the most supportive people. It was definitely one of the best experiences I've ever had on a set.
Film crew:
Raven Johnson, writer, director, and editor, Brooklyn, NY
Whitney Taylor, executive producer, Ithaca, NY
Abbesi Akhamie, producer, Brooklyn, NY
Jovan James, UPM, Brooklyn, NY
Karishma Dube, assistant director, Brooklyn, NY
Dominica Eriksen, director of photography, Brooklyn, NY
Mary Evangelista, 1st AC, Brooklyn, NY
Alec Davis, gaffer, Brooklyn, NY
Raven Jackson, sound, Brooklyn, NY
Quinn Oatchin, boom op, Minneapolis, MN
Q: How did you come up with the idea for your short film?
A: When writing the script, I knew I wanted to explore a moment that my main character would remember forever, but not fully understand why until much later in her life. I think everyone has more than a few adolescent memories like that. I started with my most vibrant memories from that period in my life, which mostly revolved around being one of a few (if not the only) black girl in every space I occupied outside of my home. It was an experience that shaped how I saw myself in some really unhealthy ways, but luckily it was also full of rich material that I rarely see on screen today.
Q: What was your biggest challenge and how did you overcome it?
A: My leads were children and only one actor had any experience performing in front of a camera, so I was extremely nervous. Luckily, it turned out to be the best! I strongly believe that kids are natural performers, so I worked hard to keep the girls present and grounded in every scene. Kids are so smart and intuitive and it's easy to ruin that by over directing them. With careful balance, they gave me the most open and authentic performance that I could ask for. It was truly a rewarding experience.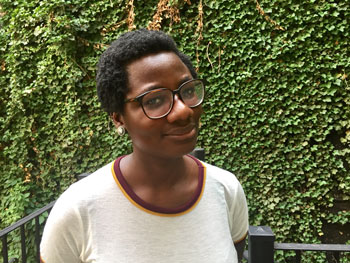 Q: How did you first get interested in film making?
A: I've always loved writing, but never thought about filmmaking until my junior year in college when I majored in Cinema Studies. As much as I loved watching and dissecting films, I felt something was missing. I wanted to create films, as well. From there, I started taking production classes and realized that I had stories to tell that I wanted people to see, and began taking filmmaking seriously. I've never looked back.
Q: What do you find most interesting about making short films?
A: I love short films for their brevity. I think the best short films succeed when they strip down a story to the barest of details. The structure of shorts allows you to explore the tiniest moment and its effect in your character. That change feels so monumental and significant that I think it's beautiful.
Q: Who have been your biggest influencers in the film industry (directors, writers,
teachers, etc.) and what have you learned from them?
A: I'm a huge fan of Lynne Ramsay, Kelly Reichardt, Kasi Lemmons, Andrea Arnold, and Ava DuVernay, to name a few. They're just amazing filmmakers who write exceptional, fully realized characters with their own worldview and agency. They also take great care in building their worlds with so much specificity of place and tone. I think that's important in narrative filmmaking and I'm always reminded of that when I watch their work.
Q: What advice do you have for new filmmakers just getting started in the field?
A: You have to just do it. Making films is the only way you can get better and for every mistake you make, you will discover five times as many successes and victories.
Q: What video technologies do you see shaping the future of film and content creation?
A: It's getting less expensive and more accessible to create films. You can literally shoot something beautiful on your phone and easily upload it for the world to view. I only see that as a positive as more and more people, especially from marginalized groups, gain the power to tell their own stories and share them with audiences. That's magical.
Q: What does the AT&T Developer Program and contests like this mean to you?
A: It is an amazing honor to be selected as a finalist. There is a lack of coming of age films that center around girls of color. The opportunity to screen TWEEN for audiences and see how people of all genders and races respond to the short has been extremely positive and validating.
Q: Is this the first time you've entered your work in a contest?
A: TWEEN has played at several film festivals and has won a few awards. It's great to see this project resonating with audiences.
Q: What are your future plans for your project?
A: I'm currently developing TWEEN into a feature film that I hope to shoot next year in Minnesota. It's been exciting opening up the world and exploring new themes and conflicts.
Q: Why should the audience vote for your short film?
A: There is so much beauty and joy in TWEEN and, at the same time, it explores an ugly truth about our society. The underlying message is that you have to go your own way and stay true to who you are. I think there's something powerful, spectacular, and universal in that and it is my greatest hope that everyone will relate to that message.
Q: If you win, what do you hope to do with the prize money?
A: The money will go toward making TWEEN, the feature. While making the short, I had to ask a lot of favors from friends and family, so it would be a blessing to be able to compensate people for their time and generosity in getting this film made.
Come See a Screening of TWEEN at SHAPE
SHAPE is an immersive event that explores the convergence of technology and entertainment. Experience interactive demos that give you a glimpse into the future and explore the magic of virtual reality, augmented reality, and mixed reality. See how entertainment tech will revolutionize content creation. You'll be among the first to witness firsthand some of the latest technology trends poised to go mainstream. This is where you'll find real inspiration.
SHAPE is happening July 14 and 15, 2017 in Los Angeles, California, at Warner Bros. Studios.
We hope to see you in Los Angeles in July.
---
Share this post
Comments