Behind the Scenes: Meet the creator of Stay & Run, an Entertainment Project finalist film
Behind the Scenes: Meet the creator of Stay & Run, an Entertainment Project finalist film
by
Posted on
07.13.2017 01:00 AM
---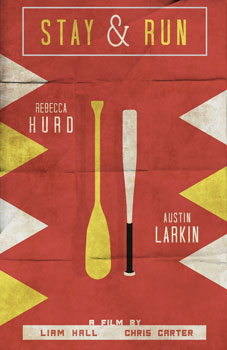 In April, we called for submissions for the AT&T Entertainment Project, an open competition seeking imaginative, undiscovered short films from aspiring professional and student filmmakers. Filmmakers answered the call, all hoping for a share of $20,000 in prizes, meetings with AT&T Entertainment executives, and their film to potentially air on the AUDIENCE Network on DIRECTV. Now here's your chance to get to know more about one of the finalists. We'll be screening the shorts at AT&T SHAPE, Tech & Entertainment Expo on July 14-15, 2017 at Warner Bros. Studios in Los Angeles.
Meet student category finalist Liam Hall of Greensboro, North Carolina, who created Stay & Run, a short horror/comedy that depicts an ongoing debate between a young couple. When they are finally confronted with the means of settling their argument, they both realize they might have been wrong. First and foremost, Hall and Chris Carter (who also worked on the film) wanted to make a short that would entertain audiences, but they also learned a lot from mixing genres.
We caught up with Hall to learn more about his experience, what drew him to filmmaking, and future plans for the short.
Q: How did you come up with the idea for your short film?
A: Two weeks before production our friend, Rebecca Hurd, the lead actress in the film, asked us if we might want to film a short at her family's house in Georgia during the approaching five-day weekend. Chris and I began brainstorming right away, but it wasn't until a few days before leaving when we were dining at a Cracker Barrel that we landed on the idea. During the car ride down we continued to develop the story. The script and the idea both evolved as we shot the film.
Q: Tell us a little bit about your team and how you worked together to create your entry.
A: Though we were practically strangers at the time, Chris and I decided to be roommates during a summer in Los Angeles. We developed a fast friendship rooted in our mutual enjoyment of filmmaking. As we got onto college, we began to take things more seriously, and have both worked on a number of shorts and recently just wrapped production on our first feature film.
When Rebecca, whom we had worked with before, approached us with the opportunity to shoot at her family's house we jumped on the chance. The two of us, along with the help of the actors, became a skeleton crew all working to make the film as good as possible. The small team allowed for a very collaborative process.
Q: What was your biggest challenge and how did you overcome it?
A: With two actors, a director and a cinematographer, we had no crew or extra hands to spare. This meant that an actor would occasionally be running sound, or we would find a supportive tree that could hold the boom. Working with so few people meant a lot of things took us a little longer than they would have otherwise. The upswing is that we had an extremely collaborative environment that allowed everyone to contribute creatively.
Q: How did you first get interested in filmmaking?
A: My Dad used to be a documentarian and was the first person to spark my interest in film. My siblings and I grew up filming various short films on our family's camcorder. Our biggest masterpiece was a parody of a movie we were all too young to see called The Godmother. Chris also grew up making shorts with his childhood friends, many of whom we still work with to this day.
Q: What do you find most interesting about making short films?
A: Short films are a much more flexible form of filmmaking. Because it is much easier to see the scope of the story in your mind it's more possible to make changes on the fly and take creative risks. We recently wrapped production on our first feature film. That experience, while incredibly rewarding, was a lot more grueling and requires an intense amount of long-term vision. Shorts are also a fun challenge in efficient storytelling. The time limitations force you to be precise with your characterization and plot.
Q: What video technologies do you see shaping the future of film and content creation?
A: There are so many new and exciting technological developments that it's hard to pick one, but I would have to say I am most excited about the rise of virtual reality (VR) as a platform for storytelling. I think the first person to really master VR storytelling is going to find a massive audience.
Q: Who have been your biggest influencers in the film industry (directors, writers, teachers, etc.) and what have you learned from them?
A: This is always a tough question because I am sure that every film or TV show I have seen has influenced me in some way or another. My favorite directors currently are Spike Jonze, Paul Thomas Anderson, Christopher Nolan, and the Coen brothers.
Q: What advice do you have for new filmmakers just getting started in the field?
A: Well, I still consider myself a new filmmaker in the scheme of things, but the best advice I can possibly give to someone just getting started is JUST MAKE THINGS. I know that is a very common piece of advice, but it really is the best way to get better and to grow as a filmmaker. I would also add: As you make things don't worry about finding an audience right away; develop your voice and the audience will find you…I think.
Q: What does the AT&T Developer Program and contests like this mean to you?
A: The AT&T Developer Program means a larger audience for our work. We put a lot of love into everything that we make and it is very gratifying to be able to share it with people outside of our direct social sphere.
Q: Is this the first time you've entered your work in a contest?
A: Two years ago, I had a short, Tri Ciga (a Czech language drama), screen at a few festivals across the country including the New Orleans Film Festival. Stay & Run has also screened at several festivals, including the Minneapolis St. Paul International Film Festival. We have also submitted the film to various online video contests with spec commercials and shorts.
Q: Why should the audience vote for your short film?
A: All four members of our team put a lot of love into this film and we believe that it shines through in the final product.
Q: What are your future plans for your project?
A: As Stay & Run nears the end of its festival run we are looking forward to sharing the film online to reach as many people as possible. We hope it will be a good calling card for our future projects, including a new short and a feature that we are editing now.
Q: If you win, what do you hope to do with the prize money?
A: We are very excited about the possibility of putting the prize money towards future projects. Much of it would go towards making the post-production of our feature run as smoothly as possible. I also think it would be very nice to finally be able to pay the actors who originally volunteered their time to the project.
Come See a Screening of Stay & Run at SHAPE
SHAPE is an immersive event that explores the convergence of technology and entertainment. Experience interactive demos that give you a glimpse into the future and explore the magic of virtual reality, augmented reality, and mixed reality. See how entertainment tech will revolutionize content creation. You'll be among the first to witness firsthand some of the latest technology trends poised to go mainstream. This is where you'll find real inspiration.
SHAPE is happening July 14 and 15, 2017 in Los Angeles, California, at Warner Bros. Studios.
We hope to see you in Los Angeles in July.
---
Share this post
Comments