Behind the Scenes: Meet the creator of Red Folder, an Entertainment Project finalist film
Behind the Scenes: Meet the creator of Red Folder, an Entertainment Project finalist film
by
Posted on
07.12.2017 09:09 AM
---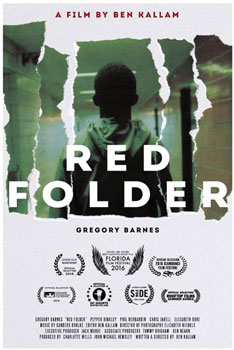 In April, we called for submissions for the AT&T Entertainment Project, an open competition seeking imaginative, undiscovered short films from aspiring professional and student filmmakers. Filmmakers answered the call, all hoping for a share of $20,000 in prizes, meetings with AT&T Entertainment executives, and their film to potentially air on the AUDIENCE Network on DIRECTV. Now here's your chance to get to know more about one of the finalists. We'll be screening the shorts at AT&T SHAPE, Tech & Entertainment Expo on July 14-15, 2017 at Warner Bros. Studios in Los Angeles.
Meet Ben Kallam, the writer and director of the student category finalist film Red Folder that tells a compelling, self-contained story that shines a light on the challenges and systemic failures of public education. When Kallam was teaching math at a public high school in the bay area, a friend and fellow teacher told him about an unusual "behavior management tactic" that Kallam portrays a version of as the red folder search in the film. As Kallam wrote the script, he found that the anecdote began to feel like a story that would allow him to explore multiple classrooms while focusing on the personal impact that systemic brokenness can have on a single student.
We caught up with Kallam to learn more about his experience, his crew, and how this former math teacher came to write and direct Red Folder.
Q: Can you talk about your crew and how they worked together to make the film?
A: Nearly everyone who worked on this film was a fellow grad student at NYU's Tisch School of the Arts. They are all fellow writers/directors, and their films have played at festivals such as Cannes, Sundance, and South by Southwest, just to name a few. All of the cast members were actors from around New York and New Jersey.
The writing and preproduction served as a major part of our coursework, and as a first-time filmmaker, I made it my goal to open myself up to feedback from as many sources as possible. I can point to several specific scenes that were vastly improved due to the input of my professors, fellow students, and crew members. On set, I tried to continue to foster that same spirit of collaboration and spontaneity. I couldn't have been more pleased with their performances, and they were all incredible to work with on set.
Film Crew:
Ben Kallam, Writer and Director, Los Angeles, CA
Charlotte Wells, Producer, New York, NY
John Michael Hemsley, Producer, New York, NY
Elizabeth Nichols, Director of Photography, New York, NY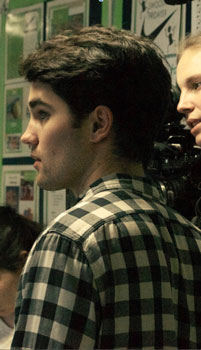 Q: What was your biggest challenge and how did you overcome it?
A: Working around the high school's schedule proved to be extremely challenging. Everyone who worked there was helpful, but there were several surprises during the shoot: unanticipated school dances, volleyball tournaments, and permit issues that forced us to be flexible. In the end, it actually led to some improved scenes, but the process was rather anxiety-inducing.
Q: How did you first get interested in film making?
A: Ever since I was a kid, I wanted to work in film. Following my teaching years, my desire was to take that experience and create something that meaningfully explored a subject matter I feel is too often given the falsely triumphant Hollywood gloss.
Q: What do you find most interesting about making short films?
A: I love the challenge of telling a complete, self-contained story in a brief amount of time. As a writer, it forces you to hone in on the most important aspects of your narrative and cut out anything extraneous.
Q: What advice do you have for new filmmakers just getting started in the field?
A: As a new filmmaker myself, I'm not sure I have the perspective to be giving great advice, but I would say to focus on stories that are meaningful to you and not be precious about cutting anything that's getting in the way of that goal.
Q: Who have been your biggest influencers in the film industry (directors, writers, teachers, etc.) and what have you learned from them?
A: This film would not be what it is without the influence of my film professors at NYU—particularly Todd Solondz, Luis Alvarez-Alvarez, Andrew Maclean, and Spike Lee. They helped me strip the story down to its most essential parts and focus on developing those remaining in a way that maintained the film's simplicity.
Q: What video technologies do you see shaping the future of film and content creation?
A: From the distribution side, I think the shift towards home entertainment and premium video-on-demand will continue to change consumer habits and the type of content being produced. Many filmmakers view this trend with trepidation, fearing it will lead audiences away from theaters, but if it results in the financing of more daring content (e.g. Okja or the Twin Peaks reboot), it's hard to see it as all bad.
Q: What does the AT&T Developer Program and contests like this mean to you?
A: It is extremely rewarding to learn that others have responded to this film. More than anything, I hope this will give people an opportunity to find it—particularly students and educators—so that it can contribute to the dialogue around systemic inequity in public education.
Q: What are your future plans for your project?
A: I am in the process of writing a feature adaptation that essentially uses the search for the red folder as a transition, allowing us to more deeply explore the classrooms that we only glimpse in this short.
Q: Is this the first time you've entered your work in a contest?
A: Red Folder has just completed its festival run, premiering at Slamdance and going on to play at Aspen Shortsfest, Chicago International Film Festival, DC Shorts Festival, Sidewalk Film Festival, and the Florida Film Festival, where it won the Grand Jury Award for Best Narrative Short.
Q: Why should the audience vote for your short film?
A: I hope the film conveys its message by avoiding didacticism and simply presents the story of an individual the audience finds empathetic.
Q: If you win, what do you hope to do with the prize money?
A: I am shooting my second short film in the fall, and all of this prize money would go towards that film's budget.
Come See a Screening of Red Folder at SHAPE
SHAPE is an immersive event that explores the convergence of technology and entertainment. Experience interactive demos that give you a glimpse into the future and explore the magic of virtual reality, augmented reality, and mixed reality. See how entertainment tech will revolutionize content creation. You'll be among the first to witness firsthand some of the latest technology trends poised to go mainstream. This is where you'll find real inspiration.
SHAPE is happening July 14 and 15, 2017 in Los Angeles, California, at Warner Bros. Studios.
---
Share this post
Comments