Updated: Dec 18, 2017
Published: Jul 12, 2016
Shape Challenge semifinalist LucidCam aims to conquer VR limitations with a portable, double ultra-wide lens, 3D HD camera

Post by Glen German, Product Marketing Manager, AT&T Developer Program
In February, we invited students, developers, and entrepreneurs to enter a product or app in the Shape Challenge. Unlike hackathons, the Shape Challenge focuses on working products and prototypes – meaning a lot of the kinks have been ironed out. We recently announced the semifinalists for the Augmented Network category, where we asked for submissions of network or content delivery challenge solutions. Now, we invite you to get to know a little bit more about one of our semifinalists in that category, LucidCam.
We asked the six-team members of LucidCam based in Santa Clara, CA, to tell us all little bit more about them and their project.
Tell us a bit about LucidCam…
We are bringing to Virtual Reality not only one of the world's first portable, double ultra-wide lens, 3D HD camera, but also a community of memory-sharing. Our camera combines the 3D video stream into a single file eliminating the need for excess memory and fast uploading speed. It features an accelerometer and gyro for video stabilization in extreme conditions. It incorporates a rendering algorithm that allows immediate playback on a VR headset without further preprocessing steps. Our playback software is GPU-based and works on desktops, web browsers, and mobile VR devices. The bundled software for editing and sharing makes VR video accessible to non-expert users who are excited about the VR space. Our portal is an online store where developers can offer their newest support software, as well as a community where 3D content can be shared or traded.
What is the purpose of LucidCam?
We are still living in a world of capturing and viewing memories in 2D. Screens disconnect us from our experiences and limit our emotional connection with a video's narrative. 3D capture has been around for years, but the limited frame does not allow viewers to immerse themselves completely in videos and pictures. Huge file sizes generated by multiple-lens cameras have also reduced the ability share the content of 3D and wide range.
Instead of showing memories through 2D pictures/videos, imagine if you could allow the viewer to dive into the past and live a moment anew. Our solution is a stereoscopic camera, which performs to functions simultaneously: It captures the world the way the human eye sees it — with true depth and a 180-degree field of vision; it also provides an online universe for sharing experiences and exploring life through immersive VR videos. When viewed within a Virtual Reality headset like Oculus Rift or with a mobile phone on Google Cardboard, the image surrounds you and creates, for the first time, complete immersion.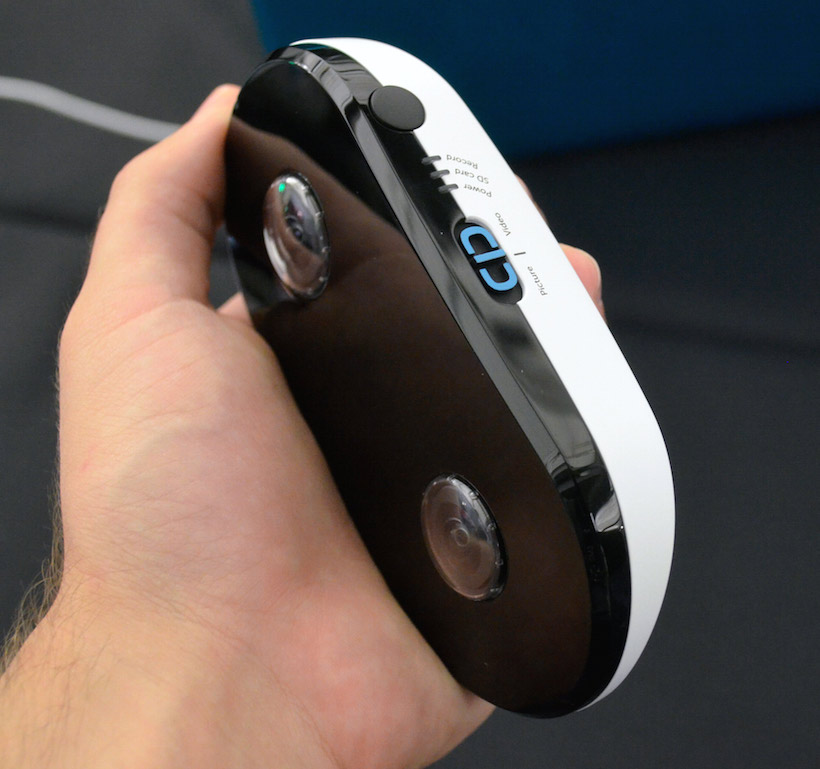 What was the inspiration behind the development of LucidCam?
At Lucid, we believe in capturing the world as vividly as our eyes do, while being able to live and relive any experience from the comfort of your home.
How long has LucidCam been in development?
It's been in development for two years. We incorporated in January of 2015.
What are some challenges you have encountered while developing LucidCam?
Developing hardware takes requires long lead times and deadlines are always tight.
How did your team overcome those challenges?
Strong program management. Our leadership team has a solid background in bringing hardware consumer products to market, so that helped with planning and ensuring we met our key milestones.
How do you think next-generation video like VR and 360-video will change how we experience content in the future?
Media narration will evolve and storytelling will need other cues to help the viewers consume content, whether that's through sturdier 3D audio and or other types of indicators. The visuals are just the beginning.
What is your development background?
Our CEO, Han, focuses more on the hardware side and has brought many consumer products to market. Lucid CTO, Adam, has a Ph.D in Computer Vision from Stanford University, and has developed software for the military and consulted for many corporations.
What type of development background do your team members have?
We have a very technical team with strengths primarily in image processing, deep learning, and iOS/Android development.
How did you form the LucidCam team?
The founders actually met each other on FounderDating.com and most of our team was assembled from Angel List or through our personal networks.
Preferred coding languages?
Swift, C Sharp, and Unity.
Favorite development tool? Why do you like it?
Unity, because you can develop really cool interactions with it.
What technologies are you most passionate about?  Did those passions help shape the app you created?
We are really excited about deep learning and making our technology smarter. At LucidCam, we definitely passionate about expanding the amount of data input that consumers could use in their content creation.
What advice do you have for up-and-coming developers who may have an idea that they want to turn into a reality?
Get feedback early. It's so easy to get married to your concepts and not to iterate fast enough. Get a minimum viable prototype out for the feedback. Hack. Hack. Hack.
How important is it for companies like AT&T to hold innovation challenges like the AT&T Shape Challenge for pure technological innovation?
It's critical to have these opportunities. They are essential for the recognition, appreciation, increased visibility, and proper leveraging of great technology.
Interested in learning more about LucidCam? Come see the team's live pitch at Shape in AT&T Park on Friday, July 15th at 7:00 pm.
Register for Shape
Join us at Shape being held at AT&T Park on July 15th and 16th and discover innovative ways tech is shaping our future. We have a line-up of speakers who are visionaries in their fields including Ray Kurzweil, Jason Silva, Nate Silver, John Stankey and Ralph de la Vega along with panels where participants discuss everything from smart cities to the impact of tech on society. Stroll through interactive exhibits to get a glimpse at how technology is transforming the way we live. Take part in the Shape Hackathon and compete for prizes. Marvel as your kids learns to solder and create things they only imagined at Maker Camp Live. Round out your experience by watching the Shape Challenge semi-finalists present their projects live on stage. Enjoy a performance from iHeartRadio LIVE with Silversun Pickups at AT&T Park. Ready to immerse yourself at a tech expo unlike any other? Sign up for Shape today.
For more on articles on AR, VR and all things video, see our new AT&T Video and VR site.
---
Share this post