Updated: Dec 18, 2017
Published: Jul 13, 2016
VR, AR, and MR: Experience the evolution of video and entertainment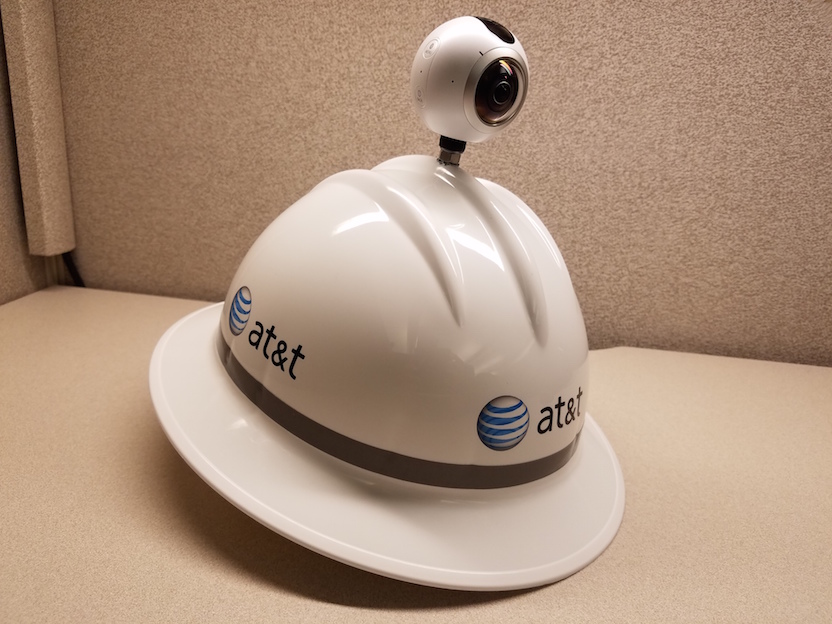 Post by John Hsia, Senior Product Marketing Manager, AT&T Developer Program
Where will video and entertainment be in 10 years? Will fully immersive and interactive movies and TV shows be as normal as it is to stream HD movies on our LTE smartphones today? While we can't predict what 2026 will have in store for us, we're certain that many of the technologies such as Virtual Reality (VR), Augmented Reality (AR), and Mixed Reality (MR) will have an integral role in how we play, interact and are entertained.  So, what will these emerging technologies provide in the future? Let's take a look and find out how you can get a glimpse at what the future might look like at Shape.
What is Virtual Reality (VR)?
Wikipedia defines VR as:
"immersive multimedia or computer-simulated reality, is a computer technology that replicates an environment, real or imagined, and simulates a user's physical presence and environment to allow for user interaction. Virtual realities artificially create sensory experience, which can include sight, touch, hearing, and smell."
VR can transport you to remote locations you otherwise would never experience such as Mars or Mount Everest or to imaginary worlds yet to be conjured. With a dedicated headset or after inserting your smartphone into a headset, you can see and hear everything as if you were there. When my daughter and wife tried out VR for the first time with the Sisters mobile app, watching its frightening content, they jumped and screamed like I've never seen before. Try it and you'll see what I mean – just be sure to use headphones for the full effect.
While many VR experiences have limited interactivity, such as being a passive fan at a concert or as a passenger riding a roller coaster, VR games can be fully interactive with hand motion sensors, and body movement sensors such as is the case with the HTC Vive.  Some creators have even enhanced the experience further with puffs of wind and hot air blasts to simulate flying or possibly encountering a fire breathing dragon. By taking advantage of all your senses, the fully-immersive VR games of today can make the 3D games of the 90's such as Duke Nukem 3D feel like playing Pong.
What is Augmented Reality (AR)?
While VR can take you to different worlds, AR enhances your existing environment by superimposing generated images or video over real world views. This added layer provides information about what you might be seeing. The military has been using similar technology in Heads-up Displays (HUD) in fighter jets for many decades by displaying targeting and flight information onto the pilot's visor. Recently, with relatively inexpensive smartphones, the technology is now within reach of consumers and the enterprise. Let's explore a few uses of AR:
– The night sky: To locate a planet or star in the night sky, just consult one of the dozens of sky map AR apps. These apps superimpose the names of planets and stars on your camera view, and take into account your direction, the date, the time, and your GPS location. Many will even show what's coming up from below the horizon.
– Toys come to life:  At Lego retail stores, kids can see a Lego product box come to life with a finished, animated 3D product just by holding up the box next to their camera and video display.
– Lifelike drawings: With a mobile AR app, Crayola's Color Alive app makes each child's static coloring book images come to life as 3D animated creatures.
– Speeding up maintenance: With the increased complexity in automobiles, AR has helped maintenance personnel locate hidden parts on vehicles (Volkswagen's MARTA). Other AR applications include walking mechanics through repair procedures by showing parts needs to replaced and how to install new ones.
So What is Mixed Reality (MR)?
MR takes AR a step further by allowing interaction between the virtual and the real world elements. If it's a MR video game, the CGI alien might hide behind a real wall in your home. If you're building a virtual object, you can rotate the object by spinning it with your hand. Seeing and interacting with the virtual objects just as you would a real world object can result in a much more believable virtual environment.
Since MR is relatively new and it enhances AR, the differences between the two can be subtle and confusing. Regardless, as Eric Johnson of recode discovered recently, these differences are important.  Products like Microsoft HoloLens and Meta Visions' Meta 2 AR headset and technologies from Magic Leap all point to some very entertaining moments ahead of us.  Meron Gribetz, from Meta Vision, even goes a step further and demonstrates the potential of MR and AR revolutionizing the new way we'll interact with computers.
What You'll See at Shape …
While Shape is more than VR, AR, MR, or the technologies that will sculpt the future of video, we're very proud of the wide variety of exhibits and demonstrations we have in store for you. We've worked with leading companies, so you'll experience technologies first-hand that have already or could affect your future video entertainment.
Video entertainment that's available today
AT&T DIRECTV: VR Boxing, 4K broadcast video and mobile DVR (Digital Video Recorder).
Avegant: New, personal way to experience 2D, 3D and 360 video
Experiencing VR
HTC: Gaming VR headset with hand controllers and body sensors
LG: Affordable VR headsets that work with your LG smartphone
Oculus: High-end VR headset and controllers
OSVR: High-end, open source approach to custom VR headsets
Samsung: Affordable VR headsets for your Samsung smartphone
VR Applications
AT&T DIRECTV: A new take on boxing
AT&T It Can Wait: Learn the dangers of texting and driving
AT&T VR Smart City Tour: Manage your smart city
Ericsson: Experience VR with fully personalized content
SapientNitro: Explore VR retail
TOMS Shoebox: Unique VR experience
Creating VR and AR
AT&T ARO: Best practices for mobile and video apps
Blippar: Mobile app for creating and deploying AR experiences
Eyeris Tech: Face analytics and emotion recognition
LG: Affordable VR video camera
Nokia: Professional film-quality VR video cameras
Qualcomm: Live streaming through LTE cameras
Samsung: A range of VR video cameras
Register for Shape Today
Join us at Shape being held at AT&T Park on July 15th and 16th and discover innovative ways tech is shaping our future. We have a line-up of speakers who are visionaries in their fields including Ray Kurzweil, Jason Silva, Nate Silver, John Stankey and Ralph de la Vega along with panels where participants discuss everything from smart cities to the impact of tech on society. Stroll through interactive exhibits to get a glimpse at how technology is transforming the way we live. Take part in the Shape Hackathon and compete for prizes. Marvel as your kids learns to solder and create things they only imagined at Maker Camp Live. Round out your experience by watching the Shape Challenge semi-finalists present their projects live on stage. Enjoy a performance from iHeartRadio LIVE with Silversun Pickups at AT&T Park. Ready to immerse yourself at a tech expo unlike any other? Sign up for Shape today.
For more on articles on AR, VR and all things video, see our new AT&T Video and VR site.
---
Share this post