Updated: Nov 28, 2012
Published: Nov 28, 2012
Seven Tracks to Success at the 2013 AT&T Developer Summit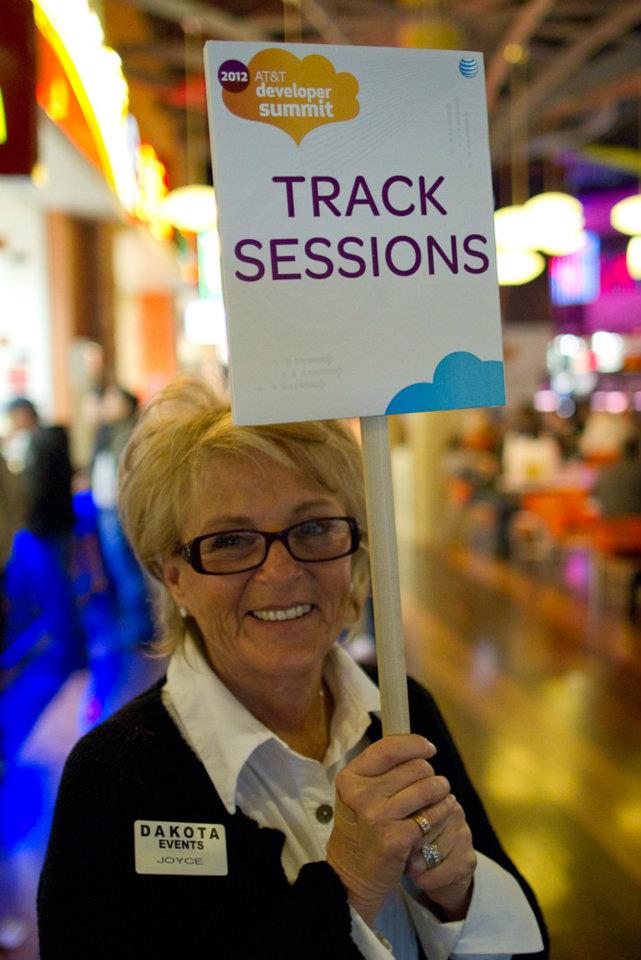 Our upcoming Developer Summit is jam-packed with information about emerging technologies and chances to meet experts who can answer your questions. Beginning Sunday evening, you'll have the opportunity to network with the AT&T experts at the registration reception. Then see them in action at our extensive list of breakout track sessions the next day.
We have seven tracks this year: Go-to-market, Enterprise, Programming, Emerging devices, Trends and two Industry tracks. For those of you who are not quite sure which track to follow, here's an overview of a session from each track that should help you decide:

AT&T – A One-Stop Shop for Mobilizing the Enterprise – Enterprise Track
This session will showcase a user scenario that highlights how a mash up of AT&T Platforms and APIs help solve your customers' business challenges. Presented by AT&T's Senior Vice President of Advanced Business Solutions, Chris Hill.

Ericsson – Developing Toward Future Enterprise Opportunities – Industry II Track
Sponsor Ericsson will show you how to capitalize on 4G mobile + Wi-Fi network capabilities so you can leverage them in app development for the rapidly growing BYOD enterprise market.

Go Big on the Big Screen with the AT&T U-verse Enabled SDK and APIs – Go To Market Track
Want to learn more about a platform that can put your apps front and center in millions of living rooms? Discover how you can participate in AT&T's U-verse IPTV platform in this informative session.

Trends in Mobile Devices – A Year of Performance Refinement – Trends Track
New innovations in devices continue to arrive at break-neck speed. In this session, we'll be drawing back the curtain for a peek into the mobile device future.

Inside the Actors Studio – An Informal and Unscripted Discussion with some of the Industry's Biggest Stars – Emerging Devices Track
Got burning questions for some rockstars of the industry? Join Glenn Lurie, Chris Penrose, Cameron Coursey and Kris Rinne for a unique panel discussion.

Customer Engagement? Check. – Programming Track
Want to talk code? Check out this session to learn how easy it is to add voice and SMS functionality to your app, allowing you to take your applications to the next level.
For a full schedule of track sessions and to discover all that the 2013 AT&T Developer Summit has to offer—from our biggest hackathon yet, to an unforgettable keynote—visit www.2013devsummit.com.
Use hashtag #ATTDevSummit on Twitter to connect with fellow attendees or to ask us questions.
If you have a private question for us about the AT&T 2013 Developer Summit or require assistance, please contact us at: Registration@2013devsummit.com
Looking forward to seeing you there!
---
Share this post