Updated: Oct 21, 2015
Published: Oct 21, 2015
Self-Taught Developer Diana Pham Uses Creativity to Win Multiple Hackathon Awards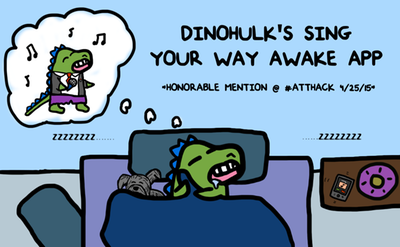 Sometimes creativity drives technology and at other times technology drives creativity – Diana Pham leverages both perspectives through DinoHulk.
Diana has a seemingly insatiable curiosity and love of learning. The love for learning has led her down a path to create the DinoHulk Sing Your Way Awake app. Through DinoHulk, she not only uses her artistic skills to share what she learns about the world, but also to illustrate new technologies. Diana enjoys teaching kids and adults, and founded a company to share her experiences and creativity. If you check out the DinoHulk page on Amazon, you'll see titles such as Billy's Solar Story, Tekkikat Builds a Website, and Tekkikat Goes to a Hackathon.
Diana has brought her creativity to two AT&T hackathons in Seattle this year. She first joined us at the AT&T Hack in Seattle in April 2015. During this hack, she earned an honorable mention as a runner up to Best App Overall with DinoHulk Sing Your Way Awake – a fun way to wake up and learn to sing simultaneously. In September, at our second Seattle Hack of the year, Diana's encore performance included taking home the prize for the Most Efficient Mobile App with her AR Bike Tour app. The app integrates augmented reality into bike tours to educate the rider; see her video of the app below.
We caught up with Diana after the second hack to hear more about her background and the apps she has created.
You have a passion for education – tell us a bit about why you got involved in education and how your passion led to the creation of DinoHulk and what the app does.
There is no denying that I love education; I love to learn and I love to teach. I taught myself programming after realizing I wanted to intellectually challenge myself and honestly, just do more with my life. After I taught myself enough web development to consider applying for career jobs, I realized I didn't know exactly what industry I wanted to partake in. I felt as though I didn't know enough about the world to just "pick something." I ended up researching a lot of different industries and decided to write stories about what I learned and thus created DinoHulk. I figured I could use DinoHulk as a platform to share what I've learned about the world, and also test out all the cool new technologies I was teaching myself (web dev, mobile dev, game dev, robotics, and now virtual reality and augmented reality).
I really like the work that code.org and madewithcode.com has developed to help teach kids programming. I'm also an avid supporter of codecombat.com.


Like many, it appears you took a bit of a circuitous route to becoming a developer. Tell us about your experience becoming a developer and a bit about the Code Fellows experience.
When I was younger, one of my uncles from the east coast visited California once a year to go to the Apple Convention. Every time he came to visit, he'd give my house some sort of new technology like a computer or printer. My uncle was basically the coolest adult I knew. I told myself that when I grow up, I wanted to do whatever he did to be as cool as him. So I started learning about computers on my own, and I got so pumped when I was the first person in my house to figure out what a USB port was used for.
I pioneered tech clubs in elementary school and middle school, and then right before I was going to enter high school (2004), my mom asked me what I wanted to do for a career. I told her I wanted to get into computer stuff, I didn't know exactly what specifically, but just anything that had to do with fixing computers. She told me that the computer industry was hot now, but it was going to die soon. I was taken aback, "UHHHH, ARE YOU SURE?!"
Throughout high school, I lost hope about getting into the tech industry because of what my mom said. The computers at home eventually broke, but I didn't have the passion or money to fix them. So I basically didn't do any more tech related work for a few years. (Side note: I decided to "rebel" by learning how to play the violin. I needed some sort of technical outlet).
In college, I worked full time and went to school full time, but after two and a half years, I realized I couldn't keep up with tuition. Due to my financial issues, family issues, health issues, and the fact I still didn't know what I wanted to do with my life, I decided to leave home.
When I got to Seattle, I had $14.12 in my bank account. My sole goal was to survive, so I took the first job I could find and ended up being a cashier at Home Depot. My managers realized my technical aptitude and changed my position to bookkeeper and computer technician. I remembered then that I loved learning about and fixing computers when I was younger, so I got a second cashier job working in one of Amazon's cafeterias with the intent of asking the employees about their tech jobs. A lot of the employees cheered me on and some gave me website links to look up. I felt the passion for technology rising again.
I took a 3D animation course at Seattle Community College, but the work I did there was more about 3D modeling rather than animating so I put that experience on hold. I got a new job as an administrative assistant and bored one-day, I asked my boss if I could create them a database to make work easier. I clearly stated that I did not know how to build databases, but my boss trusted my capabilities and a month later I produced two database systems. It was through my self-research for database work that I got interested in programming. I really wanted to know how programming and database systems worked together.
My first project with programming involved creating my own blog from scratch using the Octopress framework. It was more confusing than I thought it would be because I had to learn about setting up my computer environment, the command line, Git, GitHub, HTML, Markdown, Ruby, and the Octopress framework itself. I felt my mind expand during that week of learning. It was very frustrating (I even wrote a silly song to cope with the project), but it was also very rewarding to finish the project. I decided that I really wanted to give programming a try so I applied to Code Fellows, a new coding bootcamp that guaranteed a job or your tuition back. I was accepted into the program and spent my entire savings towards tuition. I was all in.
The bootcamp was very intense and I felt a bit insecure about myself because a lot of my peers had college degrees and some had already worked in the tech industry. I fell behind on some of my assignments because I was still working while attending the full time bootcamp. Halfway through the program, I was told I would be cut if I couldn't prove I was keeping up. After that moment, I readjusted my schedule (basically, I didn't sleep much for the next month), and ended up getting to show off my final project at our graduation ceremony.
I learned many things at Code Fellows besides just technical skills. I learned how to use social media to make my presence known in the industry. I went to a ton of networking events and learned how to talk to people in the industry. However, the greatest thing I learned while at Code Fellows was that I really didn't know much at all. I wanted to know what mobile development was like. I wanted to know how people got robots to work. I wanted to know how to make art with code. I wanted to know how to create video games. Realizing that there was so much I didn't know about the world was the catalyst for me learning more about technology and incorporating it all in my company.
What advice do you have for developers, particularly women in tech, looking to continue their education and increase their skill set?
I say go for it. Living a fulfilling life involves constantly learning. People enjoy going on vacation because they get to experience new things. Learning new skills involves experiencing new things, and these experiences happen to be marketable so it's a win-win all around.
What do you love about developing mobile apps?
My favorite part about developing mobile apps is that I can take my project anywhere and show it off to my friends and peers. Even though it's digital, the fact that I can hold my project in my hand and physically wave it around makes me really feel like I've added something to the world.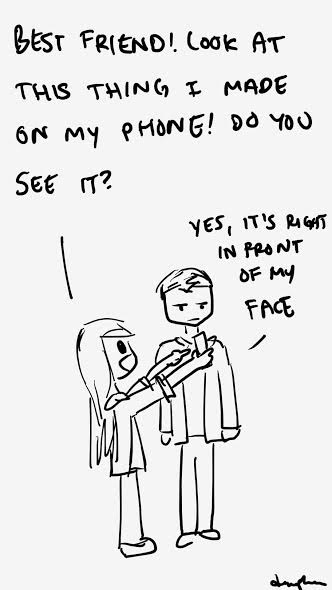 You have attended two AT&T Developer Program Hackathons in Seattle, WA this year – What prompted you to attend? How many Hackathons have you participated in?
I really love going to hackathons so it was really inevitable that I went to all the AT&T ones this year. I believe I've participated in about 13 hackathons within the past two years.
What have your experiences at the hackathons been like? How have hackathons helped you personally?
I love going to hackathons because I really enjoy being around like-minded people. Everyone is crunching to get their projects working and then preparing for their presentation, but there's still time to mingle and help each other out. While I do love being around everyone, I actually tend to work by myself at hackathons. I do this because I want to figure out what resources there are online for beginners to learn particular topics. I love to teach and I want to make sure that what I learn and then teach is going to be accessible to everyone.
How important is it to for companies like AT&T to hold hackathons for developers? How do these hackathons help further developer education and innovation?
It means the world to me that companies like AT&T hold hackathons for developers. It's especially important for beginners and independent developers to feel like the top dog companies do care and want to help. It really brings the community of developers together no matter what level they are. Hackathons also create a supportive environment that help foster learning and innovation.
What technologies are you most passionate about? Did those passions help shape the app you created?
I'm very passionate about technologies that allow a lot of creative and technical freedom. Currently, I enjoy 3D modeling, animation, and programming, and those were definitely incorporated in my app.
You have created two apps this year at AT&T Hacks – How did you come up with the idea for Sing Your Way Awake App?
For the Sing Your Way Awake App, I looked around and everyone was talking about problems they wanted to solve and so I thought about issues I was having in my own life. One issue was that my boyfriend would never wake up to turn off his alarm clock, and the second issue was that my boyfriend was tone deaf. I want to see how I could creatively fix both those issues. This particular event was open ended in terms of what app teams should build, but I definitely think most people thought my concept was really way out there.
What is the purpose of the Sing Your Way Awake app and how does it work?
The Sing Your Way Awake App is an alarm clock that teaches users how to sing better. Users set the time when they want to wake up then when that time is reached, a tone rings and the user has to match that pitch with their voice in order for the tone to stop. A constant loud ringing tone forces users to wake up (because it sounds annoying). Forcing users to match the tone, allows them to recognize tone and pitch shifts, which is a singing skill.
What technologies did you use in the Sing Your Way Awake app? Does it use an AT&T API?
I used the Web Audio API (a high-level JavaScript API that allows creation and manipulation of audio) along with basic HTML and JS to create the Sing Your Way Awake app. While I didn't get the chance to implement it, I did consider using AT&T's Speech API.
In your second AT&T Hack of the year you created AR Bike Tour – How did you come up with the idea for the AR Bike Tour App?
I knew I wanted to learn how to create an Augmented Reality (AR) app that weekend. So really, I thought about the technology I wanted to use before coming up with the idea to wrap the bike related theme around the app. Once I figured out how to make the core function of the app, I thought of ways the bike industry could use the technology, and came up with the content that went into the AR Bike Tour App.
Check out the AR Bike Tour:
What is the purpose of the AR Bike Tour app and how does it work?
The AR Bike Tour app is similar to a digital tour guide. While going on a bike tour, users will pass by tagged images that they can view with the app. When first opened, the app looks like a regular camera view in that it just shows users their environment. Once the app detects a predetermined image marker, digital content is generated in the app viewer with the user's real environment in the background — this is the augmented reality part. The digital content spans from fun facts to safety tips to animations that make the scene feel more alive (e.g. there are cute bees around us!).
What technologies did you use in the AR Bike Tour app? Does it use an AT&T API?
I used Unity3d, C#, Qualcomm's Vuforia SDK, Android SDK and Pixelmator (for art). I did not use an AT&T API at the time, but I did think about how I could integrate the AT&T WebRTC API so that users can call a number and it could be an audio recording of facts in the area. I also considered using the AT&T SMS API to send screen captures of the app to someone's phone.
You earned an honorable mention for Sing Your Way Awake as Best Overall App at our April Hack and you won the prize for Most Efficient Mobile App in September – tell us a bit about your experience with the AT&T Application Resource Optimizer (ARO) and how it has helped improve your apps.
Initially, I used ARO in April just to get a raffle ticket, but after I ran my first trace, I really saw the benefits of using ARO. A lot of my issues were that I wrote really quick code, and ARO showed me how much inefficient code can really hinder the performance of an app.


Have you used ARO on other projects outside these two hackathon submissions?
Yes, I've used ARO outside of the hackathons to make sure my apps are more efficient especially since most of my 3D apps are content heavy.
What's next for DinoHulk? Any future plans for Sing Your Way Awake and AR Bike Tour?
I'm currently working on apparel designs for DinoHulk, and I will be releasing a complimentary AR app to integrate fashion with technology. I'm really passionate about using technology in creative ways especially if it directly interacts with the physical world.
The Sing Your Way Awake app and AR Bike Tour app were projects I mainly created in order to learn specific technologies and I am using those newly acquired skills for the my future projects. If there is a high demand for the two apps to be released, I'd be happy to clean them up and release them to the public.
Anything we missed you would like to share?
Besides technology and education, a passion of mine is helping others find their passions. I really hope that everyone takes time out in their lives to reflect on what they're doing and consider whether they're happy or not. Rediscovering my passion for technology, and then choosing to continue to grow and innovate has been the best thing that's happened to me.
And again, I'm very grateful for AT&T hosting hackathons because they create a safe spaces for developers and non-developers to freely explore their creativity. Plus, we get fed amazing food! 😀
We are highlighting Diana Pham and DinoHulk as part of our Featured Developer series, which spotlights members of our community to help provide insight into how people come together to ideate and develop applications. You can catch-up on how other developers have built teams and accomplished success through hackathons in our Developer Showcase.
Were you at the hack and want to share your experience? Do you know someone spotlighted in our Featured Developer series or are you interested in being featured? Share your thoughts in the comments below.
---
Share this post