Updated: Jun 01, 2015
Published: Jun 01, 2015
Seattle Hackathon Shines a Light on Performance and Innovation
Guest Post by Bill Weir
The last weekend in April saw another great AT&T Hackathon event, this time in Seattle, held at the SURF Incubator. The Seattle Hackathon emphasized both performance and innovation. I had the privilege of being a judge and offering support as a mobile performance subject matter expert.
More than 116 developers, designers, entrepreneurs, and students attended. As a Developer Advocate and member of the ARO Outreach team, I am especially happy that this was the first hackathon with a strong focus on ARO (Application Resource Optimizer). It is a great tool for improving mobile application performance.
Below is a photo of Doug Sillars, member of the ARO Outreach team, entertaining Hackathon participants with his war stories about performance.
Mobile Performance
We gave out two awards at the Seattle Hackathon based on using ARO to improve performance.
One award was for conducting ARO analysis on apps developed before the hackathon and the other was for apps developed during the Hackathon.
We received six pre-hackathon entries and seven in-hackathon entries. Below are the winners:
Pre-Hackathon Performance Award Winner
WorkOrbit is a mobile app that helps new residents of Seattle find the right neighborhood with an experience that encourages informed transit choices.
In-Hackathon Performance Award Winner
BoostedBike is a mobile app that helps deter bike theft and helps ensure that you are buying from a reputable seller when buying a bike online (or in person). A user types in the serial number of the bike and can see if the bike has been reported to a national registry of stolen bikes.
Mobile Innovation
There was also variety and some real innovation in the apps that were developed over the 24 hours of the hackathon. Here are some examples:
An app that delivers up-to-date information on the most popular eSports.
A mobile tool for multiple people to share and save contact information conveniently.
An app that reminds shoppers of coupons of interest, plus offering coupons from inside a store based on GeoLocation and iBeacon triangulation of location.
A travel app where travelers share their budget and interests, and the app fills in the rest by recommending things to do, along with flight, and hotel reservations.
Another travel app that offers favorite things to do during a trip layover.
A meet-up app that focuses on developer's conference, hack-a-thon, game-jam.
A musical alarm-clock app that requires singing or playing a specific note in order to turn it off.
An anonymous, location-based social-networking app for cannabis users.
An app that generates creative excuses.
All of the developers are to be congratulated..
You Can Improve Your Mobile Performance Too
How did AT&T test and judge these apps? We used AT&T's ARO, a free mobile app diagnostic tool, designed and developed specifically for mobile development by AT&T. ARO tests your app and generates a straightforward pass/fail report on each of 24 common issues, including the ones mentioned above.
A sample report is shown below: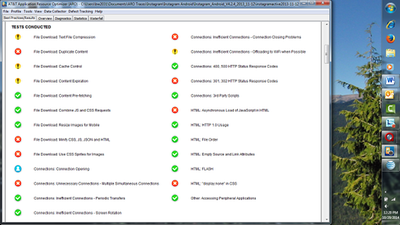 ARO gives you feedback on how your app is actually performing, with graphs, charts and advice on how to solve issues that were found. You can learn more on the ARO website.
Thanks to everyone who turned out for the first ARO hackathon, and thanks to all our sponsors!
---
Share this post