Updated: Mar 06, 2015
Published: Mar 06, 2015
Seattle and AT&T ARO Kicks Off ADA's 15-City International App Strategy Workshop Tour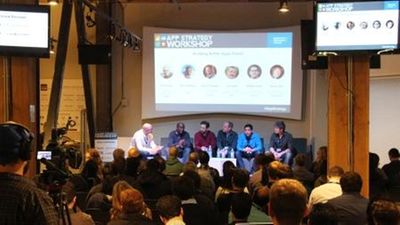 In February, the Application Developers Alliance (ADA) kicked off their 2015 tour for the App Strategy Workshop. The ADA brought in experts from publishers, start-ups and established tech leaders to help attendees turn their app ideas into profitable businesses. Like last year, ADA started their 15 city tour in Seattle and based on the standing room only attendance of 160, they picked the right city.
High Performance Apps
The workshop started with a technical keynote from AT&T ARO's own Doug Sillars. At CTIA and ADA's invitation, Doug spoke about "High Performance Apps: Easy Tips for Speed, Power and Data." Last year, CTIA launched an initiative (www.knowmyapp.org) to help educate customers on app data usage. This year they're focusing on educating new mobile developers. What fits the bill better than Mobile Best Practices and AT&T Application Resource Optimizer (ARO)? Doug talked about common mistakes developers make that can kill a customer's battery, their data plan and can adversely affect the performance of their app. You've heard me espouse enough about the benefits of Mobile Best Practices and AT&T ARO in past blogs so I'll leave it to you to check out Doug's talk in the embedded video. His slide deck can also be found at https://t.co/gy5v9b8Dih.
Panels
The remainder of the workshop included panels and fireside chats. The first panel was titled "Building Better Apps" with panelists from OpenX, Sirqul, Amazon Appstore, Intel, AppLovin, and Alaska Airlines. They discussed different approaches to bring an app to market faster and to ensure the app is useful and engaging.
This second panel or fireside chat was on "The Feedback Funnel" and included Apptentive, Nordstrom, and Tune. Their discussion was centered around how to differentiate your app by using user feedback to both improve your product and to keep your users engaged.
The final panel was titled "What Is Your User Worth" and panelists included allrecipes.com, calldorado, millennial media, Appsflyer, and Google. As you would expect, the discussion was rather lively and centered around strategies to get the most out of your active users and most importantly for small start-ups, determining the value of customers be it eyeballs, ad revenue, and even as influencers.
The workshop closed out with a stimulating networking session enhanced by free beer, wine and by the fuel of all start-ups, pizza!
ADA will post videos of the whole workshop. I will add a link to it on this post when they're ready. You can also catch Max Rollinger's recap for a more detailed write up and some interesting social posts.
15-City Tour Continues
If you didn't make it to this workshop, don't fret. The ADA has 15 international cities planned for 2015 so they're sure to hit a city close to you. The next workshops will be on March 26th in Los Angeles and London, UK – the city of angels and the city of weeping angels, respectively. Here's the complete schedule.

---
Share this post