Updated: Apr 16, 2021
Published: Dec 13, 2016
Hackathon Recap: Hack-o-ween with the City of San Diego and CyberTECH
On the weekend of October 30-31 we returned to San Diego and CyberTECH for our 4th hackathon in the area.  Developers at the event included a few familiar faces like Ruggero Scorcioni and CyberCode Twins America and Penelope Lopez. In addition to the award for best overall app, developers were offered two additional challenges.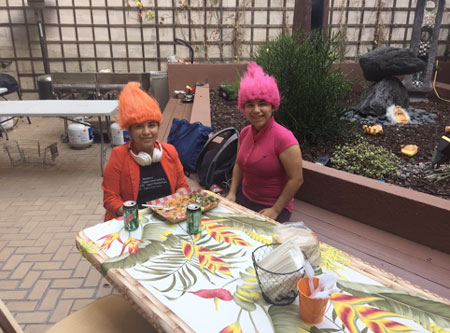 CyberCode Twins
First, use the APIs available at the City of San Diego Open Data Portal to create a smart cities solution. Gary Hayslip, Deputy Director and Chief Information Security Officer for the City of San Diego, was on hand to speaking to and assist developers at the event.
Second, we challenged developers to build a mechatronics solution.  Mechatronics is the art of mixing mechanical engineering (e.g. robotics) with electronics and wireless connectivity.
Now for the winning teams!
Best Hackathon Overall App – Team Helmet
Best Use of City of San Diego API's – Team SD Connected
Best Use of Mechatronics – Team SD Cool Zones
Best Emerging Technology (Honorable Mention) – Team COCo Technology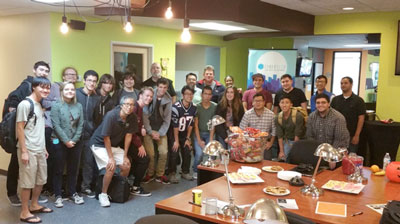 All the winning teams
Team SD Connected consisted of members of the Computer Science Club from Mission Vista High School. Team Helmet formed on-site and included a CyberTech member who showed up "just to get some tacos," but stayed to join a team!
A complete list of all the apps created at Hack-o-ween are listed below.
COCo Technology – "Our technology for cloud-based transportation services is designed to help commuters streamline their time, money, and resources. We call this COCo, the Cloud Operated Commuter. Our system will be implemented via a web platform and Cloud Card transactions. Many of our features will utilize City of San Diego APIs such as Special Events, Street Sweeping, and Meter Usage. Instead of installing more terminals to meet the growing needs of San Diego,  COCo can be used to reduce installation costs and automate metering and help collect revenue."
Technology Used: Google Drive, Tom Cat, Amazon Web Services (AWS), HTML editors
Crimewatch – "An app that shows neighborhood crime."
Technology Used: React, Rails
Head Control – "In accordance with ADA guidelines, provide an adaptive IoT environment in the city that people with physical impairments can use. Headphones and head gestures/movements can control IoT elements."
Technology Used: JBL Headset, EVEREST™ ELITE SDK, Android, Javascript, Arduino Uno 101, Grove SEEED Sensors, basic robotics parts (controlled by headset)
Helmet – "There is a dire need for smarter cities with smaller carbon footprints, and mitigation of vehicle collisions. The initiative to increase the amount of bicycle friendly cities (San Diego being a prime example) is one of the main cornerstones to help establish more sustainable urban lifestyles. Helmet is an app that communicates with a crash tracking sensor that's mounted on your bike. When a crash is detected the sensor records the data into the map and sends texts to EMS and your emergency contacts."
Technology Used: Particle photon, Python, OpenMaps
Immerseme – "The app personalizes the city to my preferences. It helps me experience the city by showing things related to my interests around my geolocation."
Technology Used: Google Maps, City of San Diego Data, Android, Java, Android Studio, Bluetooth BLE
Money Poll – "Money Poll leverages the City of San Diego datasets to help determine where and what San Diegans are putting their money towards. Our primary instance draws from the financial support of candidates and ballot issues dataset to highlight the top recipients and their donors."
Technology Used: Native iOS, San Diego Data API
RateWatch – "Understanding heart rate variability can help with stress management. Studies show stress management can increase work efficiency and safety. San Diego first responders deal with stressful situations daily. We want to track first responder heart rate variability to help them maximize their own performance and safety while minimizing work-related stress. We also aim to fill a need for a dataset about first responder physiological factors."
Technology Used: Android, Bluetooth LE protocols, heart-rate monitor, San Diego City API
SD Connected – "San Diego needs to stay connected as a community and so our solution, which San Diegans can use to stay connected, is SD Connected. SD Connected uses the Google Maps API, the city of San Diego API, the Civic Information API, along with the Google Calendar API to promote activities going on in the community. In SD Connected, a user may browse through all the events updated in the San Diego Special Events Registry as they are added. Furthermore, the user may choose to "bookmark" events, so that they can come back to them later."
Technology Used: Tools: Android Studio, Inkscape, Paint.net/APIs: Google Maps API, Civic Information API, City San Diego API, Google Calendar API (Working on)
SD Cool Zones – "There's a major heat wave in the city and you don't have AC at home. Where do you go? The Cool Zone App will tell you places that have available spots for you and your loved ones to cool down and stay safe."
Technology Used: Azure, SignalR, Arduino, Bluetooth Eddystone, Polymer, Google Maps API, HTML5 geolocation
Smart Event Buzz – "Are you tired of finding cool events only to discover them overcrowded and no parking available? If so, Smart Event Buzz will let you conveniently know the status before you even get there.
Benefits for citizens:
* Less parking headaches
* Saving time and energy
* More enjoyable experience
Benefit for city:
* Proactive allocation of resources
* Reduced traffic congestion
* Happy citizens
In short, our app is making events better in smart cities."
Technology Used: GoLang, NodeJS, Raspberry Pi, cell phone SMS, web technologies
SpotMe – "If you're on your way downtown this app will help you identify your best bet for finding an open metered parking space near your destination. This is accomplished using the city of San Diego data sets."
Technology Used: Google Maps, Amazon AWS, iOS, MySQL, SD Open Data (parking meter location and transactions)
---
Share this post