Updated: Dec 18, 2017
Published: Jun 06, 2016
Recycling robots & chief innovation officers: Everything you need to know about smart cities @ SHAPE
Many cities around the country are striving to establish their own "smart city" identity, even though there is not yet a clear-cut, universal definition of the term. According to the Smart Cities Council, a smart city is "one that has digital technology embedded across all city functions." Frost & Sullivan, outline eight components to a smart city (each with the word "smart" in front of it): governance, building, healthcare, mobility, infrastructure, technology, energy, and citizens.
The numerous terms that have been used to describe the smart city movement can be confusing, but it has also created a flurry of activity in the space. Businesses and cities, both big and small, race to carve out their positioning in this burgeoning sector. From smiling recycling robots, to vehicle detection and analytics, to smart city consortiums, the innovation that is happening makes it an exciting time to be living in our nation's cities. SHAPE, an interactive tech expo, is showcasing exciting and new smart city innovations that you can explore at AT&T Park. Let's take a look at some of the innovations and speakers that will be showcased.
Qualcomm & Finger Food Studios Introduce "Robbie the Recycling Trash Can Robot"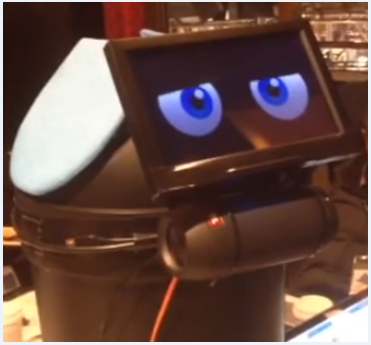 He's smart, he's funny, he's cute …. He's a robot!  And he recycles! Robbie is an app-enabled robotic recycling bin, powered by a Qualcomm® Snapdragon™ 410 processor. His job is to improve the rates of recycling by educating people about the importance of recycling and reducing waste, and rewards people for their efforts. The team behind Robbie wanted to simplify recycling and make something that children would want to interact with and learn from. Robbie uses a gesture sensor to detect items moving into the bin, reporting that data to M2X against individual, neighborhood, and city goals.
Swing by Qualcomm's booth to say hi to Robbie and to see how much fun recycling can be!
Sensity Uses Radio Controlled Cars to Showcase Vehicle Detection and Traffic Analytics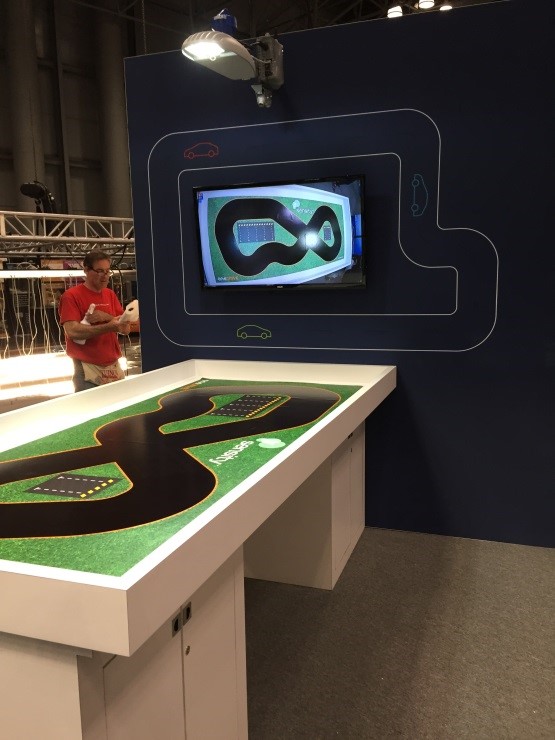 Sensity's cutting edge NetSense Video Node is optimized for vehicle detection, including traffic analysis, on-street parking, and availability of spots in parking lots; highlighting multiple smart city applications all in one technology. Since we can't run a road through the expo area, Sensity has created a mock scene utilizing Anki cars and a racetrack replicating a real traffic scenario.
Stop by Sensity's booth to check out how these analytics work in a live environment, using radio–controlled cars … or just come by to play!
Smart Cities + Connected Citizens: The Future of How we Live & Work in the San Francisco Bay Area
San Francisco has consistently been recognized as one of the world's most innovative cities; so who better to discuss the future of the smart cities movement than San Francisco's own Chief Innovation Officer Jay Nath. As the city's Chief Innovation Officer and White House Champion of Change, Jay Nath works with the tech community and the public to help make government more transparent, efficient, and constituent- focused. Under his leadership, the Mayor's Office of Civic Innovation launched the first of its kind Entrepreneurship in Residence program in collaboration with the White House. The program includes an on-premises incubator at City Hall, meant to apply startup ingenuity directly to pain points within government itself.
Joining Jay at 12pm on Saturday, July 16th on the main stage will be AT&T's own Chris Penrose, SVP, IoT Solutions, Doug Davenport, CEO, Prospect Silicon Valley, and Scot Shipman, General Counsel & Chief Privacy Officer, Sensity.  Together they will discuss the future of tech within the Smart Cities movement and how developers can get involved in this space.
Similar to the smart cities movement, we have just scratched the surface on what is possible at Shape. We assure you that the smart and connected city will be represented well at the event; giving you a great opportunity to learn more about this space.
Register for Shape Today
Join us at Shape being held at AT&T Park on July 15th and 16th and discover innovative ways tech is shaping our future. We have a line-up of speakers who are visionaries in their fields including Ray Kurzweil, Jason Silva, Nate Silver, John Stankey, John Donovan and Ralph de la Vega along with panels where participants discuss everything from smart cities to the impact of tech on society. Stroll through interactive exhibits to get a glimpse at how technology is transforming the way we live. Take part in the Shape Hackathon and compete for prizes. Marvel as your kids learns to solder and create things they only imagined at Maker Camp Live. Round out your experience by watching the Shape Challenge semi-finalists present their projects live on stage. Enjoy a performance from iHeartRadio LIVE with Silversun Pickups at AT&T Park. Ready to immerse yourself at a tech expo unlike any other? Sign up for Shape today.
---
Share this post