Updated: Nov 25, 2015
Published: Nov 25, 2015
Recap: NYC AT&T Mobile App Hackathon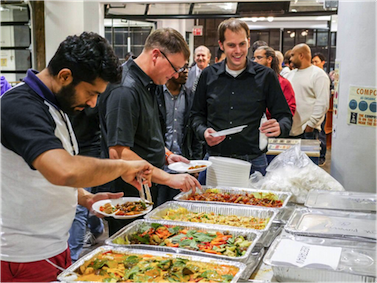 We loved our last New York event so much, that we came back to the Center for Social Innovation for another hackathon. We partnered with Alcatel-Lucent and Microsoft to put on another smashing weekend full of code, learning, food, and fun!
We challenged our 150 hackers to create innovative applications using the Alcatel-Lucent Rapport Call Management APIs and Microsoft Azure. They were definitely up to the task. We saw apps that ranged from personal impact to neighborhood impact. We are even looking at global impact when we consider that Gilles, who gave the Alcatel-Lucent Lightning Talk, flew to New York from France and we had teams travel from Boston, Washington, DC, and even San Francisco to participate in this hackathon.
Now, for the moment you've been waiting for…the winners of our November New York Hackathon!


Best Overall App – PORCHLIGHT
1st Place Best Use of Alcatel-Lucent Rapport™ Call Management APIs – 911 Boomerang
2nd Place Best Use of Alcatel-Lucent Rapport™ Call Management APIs – Call Grandma
3rd Place Best Use of Alcatel-Lucent Rapport™ Call Management APIs – biz
Best Use of Alcatel-Lucent Rapport™ Call Management APIs, Internet of Things – Neighborhood Safety
Best Use of Alcatel-Lucent Rapport™ Call Management APIs, Location Services – PORCHLIGHT
Best App Built on Azure – Call Grandma
Read on to find out what other apps were created by teams in NYC:
911 Boomerang – "Notifies you if your parents call emergency 911. If you can't connect to your parents, it will attempt to connect you to 911 to get more information."
AVSO PAYS – "Avso is for Americans who do not have a savings account of $1,000 or more to cover emergency expenses and end up taking out fee-based loans, and as such, payments aren't applied to the principal. We use big data, unique proprietary algorithms and automated workflows that translates into more accurate credit decisions, which leads to increased credit availability for borrowers and higher repayment rates for peers. Unlike traditional short-term lenders, which borrowers still owe the principal amount when their loan is "paid," we offer a streamlined end-to-end application process that allow the borrower's loans to be fulfilled by their peers."
Conference Control – "We plan to do for conference calling what visual voice mail did for voicemail. We've created a call center to call out to participants instead of them calling into a number with a participant pin, visually see who's on and who isn't, whisper between participants, and send notes out after the meeting all from one, simple screen."
Neighborhood Safety – "Our app is designed to support neighborhood safety. We believe a SAFER NEIGHBORHOOD IS A SAFER AMERICA. In Rural areas and in semi urban areas with low population density, emergency services are in demand. Often times, community is the first responder. Our app/solution, through a combination of iOT/ Microsoft Azure and Alcatel Lucent, will provide notifications and community involvement in areas of fire, snow, fallen trees, bear sightings, broken pipes, radiation hazards, etc."
Margin – "When reading a book, if you like a paragraph, you would underline it, highlight a line, write notes in the margin. However, while listening to music, you wanted to write something about a song, there is no way to do it. Until now.

Our app lets you mark/select a particular time in the song you are listening to and write notes associated to it. It can be your thoughts on the song, a guitar solo you liked, a dedication, etc. When you listen to the song again in the future, all your notes are brought back up. We believe music is all about the silences in between the songs, and we want the users to fill it with their thoughts."
PORCHLIGHT – "PORCHLIGHT is a location-based contextual communications application. It allows users to delegate calls to a device based on location, time, and caller identity."
EMC! (Emergency Medical Calls) – "EMC is a mobile app that notifies 911 and friends and family when you are facing a medical emergency."
AVR – "AVR is a mobile application that helps users find homes. What make this app different from others is that it shows the homes through virtual reality (VR) and augmented reality (AR). AVR helps users save time by exploring homes from the comfort of their own living room."
Call Grandma – "An app that reminds you to call contacts if you haven't talked to them in a while."
GoPlan.biz – "More than 100,000 new small businesses and micro-loans are created in the world every day. Within 3 years, 75% of them fail. Why? Because they don't plan. Our team will create an app that can allow users to create a FULL business plan with just the touch of their fingers. The beginner entrepreneurs need the right tools to plan and develop their business strategies, we will offer an app that can run on low cost mobile smart phones."
myTym – "Calling people back on myTym — The app that routes interrupting calls to your calendar for call back at a convenient time picked by you. Use it while driving, during personal/intimate time, or focus on work time. Be in control, but not missing out on anything."
GemNet – "Our app enables developers to meet other developers with the same interest. Other filters include the ability to either learn or work on a project, and find and hire developers closest to them."
KeyBeacons – "Every multi-unit building in Manhattan has an emergency key cabinet with keys to access units in the event the owner is unable to present the key. This system prevents misuse of these keys by using AT&T's Call Direction API to connect the Key Owner to the Key Superintendent when the Bluetooth Low Energy (BLE) App enabled Key Cabinet detects that the Key Beacon is not detectable or has left the geofence. The app detects the Gimbal Beacon, which is attached to the unit keys and makes a call when the beacon is not detected."
1-800-Tinkerbell – "Controlling your home automation should be as easy as talking on the phone. With Tinkerbell, users of home automation products — networked thermostats, smart light bulbs, etc. — can control their home with a phone call."
TextMe – "Who li
---
Share this post