Updated: Apr 27, 2014
Published: Apr 27, 2014
Recap: Nest GSV & AT&T Wearables Hackathon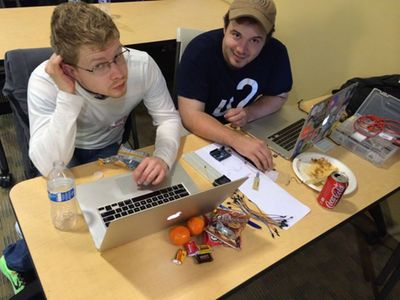 We just finished our NestGSV & AT&T Wearable Hackathon in Redwood City that garnered over 130 attendees. This particular hackathon was designed to explore wearable technology in new and innovative ways. We brought in Vuzix M100 glasses, Pebble watches, Wahoo Heart Rate Monitors, Sensor Tags from Texas Instruments, and Wearable Development Kits from SeeedStudio along with evangelists to help support development with these technologies.
As an added bonus, the event also featured a presentation from former NestGSV tenent Skully Helmets, the creators of the first heads up display helmet. They were a perfect example of the blossoming concepts and opportunities available in the space of wearables.
I'd like to make a special note of two of the coolest hacks I have ever seen: ShoeOS and Beer Band. ShoeOS (team members pictured above) was definitely an app that belonged on Throwback Thursday as the idea of pressure sensor sneakers bring back memories of LA Lights sneakers. While Beer Band may be the first wearable drinking game and is almost assuredly the first global wearables drinking game, I hope and trust its users will drink responsibly.
The event fostered many ambitious ideas that left some teams running into issues with scope, but at the end of the day, 13 teams were able to complete their apps and pitch their solutions. You can see pictures taken at the Hackathon on our Facebook page. Here's what the teams created:
Team Smart Glass Health Monitor – This app keeps track of your glucose value, blood pressure, temperature. In the case of an emergency, it sends notifications to SmartGlass, which connects with the cloud and calls everyone.
IntelliHealth – Tied 1st Place for Sensoplex – By using wearable data (body temperature), personal bio data (e.g. height, weight), and past times where you got sick or didn't feel well, the app learns which attributes may cause you to get sick. It then uses this information to predict when you are likely to get sick and warn you. The app currently uses a simple threshold on body temperature as the prediction algorithm, but this can be made much more accurate by using machine learning approaches as well as external data such as weather and air quality.
Team Closer – 1st Place AT&T APIs (w/Tutorial Bonus) and Tied 1st Place for Sensoplex – Never lose your valuables. Use the Closer app to keep car keys and wallet within reach. Team Closer also opensourced its entire code on github as a quickstart boilerplate to build web & hybrid mobile apps using the AT&T M2X API. It comes with a powerful build system to get you started in minutes! Find it here on github.
Team Safe Driving Tracker – 1st Place NestGSV Incubation – Many people are concerned about their loved ones unsafe driving habits. Wouldn't it be great to be able to track when your family member – say your son or daughter – is not driving safely. We have integrated an "Automatic" On Board Diagnostic (OBD) device with Pebble. When your family member drives unsafely (like speeding) you receive a real-time notification directly on your wrist via Pebble watch. You also get a notification for engine failures and notifications about destination arrivals. Users can even verify on our website the arrival location in a map.
Team Speak Easy – Using Vuzix and the AT&T Text to Speech API, Speak Easy helps you become a better speaker.
Team Posture Reader – This app is designed to help parents monitor their kids when they watch TV/play games on a tablet. Additionally, if kids bend their body too much, the app reminds them to correct their posture.
Team Shake Pay – Make BitCoin payment easier with just a hand shake using Pebble.
Team Beer Band – Enjoy beers and a beer fight with everyone in the world!
Team Beat – This is a music player app which play songs automatically matched with your heart beat. It's awesome.
Team OCR – 1st Place Vuzix Glasses – This OCR APP is an assistive technology for wearable devices that converts what you see into words. It utilizes a smart on-device Optical Character Recognition (OCR) technology and pairs that with a robust speech synthesis interface that can read anything your camera sees. This app is designed specifically to aid people with visual impairments or people trying to overcome a written language barrier. Just with the click of a button, you can potentially get the destination of the bus in front of you, and that's just the beginning. Next steps include incorporating scene recognition, narration and so much more.
Team Pebble Watch Accessories Shopping – Automatically Shop for the Pebble Watch accessories.
Team Pebble Flash Cards – 1st Place Pebble Watch – A user can memorize vocabularies on the go with many fun elements.
Team ShoeOS – A wearable app that allows you to control the pitch and/or tempo of your music based on your walking pace.
---
Share this post