Updated: Dec 30, 2015
Published: Dec 30, 2015
Recap: Hackathon at Nova Southeastern University in Florida
Could anything sound like a more awesome way to end the year then having a hackathon in Fort Lauderdale in December? Well, the weather decided it had other plans hitting South Florida with a huge storm, but thanks to some awesome devs toughing out the weather we persevered and had a an awesome event at Nova Southeastern University.
We challenged our 67 rain-soaked hackers to create innovative Internet of Things (IoT) solutions and mobile applications using the AT&T M2X, Harman Omni 10 Speakers, and Microsoft Azure. As usual, they delivered some awesome prototypes leveraging Arduino, photons, and even some GoPro cameras. We saw solutions running the gamut from an immersive VR app leveraging Harman speakers to smartpay, a transit app to a GoPro mounted camera controlled by a smart fabric control.
Now, for the moment you've been waiting for…the winners from our final hackathon of 2015!
(Tied) Best Overall App – Virtual Escape
(Tied) Best Overall App – Tap'n'Ride
Best Use of AT&T M2X – Virtual Escape
Best Use of Harman – Virtual Escape
Best Use of Microsoft Azure – AirTimer
Community Choice Award – Virtual Escape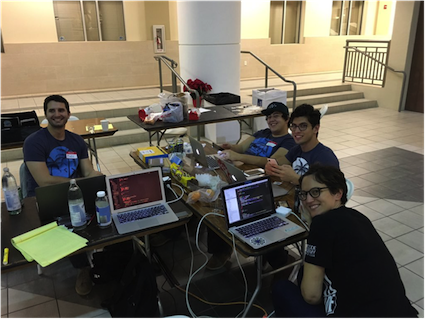 Team Tap-n-Ride performing a code check at the South Florida Hackathon.
Interested in finding out about all the apps created at the event? Read below to learn more:
Chronos – "Your time is valuable, make it count! We made an app to help companies better track billable hours."
Latch – "This app allows people to pitch their own ideas to large amounts of skilled individuals. If these individuals like the idea, they can "latch on" and essentially apply for recruitment to work on that idea."
Door Control Cloud – "A visual alert on your phone about a door being open would be very useful to see from wherever you are. Whether you're away or at home. There are many uses for such a tool. You could simply keep an eye on people arriving, or be aware of those who should not be there."
Project Wired – "Project Wired allows mobile field agents to keep track of work assignments."
VLeads – "Weichert sends realtors leads coming in through the Weichert website and others real estate sites like Zillow. The first realtor to respond gets the lead. We propose to automate this process on mobile devices."
airTimer – "Wirelessly SImple Embedded devices to track racers."
Smart Streamer – "A Spotify streamer to demo the Harman Omni series speakers"
Tap'n'Ride – "Tap-n-Ride uses NFC to turn the Miami-Dade transit systems into a mobile ticketing system. Users can take their android device and attach the payment information to pay for rides."
GoSmart – "This IoT solution uses smart fabric pressure sensors and a servo for you to control a helmet-mounted GoPro camera. This allows you to capture video while in motion – whether you're running, biking or skateboarding. In addition, you are able to disable the GoPro and leverage the same controller to control music in your home."
Virtual Escape – "My virtual reality app immerses a Harman Kardon listener in a virtual world that allows users to control their networked Omni product while enjoying the scenery of a beach or mountains."
---
Share this post