Updated: Jun 17, 2016
Published: Jun 16, 2016
Recap: AT&T Silicon Valley Hackathon
With our AT&T Shape Hackathon just around the corner, we invaded Silicon Valley last week to host a hackathon to get hackers ready for the upcoming event. As usual, local developers, designers, and students came prepared and after 24 caffeine- and snack-filled hours they had built 23 mobile and IoT solutions!
Before we get into the details of the event I'd like to thank GSV Labs for hosting and our friends at IBM Bluemix for sponsoring the event and providing an awesome workshop for developers on Friday night. I'd also like to give a shout out to Scaphold.io, a new GraphQL startup, which provides an interesting tool for those looking to build React-native apps.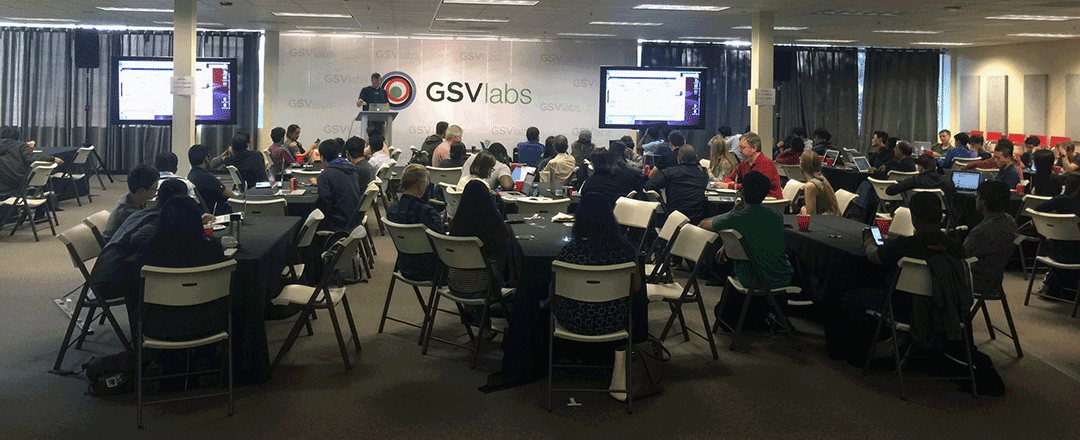 This hackathon featured some truly great ideas. One of the most impactful apps came from Team Advocate, which created a tool to make it easier for everyday citizens to lobby congress. The app's goal was to help take the online petitions we so commonly see and transform them into action. People could use the app to call their congressperson and track that specific campaign. It also provided the user with tips or scripts for the call to help make the greatest impact possible.
Those in attendance were also fortunate enough to see one of the greatest hackathon pitches we have ever seen at our local events. Team SuzyChef demonstrated their voice-enabled cooking assistant by having a team member create a fruit salad live on stage using the instructions provided by the app. This may seem easy at first, but due to the time constraints of the pitch it often meant a rush against the clock. The team showed amazing creativity in making very realistic-looking chef hats from paper towels. Truly an awesome pitch! Watch it below.
Lastly, we gave developers an additional challenge designed to help us and participants get ready for the AT&T Shape Hackathon. Teams needed to create a 3-minute video recorded pitch that demo'd their application highlighting both the problem it addressed and the solution the app provided. Roughly half the team's submitted videos and we were extremely impressed with the results. For the first time ever, at AT&T Shape, we will be asking for hackathon teams to submit video-recorded pitches for the 1st round of judging. These pitches will show a team's flexibility for putting their best foot forward and avoiding the dreaded demo fail. It also allows us to provide those videos to each sponsor to help facilitate the best judging experience possible for everyone.
Enough with the chit chat, onto the winners:
1st Place Best Overall – Smart Store Assistant
2nd Place Best Overall – SmartMirror
Best Hardware Hack – Happy Meter
Best Use of IBM Bluemix – Smart Chair
Best Use of Scaphold.io – Bitcoin Data Reporting As a Service
Best Video Recorded Pitch – SuzyChef
Congratulations to the winners!
Silicon Valley Hackathon Apps
We hope to see all of our winners, competitors, and readers at our upcoming AT&T Shape Hackathon on July 15th and 16th taking place in AT&T Park! Please be sure to RSVP soon. Here are all the apps created at last weekend's hackathon:
Smart Chair: Smart chair senses the user posture based on the reading from the FSR, angle and distance. If the user is sitting in a potentially harmful position he is notified through his smart devices. We also provide a dashboard for the user to view his posture over a period of time.
Happy Meter: There is so much emphasis on physical health with Fitbit's and workouts. Why don't we pay attention to our happiness? Our device and app aims to improve a user's happiness. Using a combination of speech patterns, tone, and body language we create a happiness index. The index helps users get into happy shape! Companies spend billions to keep their employees happy; this will provide granular insight and analytics on how to keep them happy!
Smart Store Assistant: Smart Store Assistant is a solution for stores to help customers get product related information efficiently using voice. Now, you do not need to wait for a customer representative to be available, instead you can get any product information seamlessly using voice-based questions. Smart Store Assistant uses an integration of a Akeneo (Product Information Manager) with an Amazon Alexa.
Aloup: Our application lets groups of people simultaneously share their locations. On a simple map view you can quickly tell how far you are from everybody else. You can also ask people to give you a heads up of their current status and estimated time of arrival. Never worry about your team or caretaker being late again!
BeZikaFree: BeZikaFree is an app to inform couples planning to start a family about Zika. The app gives the user details regarding effects, transmission, symptoms, as well as information to maximize protection from being infected while traveling to outbreak areas, and news articles about Zka.
PubGrub: PubGrub is the platform for the savvy restaurant and consumer. Restaurants with food that is cooked, but not used (pickup no-show, extra pre-cooked dishes) is sold by delivery to at-home eaters that just want food fast. By making food available quicker than any other delivery service, this project will rise in an on-demand market and succeed by connecting established restaurants to consumers so that both parties can maximize the value of the transaction.
SuzyChef: Smart voice-based cooking assistant.
BuddyBot: We use IBM Bluemix/Watson Personality Insights to match users to new buddies. Future updates to this app will help keep users in touch with new and old pals by suggesting activities and notifying users when a friend or similar user is up for random hangouts.
Haas (Home As a Service): Haas provides a platform for users to easily search for an exact household space or amenity at a reasonable price. Users can see houses with spaces such as bedrooms, kitchens, or storage, and amenities such as printers, parking spaces, or swimming pools in a specific radius with filtered price and availability. In addition, renters can rent out their desired spaces and amenities by simply uploading them to the app. Instead of home assets sitting idle, renters can effortlessly monetize their existing infrastructure for passive income.
Token City: Token City is a chat-based mobile app that will help people navigating.
CrowdJ: We present CrowdJ – the first intelligent crowdsource DJ app with live visual feedback. By texting the CrowdJ number what you think of each song played it almost feels as if you were talking to a friend or the DJ himself. We use a Natural Language Processing API to analyze the sentiment of incoming text messages and store the number of positive and negative responses. This data is piped to the DJ and displayed visually on our LED strip so the ambience can change with the feelings of the crowd. This enables partygoers to have a stake in the music, and gives the DJ valuable feedback.
Local Bands: Find and hire a local band, musician, or stand-up comedian for your event
Recognize: Recognize removes the friction and guessing associated with analog doorbell systems. Leveraging the power of facial recognition, the Recognize iOS app lets you determine who should be allowed to enter.
SmartMirror: Kickstart your morning with a smart mirror. See your vitals and sleeping pattern while doing your morning chorus. Give a boost to your motivation and plan your day ahead without wasting any of your precious time.
Carcon: An app exclusively for electrical vehicle charging. It,s talkative, dynamic, and has emoticons that provide fun and humor . The app pulls up the car info itself, and updates the driver of battery charge status. It will first alert the driver if it needs charging for 21 seconds, and then takes over the navigation to rerouting itself to the nearest available charging station. It gives the driver options of what to do (food, coffee, restrooms and/or lodging at a walking distance) while it's charging. Once charging is complete, Carcon informs the driver, requests payment, and once received, it says "Thank You."
BlindEars: BlindEars is a smart cane for the visually impaired that detects oncoming objects. The average human walks 3.1 mph, or 55 inches/second. With a standard 50-inch white cane, that's just a 1 second reaction time assuming you strike the object instantly. BlindEars uses ultrasonic pulses that listen for echoes from nearby objects to increase blind folks' field-of-vision by 200% and thus, reaction time by 3-5 seconds, so every step isn't a trip.
Bitcoin Data Reporting As a Service: Bitcoin or other blockchain data as a hosted service. Kind of like a Crystal Reports for bitcoin data. Using the powerful GraphQL, provided by Scaphold, analysts and developers can create financial reports (projection, demand) and accounting reports (ledger, earning, profit-and-loss).
MoodMirror: Mirrors your mood on the wall and your Twitter account by listening.
Drippy: Drippy helps you save water! Though we live in a water planet, desalinated water remains to be a precious resources to man. Ninety-five percent of the water entering our homes goes down the drain. Running the tap while brushing your teeth can waste 4 gallons of water. Drippy subtly lights up the water when you start exceeding the average consumption. It also logs the water consumption, and provides smart recommendations and tips on how to save water and do your bit for the greater good.
Advocate: When you face an urgent issue that involves a Federal Agency, your Senators and Representative promise to help. Their help can extend all the way across the world — all you need to do is ask. Advocate is a mobile app designed to make it easy for constituents to ask for congressional help for issues distant and local. This app can request their action on global warming, press to end gun violence in schools, and it can even build peace in the middle east by asking for help one issue, one village at a time. By providing your request, they can use the diplomacy needed to bring safety and stability to children and neighborhoods while building citizen engagement at home and overseas.
Healthy Food Ordering: Allows the user to order healthy food, based on the daily recommended nutritional values, relying on your preferences.
QuantiFi: We created an IoT device that allows you to watch your data usage and avoid hitting data caps that ISPs have begun implementing. You can view data usage history and statistics on all the devices on your home network.
DroidFit: We all want to take better care of ourselves, but sometimes we don't do a good job. This app works to motivate users with a cute avatar that represents their health, and users can see in real-time how they are doing. When we take good care of our own health, our avatar is happier! Get healthy and keep your Droid happy!
---
Share this post