Updated: Mar 28, 2016
Published: Mar 28, 2016
Recap: AT&T Seattle Parks and Rec Hackathon
Update, May 4, 2016: We're happy to announce that Doggie Deck is the Community Choice winner. Join us in congratulating them.
AT&T and Seattle Parks and Recreation partnered together to challenge developers, entrepreneurs, and students to create a mobile app to help people/organizations promote an active lifestyle. It was a packed event, with 183 participants forming 26 teams to compete for some amazing prizes. Teams were given just 24 hours to code and develop their apps. Wow, did they create some amazing stuff. Keep reading to find out about the cool apps that were built!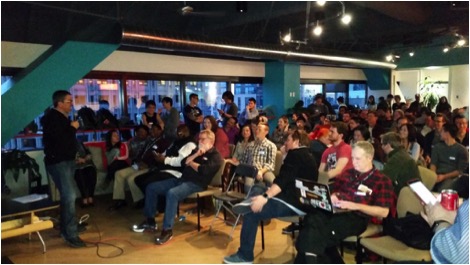 Teams rose to the task at hand and many tackled some of the key challenges presented by Jesús Aguirre, Superintendent of the Seattle Parks and Recreation Department. We saw apps that facilitated everything from connecting people to Parks and Recreation events, to facilities improvements, to addressing accessibility concerns.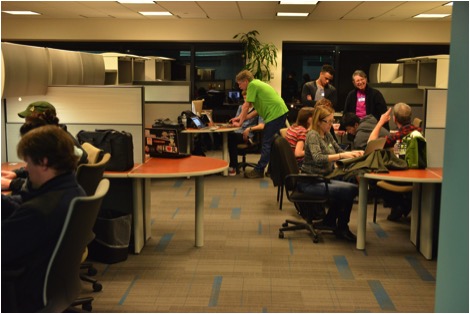 The weekend was full of coding, learning, food, and fun. Seattle Parks and Recreation was front and center at the event providing speakers, mentors, judges, and expertise. Socrata also created some exclusive data sets for the hackathon that participants could utilize during the event.
First prize "Best Overall App" went to – Helping Hands who walked away with $1000! The team created an innovative solution allowing Parks and Rec to work with the community to gather valuable information about specific facility needs. They created an IoT device that would be strategically located throughout the parks to allow visitors to report problem areas to the appropriate park authorities.
In addition, contestants of the Hackathon also got a chance to utilize AT&T ARO first hand to see how their aps were optimized. A total of 11 teams entered these categories and two lucky teams were awarded prizes for our pre-hack and hackathon contests.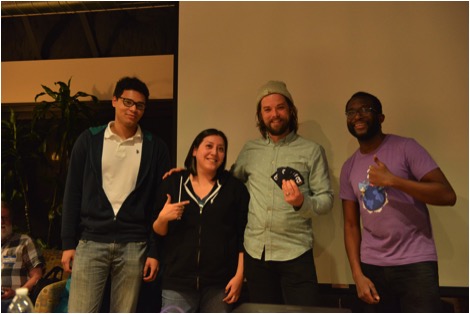 So many amazing mobile apps were created during the event that deliberations by the judging panel were fierce. Two additional teams received honorable mentions from the Superintendent himself for their accessibility apps due to the extreme importance of accessibility to Parks and Recreation as an organization.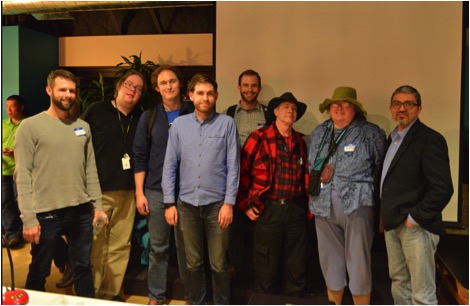 We would like to thank Socrata for partnering with us and providing the data sets and expertise for the event and Surf Incubator for hosting the hackathon. Attendees from SURF Incubator were extremely impressed with the amazing hackathon turnout and talent displayed. As a result, they want to offer any teams who want to continue working on their app, an opportunity to pitch their idea to the SURF community. Up to three teams will have the opportunity to win a 3-month SURF Café membership from SURF Incubator. For more information contact Seaton Gras: Seaton@surfincubator.com
We would also like to give a big shout out to all of our judges and mentors who assisted in making this hackathon a success!
Judges:
Jesús Aquirre, Superintendent – Seattle Parks and Recreation Department
Ayele Dagne, IT Director – Seattle Parks and Recreation Department
Ed Schmidt, Executive Director – AT&T Product Marketing
Yuriy Zaremba, User Experience Design Lead – Amazon
Nagesh Potar, Software Engineer – Microsoft
Don't forget to help us select our Community Choice Award winner by posting a comment below telling us which app from the Seattle Hackathon is your favorite! Please see all of the app submissions and winners below. The Community Choice Award winner will be announced April 22nd.
Winners of our Seattle Parks and Rec Hackathon!
Best Overall App: Helping Hands
Best Parks & Rec App: HelloParks
Most Efficient App:

Pre-Hackathon Contest: Uwave Radio App with an efficiency score of 79.69
Hackathon Prize: SeattleTrails with an efficiency score of 78.48

Accessibility Honorable Mentions from the superintendent

SeattleTrails
See Addled Parks
Here are the team apps:
Tennis for Two – "Tennis for two is a location-based matchmaking service. Think: Tinder for Tennis."
SeattleTrails – "SeattleTrails is an iOS app that displays a map of Seattle, outlining the official trails located within the city's parks. These outlines are color-coded identifying the ease-of-use for each trail. The app can get the user's location to determine which area of the map to show."
Vitalize – "Vitalize lets you find relevant nearby recreational activities in real-time."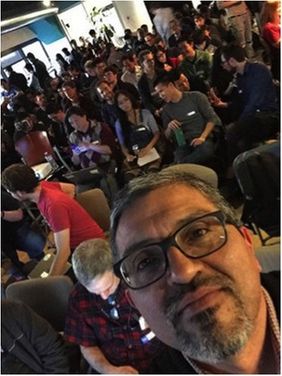 Parkatron3000 – "The status of park amenities can change daily, this app will help park goers find what they need and report what they don't."
(Tree Emoji, Bike Emoji, Sun Emoji, Rowing Emoji) – "We've developed Tree Emoji, Bike Emoji, Sun Emoji, Rowing Emoji as a tool to connect users with Parks and Rec events happening the city. The app offers a mode for users to discover events happening around them as well as a mode to plan and set reminders for upcoming events. A tool like ours also creates brand new opportunities for the Parks and Rec department. One of the most exciting uses we see from an administrator's perspective is the ability for the Parcs and Rec department to coordinate volunteer efforts and recruit users effortlessly."
Seattle Parkview – "A Seattle Parks and Rec mobile application that allows users to pick a local park on a map, and view, rate, and write a review for feedback."
Beyond Access – "Beyond Access is a mobile and web application helping ensure people with all kinds of disabilities can have equal access to Seattle Parks.
Bag the Parks – "You need a little motivation to get out and explore the city, or to get some exercise. So you hop on the bus and get off at some random location, and start up your Bag the Parks app. The app gets your location and offers a list of nearby parks that you haven't already visited. You select a park, and take off at a brisk walk. Bring up the app when you get to the park. The app detects that you're in the park, records that you've checked this park off your list, and offers you a new list of as-yet-unseen parks. As you visit 10, 20, 50, 100 parks, you're awarded badges for your achievements.
What's next for the app:
Integrating with Google Maps or OpenStreetMap to show the route to the selected park
Posting your Facebook check-in and displaying your badges there
Uploading pictures and posting a review of the park
Seeing where you are on the leader board
Then make this more general, so you can use other sets of points of interest"
Show Me The Restroom – "Public restrooms have been one of the most important issues in our daily's life. Whether it's trying to find a nearby public restroom or complain about the restroom, this Android app allows users to find the public restroom nearby, and allow an option to rate that restroom, evaluate cleanliness, and provide a suggestion. The restroom results can be shared on social media or sent to a person who is in charge at the park."
HvZ w/ Me – "HvZ w/ Me facilitates a unique bonding experience through a game called Humans Versus Zombies (HvZ). The game is a variation of tag that can be played at parks, camps, universities, or anywhere you can think of! Humans use their wit, cunning, and stealth to avoid being infected and survive the zombie outbreak. Zombies need to work together as a horde to overrun the human population. Both teams compete in missions to gain advantages over one another. The game finally ends when the last human is infected or the humans out last the zombies."
RecSeattle – "Our goal is to enable the Parks and Rec department to foster stronger communities, healthier people, and a happier Seattle. We do this by gamifying all our parks, with a mobile app called RecSeattle. All the parks in the city will offer specific "achievements" to its visitors such as:
'Hey there! you spent two hours playing Frisbee at Golden Gardens. Sweet! You're a FrisbeeMonster. Way to promote a healthy lifestyle, make sure more of your friends follow your suit.'
'Petted dogs all Sunday afternoon! Why Hello SeattleCity-DogLover, maybe you'd like to meet Jen from CapHill who won this badge the last two weeks in a row.'
'Have been biking everywhere? Thanks for keeping the city green you SuperGreenBiker"
FetchMe – "Want to go outside for a run but need someone to keep you company? Have some time to go for a walk, but don't want to go alone? Perfect, humankind's best friend is looking for people to stroll and bond with! FetchMe is an app that a seeks to link shelter dogs in need of physical activity with users that are thinking about going for walks more often. FetchMe seeks to grow the family by adopting a dog, or to help people simply have a hearty time while providing a much needed service.
FetchMe seeks to standardize the volunteering system to make it more accessible to anyone interested and willing to be active and care for a dog. Learn about the dogs you are interested in and fetch one through our scheduling system.
When the time has passed, bring the dog back no strings attached. Users will be able to enjoy the outdoors with a furry friend, and the dogs will have an increased chance of being adopted from participating shelters. Let's make Seattle even more dog-friendly than it already is!"
UnderTour – "Encourage the public to explore landmarks, parks, museums and historical sites while adding their personal favorite spots. Users will add locations (GPS coordinates) together to create a tour. It's a great way to find hidden gems or to get to know the area."
DoggieDeck – "'7th floor please. Oh wait is that a dog I see? Nice dog! Wow, I think I'll add it to my DoggieDeck!' You love dogs, I love dogs; everybody loves dogs. They bark, they wag, and now you can collect them all! DoggieDeck allows you to log all of your favorite dogs into your personal doggie collection. See a nice dog at the park? Simply use DoggieDeck to snap its unique identifying bandanna and add it to your collection. Share your favorite dogs with your friends! See pictures that other people snapped of your favorite dogs! Get updates when new pics are added of the dogs you follow. With all the dogs in the world, which will be in your deck?"
TrailBuds – "TrailBuds facilitates the love for the outdoors by providing an outlet for users to connect socially. The app allows hikers to avoid taking the risks associated with hiking solo. Users can create and join nearby hike events and message other hikers."
Sunshine – "The best time and place to enjoy the sun. No more surprise shade! Sunshine will make sure you don't show up to your park or public place and get punked by the shadows! Whether you're going for a walk, having a picnic, or just sitting in the warmth, sunshine has you covered."
LikeItHikeIt – "The purpose of our app is to help develop an outdoor community. We integrated a social network aspect towards our application to help motivate and bring people with related interests together to enjoy what Parks and Recreations have to offer."
Smart Court – "Smart Court connects tennis players with available local courts by leveraging Internet of Things (IoT) technologies. Users are able to see a map of local courts and their availability, view a court details page, and add courts to their list of favorites."
HelloParks – "There are lots of great events at Seattle parks, but accessibility is poor due to distribution and an outdated web-based UI. HelloParks is opening access to this information by creating an API on top of this data and building experiences such as a voice interface."
See Addled Parks – "Seniors and other mobility challenged persons need a quick assessment of route steepness and elevation change, along with resting spots, and most important – restrooms. We are using the philosophy of doing one simple thing well."
Helping Hands – "Our solution is an IoT device which houses five buttons. The device will be visible within a kiosk at high traffic park areas such as entrances, restrooms, and gathering points. Each button on the device sends a message through email to the appropriate park authorities. Users are enabled to provide feedback about their observations without even pulling out their phone. Examples of user feedback are: restrooms need attention, there is graffiti on the grounds, a tree is down, as well as a button that simply says that they had a great time."
GeoDash – "GeoDash is an opportunity to learn about Seattle's parks through a series of arcade machines placed in strategic places around a park. Bored with your neighborhood park or not sure where to go in big parks like Seward park? A GeoDash event will provide a new experience, highlighting activities and the history of the park that may be new to you."
GeoDash is the new hip and fun way to explore and discover the features and amenities of Seattle parks. GeoDash utilize strategically located Arcades (i.e. Arcade Guide Posts). Players interact with these arcades to learn and solve puzzles to continue the dash. Solving the puzzles or challenge will reward the player with the location of the next Arcade Guide Post. Players who complete the dash will be given a score. Top 10 scores are displayed on the leader board."
Be sure to vote for your favorite app you'd like to win the Community Choice Award by writing the app's name in the comments below.
---
Share this post