Updated: Oct 30, 2015
Published: Oct 30, 2015
Recap: AT&T Mobile App Hackathon – Notre Dame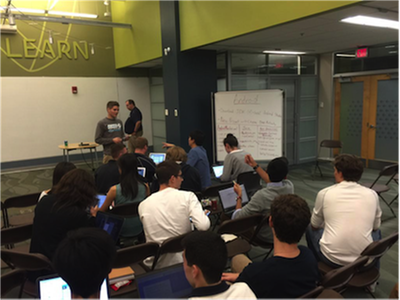 For our 3rd Annual AT&T Mobile App Hackathon at Notre Dame we decided to shake things up by incorporating our AT&T Digital Life platform and providing an inspiring kick-off from AT&T's own John Donovan. After an entire weekend of hacking, 15 teams emerged from the fog of caffeine and victorious coding ready to amaze our judges with their solutions. As a very special, amazing and generous award each team received a $250 gift card from our friends at Shure just for completing their project and demonstrating their entrepreneurial spirit.
In true hackathon spirit, we had some awesome upperclassmen provide our participants with workshops focused on native development. This is yet another great example of how these events are not possible without the support of the local community. I'd also like to take a moment to thank our hosts, Innovation Park at Notre Dame, for their amazing assistance in planning and executing the event. Their help has been invaluable in producing all three events in South Bend and we look forward to working with them again in the future.
Here are the winners:
Best Mobile App or IoT Solution Overall
1st Place – MYoHome
2nd Place – Va-go
3rd Place – Jamocracy
Best Use of AT&T Digital Life
1st Place – Chill
2nd Place – MYoHome
3rd Place – Va-go
Most Intriguing Idea/Concept – Spooky Surveillance
Best Design / Most Polished – Va-go
CIO Innovation Award – Tempo
Our overall winner, MYoHome, built a home automation solution leveraging the AT&T Digital Life platform and Myo Armband. Even more impressive was the very professional and polished UI they were able to produce in such a short period of time. The app actually provided you with icons that matched the status of each peripheral being controlled.
Check out all 15 awesome creations below:
RunMaker – "RunMaker helps you improve your running during the cold treadmill months. Just answer a few simple questions, and RunMaker will create a customized workout designed to improve your speed or endurance. RunMaker has a built-in timer with voice guidance, and integrates with AT&T Digital Life when possible to provide visual feedback."
Spooky Surveillance – "Our app allows Digital Life customers with an outdoor surveillance camera to manipulate the live streaming video to spook trick-or-treaters on Halloween. With a live streaming screen visible to trick-or-treaters, home owners can scare them by initiating a ghostly image that appears behind them on the display. Once the camera senses movement close to the door, the homeowner will be alerted and prompted with the option to launch the ghostly apparition app."
Scout – "Our app is an augmented reality app that will help people find their friends through the camera lens of their smartphones. By leveraging GPS position and accelerometer data, our app creates a heads up display that shows where your friends are in context to your surroundings. Hopefully, this will alleviate the painstaking process of trying to meet up with your friends especially in large crowds of people."
Chill – "This app is designed for the people who want the extra huzzah within their film watching experience with their significant other. Inside the app, you will be able to connect to and utilize the AT&T Digital Life products to further enhance your experience. Want to dim the lights to create a more romantic atmosphere? Want to turn down the temperature to facilitate a cuddle friendly environment? Our app will take care of that with one simple button plus more!"
YikYhack – "We created a desktop clone of the mobile app YikYak that uses their actual data. Users can connect their phone's YikYak account directly to our web app."
Pledge for Points – "Our app is designed to play off of AT&T's DriveMode app to encourage safe driving. We want to make this idea more interactive, so we're including:
A tracker that you enable when you get in your car and turns off when you reach your destination.

Friends on the Pledge, which will connect you to social media/your contact list and display the miles you have all traveled that week.

Rewards, where you receive a certain number of points depending on how many miles you travel and Plenti points from the points you have."
Study Spaces – "Our web application allows users to see where people are on campus and what subjects they are studying. That way, students who are looking for free study spaces as well as students looking for study groups can find somewhere to work. Our application uses location services to drop pins on academic buildings when students check-in. Students who are using the application to search for study spaces can then view how many people are in each building and what subjects are being studied."
Va-go – "What is only thing better than owning a beach house? Having a friend who owns a beach house! Va-Go lets people rent out their homes and condos to friends and family for short periods of time. Does your brother want to use the cottage for the weekend? Va-Go lets him have access to it for just that one weekend. Locks, lights, thermostat, and every vital piece of the house can be controlled through Va-Go. There are also a ton of extras included such as guest book, food recommendations, and easy options to contact the owner."
Jamocracy – "Jamocracy is a web application. The user starts by signing into Spotify through Jamocracy. Then, people can text in their song choices to the provided Twilio number. These songs are then added to the user's Spotify playlist."
Remote BnB – "We use the Digital Life collection and a simple yet versatile app to solve the five biggest problems faced by room sharing companies – an economy, which generated $3.5 billion in revenue last year with growth predicted to increase by 25% this year. RemoteBnB will utilize AirBnB's search function to locate a unit, book that unit, and allow a host to grant a guest access for a certain period of time (check in to check out). Because the locks (and all other technologies) are digitally controlled, guests will automatically lose access upon checkout. No more copied keys, no more guests overstaying their welcome, and because all users will be verified, the legitimacy of room sharing will finally rival that of hotels."
Veronica's Helper – "Our app is designed to assist people with diabetes manage his or her diabetes and provide a virtual buddy system. This app will log an individual's blood sugars, insulin, and carbohydrate intake, assist them in calculating his or her medicinal ratios, and call for help in the event of an emergency."
Tempo – "Our app, "Tempo" generates a playlist by choosing songs from Spotify whose speeds directly relate to the user's heart rate, as measured by a Bluetooth heart rate monitor. "
MYoHome – "MYoHOME serves as the crossroads of technology and lifestyle by using the most convenient controller: the AT&T Digital Life devices, and as a result they can turn on/off their lights, lock/unlock their door, and control a power outlet, all from any location at any time. All of this runs via an Android Application that retrieves the statuses of the devices, provides instructions as to how to use the product, and only requires the phone to be turned on and in range of the band."
Dribblr – "It is an app to organize pickup sports games."
HomeRunDerby – This game integrates a Bluetooth beacon in order to allow you to use a real nerf bat and ball to play a Home Run Derby. Just sync the ball to your phone before each at bat and then swing away.
---
Share this post