Updated: Jul 21, 2015
Published: Jul 21, 2015
Recap: AT&T Mobile App Hackathon – Boston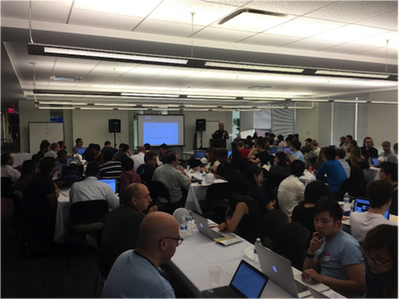 On July 10th and 11th we challenged Boston developers to join us at the Cambridge Innovation Center in downtown Boston to build and code Internet of Things (IoT) solutions using the latest hardware from AT&T, IBM, MediaTek Labs, and Harman. Over 150 local developers, designers, and students joined us and ended up building 15 awesome apps and IoT solutions.
As an IoT focused event, the vast majority of the apps built leveraged amazing hardware solutions, but one of the most impressive apps created focused on a pure software solution. Team Backdown won an honorable mention for their innovative app solution that tracked your recent Amazon purchases for price drops and sent an automated request to Amazon for a refund in cases where the price had fallen in time to meet the lowest price guarantee requirements. The app would then assist in tracking the total money saved.
However, our overall winner, One Arm Band, was an IoT solution that used just about anything the team could get their hands on. Most notably, their app leveraged both a MediaTEK LinkIT One and Myo Armband along with a plethora of other devices in order to produce music based on the user's movement. It was hard not to be astonished by how much was integrated into their solution and how well it functioned during their demo.
Check out all the weekend's winners below:
AT&T Mobile App Hackathon – Boston Winners
Best IoT App Overall – One Arm Band
Best Use of AT&T M2X – Food Safety Monitoring System
Best Use of IBM Bluemix – All Connected (The Wrecking Crew)
Best Use of MediaTEK LinkIT One – pTrackage
Best Use of Harman APIs – Myoqualizer
Honorable Mention – Backdown
Honorable Mention – DJ UpVote
Community Choice Award – YOU DECIDE! Add a comment to this blog to cast your vote.
Here is a list of ALL the apps created during the event (and don't forget to vote for your favorite in the comments!):
SecurStreets – "SecurStreets is a fast and safe way to report dangerous or unsafe incidents that occur on popular US city streets. A mobile app is downloaded on the users phone where they have a few options to report the incidents."
Backdown – "Amazon has a 7-day price adjustment policy that is not well known by many Amazon shoppers. Backdown provides Amazon shoppers–frequent and occasional ones–the opportunity to receive a price adjustment for their purchased products if the price drops within 7 days after purchase. Backdown will even send an email to Amazon for you to request a partial refund when the price falls–requiring no work on your end. No more needing to reload that specific product page every 5 seconds. No more personally sending emails to Amazon to request partial refunds. Everything is automated at your fingertips."
All Connected – "Our app associates a body movement, a vocal message, and an action."
DJ UpVote – "A DJ and a Reddit user's dream, this app uses a custom Web API backend, a public facing web portal, and Raspberry PI portals for users to upvote songs at a small party or at a multi-million watcher TV show. The most popular songs will appear at the top of the playlist. The DJ has a Windows 10 admin app to manage Harmon audio devices and overall moderator duties. This is a scalable, money making machine while still being affordable for the apartment renter."
Myoqualizer – "Transform your audio experience into a virtual studio session using Myoqualizer. By connecting the Myo Gesture Control Armband with Adapt, Harman's Wireless HD Audio Adaptor, we are giving you the power to cue music and control intensity through the movement of your own hands. Amplify the sounds that you would like to emphasize for acoustic perfection to your standards."
Food Safety Monitoring System – "Business need: Hotels and grocery stores need to sustain the right range of temperature, humidity, and lighting to maintain the durability of the fresh produce.

Technology used:
1) Application monitors the humidity, temperature, and UV light sensor data exposed to the sensor connected to the Food Container vessels. When the data is out of range, it sends a notification over Wi-Fi in form of signals. (Uses M2x and Media Labs for the same). The application was hosted on Bluemix – IoT to get the data from the sensor.
2) The application plays a sound when there's movement."
TwitterLCD – "Reading the twitter API, replies with the sensor readings and upload to the AT&T M2X."
pTrackage – "When packages get mishandled, overheated, missing or – worst of all – opened before you receive it, pTrackage can offer the metrics to alert and prepare you. This device can be attached to a box so that periodically collects temperature, pressure, light exposure, and location. All the sender needs to do is take a picture of the package and the pTracker, and send the data to the receiver. This data is sent across a 4G network to the receiver's phone, that can then alert the necessary authorities about the mishandling of the product."
Hub of Internet Things (HoIT) – "Our mobile app aims to solve the lack of interactivity between devices in our world. There are many data sources, but few of them are connected together. HoIT aims to bridge this gap by linking hardware to another (similar to how IFTTT does it for software). By using the Texas SensorTag as input source for data, it is possible to create triggers and actions to automate stuff. For instance, you'll get a sound notification when your toasts are ready through a threshold on the thermometer. "
Smart Weights – "When you are working out, do you ever forget how many reps you just did? Don't your friends believe that you just did 50 reps of 45lb dumbbell curls? Now you can automatically track your workout worry-free! This hardware and app tracks motion during weight lifting exercises and counts the number of repetitions done for each exercise. It connects to your phone via Bluetooth and our app can easily organize and store the data. Bring your workout to the future!"
Rock the Cloud – "Transforming gestures, actions, and crowd texts into professional quality music,"
Hyped – "Hyped is an app designed to aid DJs in hyping up a crowd based on their body language. When party-goers are dancing and making any other shaking movement, positive feedback is sent to the DJ. If they are stagnant or not moving as much, it's a negative vote. The songs will automatically change based on the preferences of the crowd. Ultimately, the goal is to get the energy in the room through the roof."
Mood Analytics – "When a family gets together for a conversation, this app records the conversation. The app uses IBM BlueMix speech-to-text conversation and uses personality insights to conclude overall conversation mood. This mood is fed to the Harman SDK to play songs from the playlist according to the mood."
One Arm Band – "The Internet of Things is all about bringing together people, places and things. In this project, we use our own instrument the 'One Arm Band' to generate notes, the Myo band to control pitch and output a MIDI signal to an iPad to control the instrument. The output is music and a visual projection of music. This project is all about building a synergy and synthesizing what People sound like."
Harman One Song Button – "This app plays just one song continuously on the Harmon.
Launch the app, and it plays the song automatically. It just works"
Thanks to everyone who came out to the event!
Happy hacking,
Ben Nelson
AT&T Developer Program
NAME YOUR COMMUNITY CHOICE APP IN THE COMMENT SECTION. THE WINNING COMMUNITY CHOICE APP WILL RECEIVE $250 IN GIFT CARDS!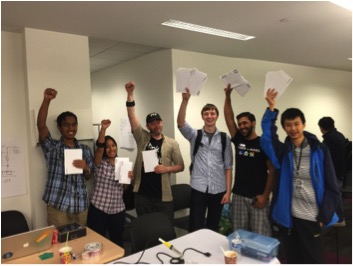 ---
Share this post