Updated: Apr 30, 2015
Published: Apr 30, 2015
Plantronics Guest Blog: WebRTC: Starting Our Journey from Stage Demo to Enhanced Customer Care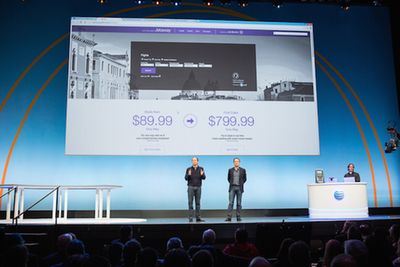 Plantronics is one of the earliest AT&T Enhanced WebRTC beta program participants. As a result, the AT&T Developer Program has invited Plantronics to share their plans for WebRTC and their experiences with the AT&T Enhanced WebRTC API (Beta) directly with you. This is the first in a series of guest blogs written by Cary Bran from Plantronics that will appear over the next few months.
Plantronics has been involved with the WebRTC community for a number of years, so when we learned about the AT&T Enhanced WebRTC beta program we jumped at the chance to participate. For a high quality headset manufacturer like Plantronics, WebRTC means every browser is a potential end point to integrate with – which is great for our customers and great for our business.
Our initial WebRTC work with AT&T was to build a proof-of-concept demonstration which was featured during the Keynote address at the 2015 AT&T Developer Summit. In this proof of concept, we built a mock travel agency website which incorporated click-to-call functionality using the AT&T Enhanced WebRTC API. In short, with minimal help we were able to quickly get a web application up and running and begin prototyping with the AT&T and Plantronics APIs. We found the AT&T Developer Program website had comprehensive information – and most importantly, had easy-to-install code samples that leverage developer friendly node.js.
Currently, as part of a new beta effort, we're working to integrate AT&T's WebRTC offering into our website (http://www.plantronics.com). The goal for us is to provide customers who visit our web property with a support issue a streamlined, WebRTC powered, customer care experience. It is our intent to do this by leveraging AT&T's Enhanced WebRTC service to bridge between the web and our TAC (technical assistance center) with an eye towards further enhancing the customer experience on both ends of the call. In my next blog, I'll share more about this beta effort and the associated demo that we'll be showing at the upcoming WebRTC World Conference in Miami.
Until then, I'd encourage you to take a closer look at this very cool technology that is both disruptive and at the same time, highly complementary, to today's communications technology ecosystem. We're certainly very excited to be working with AT&T to explore its potential!
---
Share this post