Updated: Nov 28, 2016
Published: Nov 28, 2016
Notre Dame Hackathon recap: Mobile apps for tracking weightlifting, studying, and more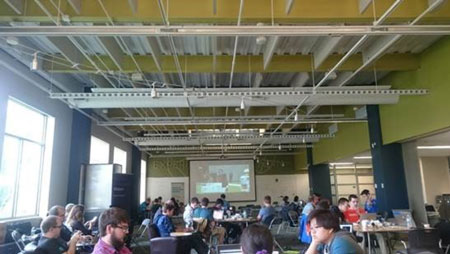 On September 30th through October 2nd we were in South Bend for our annual Notre Dame Hackathon challenging students to code mobile apps and native solutions. We had a great response with over 113 hackers, who came together to code 17 apps that focused on everything from poetry to education to even emojis!
We want to send a special thanks to Innovation Park at Notre Dame for hosting the event plus an evening of workshops to help students hit the ground running. Additionally, we want to thank IBM, South Bend Code School, and Four Horseman Society for providing students with some great workshops and assistance throughout the hackathon.
Our big winner was Noted, a solution that allowed the user to upload PDF notes and create a summary of the notes through the use of key terms using IBM Watson. As a bonus app feature, users can have the notes read aloud to them through the use of text-to-speech functionality.
Another interesting solution came from Raise the Bar, which allows a user to use a gyroscope and accelerometer to track reps in their weightlifting workout. The team hopes to build out the application to help track whether or not your lifting maintains good form, track the intervals between reps, and to hopefully provide information on what equipment in a gym is being used to better inform gym owners of what to purchase.
And now onto the winners:
1st Place Best App Overall

– Noted

2nd Place Best App Overall

– Chat Vibes

3rd Place Best App Overall

– Food Tinder

Best IoT Solution Overall

– Raise the Bar

1st Place Best Use of IBM Bluemix

– Noted

Best Idea/Pitch

– Lighthouse

Most Polished App

– Food Tinder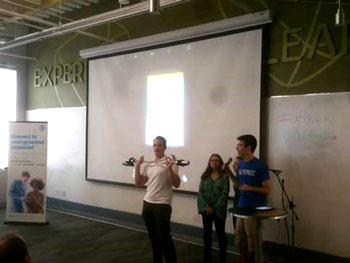 Team Raise the Bar pitching their IoT solution for tracking weightlifting reps.
Notre Dame Hackathon Teams
Read the descriptions below to learn more about all the apps created at the hackathon:
Noted – "Noted is a Django- and Python-based web application that utilizes the Watson API to convert your PDF notes into a convenient and relevant summary. We have developed four unique consolidating algorithms, and use Watson Alchemy to generate relevant keywords and concepts to potentially use in the algorithm of your choice. And if you are exceptionally pressed for time, you can press a button to have the site read the text aloud, or take the audio on-the-go by pressing the call button to have Watson read it to you over the phone on the way to a class. Either way, Watson is happy to help while your peers fumble through that old fashioned 37 page study guide."
D!g!t – "We have developed a way to teach 5th graders calculus–or any quantitative subject. The pedagogy in classrooms – and even new online curriculums – always go through the same linear progression: pre-algebra to algebra, to calculus I to calculus II, etc. with the goal of building on what they think are 'pre-requisite' concepts. In reality, the concept of differentiation or integration is understandable by a 5th grader, that is, when taught GRAPHICALLY. Our mobile application allows students to start graphing the basic concepts of any subject like linear functions, quadratics, derivatives, integrals, business concepts, debt amortization repayment, and more. This innovative application helps students advance at their own pace, use an immersive and engaging tool, and erase fear of dreaded school subjects like calculus."
Dumpster Dunk – "We created our app to gamify taking out the trash."
Fan of the Match – "What kind of fan are you? Plastic or Fantastic? Does the love for your team change if they lose? Or are you a die-hard fan? Let our app decide for you! The app reads your social media post and uses the predictive and cognitive power of IBM Bluemix to find out if indeed you are *THE* fan of the match!"
Who's Home – "Using all the devices already connected to your local network, we keep track of who is home and who isn't, and notify parents of desired changes. Using machine learning, we learn who should be home and who shouldn't, and notify you of any problems. Pets, too!"
Food Tinder – "Choosing where to eat is now easy and fun. Say yes to the food you like, and no to the food you don't. Food Tinder displays a series of images to determine your food preference, and outputs a restaurant based upon your selection. Get out and experience something new in the real world. It's that simple!"
Raise the Bar – "Our Android app is created for exercise tracking and gym management. It receives data via Bluetooth about a user's weightlifting routine and displays the number of reps, the maximum speed at which the user lifted, if the user had good form with minimum tilting, graphs the acceleration of the weight bar that the device is attached to, and also sends this data to a web application. Gym managers can view the information and use it for tracking purposes."
Photo Mesh – "In the past few years, neural networks have become an increasingly popular technology for a variety of applications. One specific use is the stylistic combination of photographs, of which there are a few open source programs. However, while the results of these algorithms can be fascinating, they are off-limits for most people who lack the technical skills to implement them (Linux, Github, deep learning frameworks). Our web app simplifies the process by allowing the end-user to upload two images and receive a completed one back, all without having to spend hours of set-up."
StudyFlash – "StudyFlash is a studying tool that aims to help people learn without a significant time commitment by using the tried and true method of studying with flashcards spread out over short time periods (e.g. use a flash card every five minutes) to reinforce information over an extended period of time. This is done by "flashing" a question on the screen while the user is on the web and working on other tasks. With this app, the user can still study while accomplishing any other tasks they need to do. This can integrate learning and studying into the user's day, helping combat procrastination."
Text Analyzer – "Our application collects data about a user as they type. This data can be used to identify a user based on their typing habits. The application tracks average time between various combinations of keystrokes. The application features mode occurs when a user answers a prompt so the app can gather typing data. With that information, the app will then output the name of the user it believes is typing. The app also implements this functionality in a password field, where it will not authorize access to a user unless the typing data matches, even if the password is correct."
Double Up – "Double Up is a dating app for singles who want to enhance their dating life. It allows you and a friend to match and set-up a double date. The group has the ability to vote for a location and time and use the message center to communicate with the members of the group. IBM Watson enables speech-to-text and mood detection in the conversation and displays an emoji accordingly."
Chat Vibes – "Our App uses IBM's Watson to analyze and predict the tone of Slack Messaging Feeds. It allows you to enter any conversation and Watson will analyze the current mood of the feed and each of the individual users. We are attempting to dissolve the social ambiguity in virtual chatrooms with the super computing power provided by Watson. Our app solves one of our generation's most prevalent problems, 'which emoji do I send?'"
Turbo Tutors – "College is supposed to be first and foremost a place of learning. It's not easy, but the rewards of succeeding are simply stupendous. We wanted to come up with a way to help students who may feel overburdened by challenging classes. We saw a need for a quick, easy, and user friendly way to get these students assistance and guidance. Many of the solutions available today are either heavily structured or take time to setup, such as sending an email to your professor to set up a meeting. These solutions don't necessarily help the night before a major exam when you simply can't figure out one of the big example problems. Turbo tutors allow students to instantly connect with tutors when they need help at a time that is convenient for both parties. We hope this will be a valuable resource for students and aid them through an often strenuous college life."
Lighthouse – "Lighthouse provides navigational service to the visually impaired, helping them get around from place to place, like getting to work. It gives them turn-by-turn walking directions, and ensures that they reach the next turn by gently reminding them if they begin to deviate from the path."
Poetry Everywhere – "Poetry Everywhere uses the IoT to bring crowd-sourced art to non-traditional spaces and broader audiences. It is a low-cost, easy-to-install, and simple app that uses a Raspberry Pi to allow anyone's poems to be read in a wide-public forum. Most people think of the IoT as allowing sensors to send data to the crowd, but I've taken the other approach and am using the cloud to broadcast out to devices anywhere to make the world a more beautiful place."
Pickcel – "When I browse online or scroll through my Facebook or Instagram feeds, I often see photos of beautiful places I would like to visit. Currently, there isn't an app that easily allows me to save the image to a personalized bucket list of destinations. Our idea is to build a solution for this common need, creating an app that serves as a repository for bucket list photos. This app would utilize Watson visual recognition to identify photos with unknown locations and provide recommendations based on a crowd-sourced database. These bucket list images would be organized by location and serve as a means to unify your images and ensure you hit your desired destinations when traveling."
---
Share this post