Updated: Aug 08, 2014
Published: Aug 08, 2014
New Mobile Development Best Practice Recommendation
The AT&T Developer Program recently released a new Best Practice. Here is an overview by Bill Weir:
The AT&T Developer Outreach team is always looking for new ways to support mobile developers, improve mobile app performance and the mobile user experience. We do this by conducting research, talking to developers, testing apps, conferring with the AT&T Labs, and offering recommendations based on our work.
Our latest recommended mobile development Best Practice is on Image File Compression. It advises developers to reduce graphics files to the smallest size possible while maintaining acceptable quality.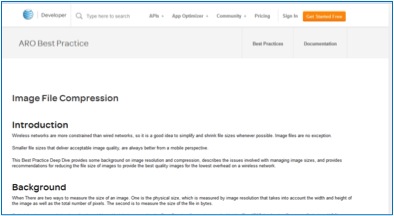 This new Best Practice follows earlier recommendations, on optimizing image resolution for mobile devices by adjusting width and height, covered in the Best Practice Resize Images for Mobile and reducing the size of text files, covered in the Text File Compression Best Practice.
In past years, reducing image file size was standard practice for both software and web developers. In fact, it was often required in order to get them to load. As bandwidth and latency improved, some of that earlier attention was relaxed. Developers might reduce the size, but they do not always work to get the file size down to the lowest minimum possible without losing quality. However, due to increased latency when combining wired networks and wireless networks, mobile developers need to get back to that earlier discipline.
It seems like everything old is new again.
There are many tools available for compressing image files. And there are different approaches too. The key is that you focus on making your images as small as possible without losing acceptable quality.
We are working on a new feature for ARO that will test for image file compression. Look for that later this year.
---
Share this post