Updated: Dec 29, 2015
Published: Dec 29, 2015
New at the 2016 Developer Summit "The Passport Challenge"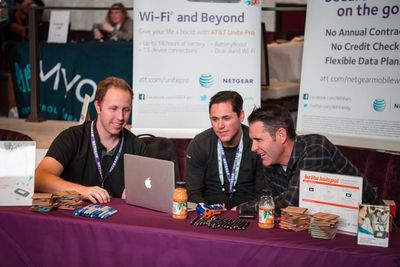 We know there are few things in life that bring as much pleasure as traveling, that's why we decided to introduce our new "Passport Challenge" at the 2016 AT&T Developer Summit and Hackathon. We have a lot of great things to give out this year, and we wanted to be sure to reward our loyal attendees with great prizes for participating in the provided events and mingling with our great sponsors.
What is this challenge?
The Passport Challenge is two parts, meaning TWO chances to win some amazing prizes. The first one will be the Hackathon Passport Challenge, and the second is the Summit Hackathon Challenge. You may participate in both challenges, however, be sure to turn-in your respective passports on their individual due dates.
How do I participate?
Participation is simple. Begin by filling out the front of your passport with your best contact details, and then attend the event and/or hackathon. Be sure to get stamps for all items in your passport booklets from all of the great sponsors, demos, and events you participate in or attend. You can earn stamps by visiting one of our great sponsor's such as Qualcomm, Technicolor, PLT Labs, etc., going on a pub crawl, and attending training sessions.
How do I win?
We will be choosing 15 winners for each challenge and the winners will be announced at the end of their respective days. Be sure to turn in your Hackathon Passports to the Registration Lounge in Addison by 6pm on Sunday, January 3rd and your Summit Passports to the Developer Lounge in Addison by 5pm on Tuesday, January 5th. The hackathon winners will be announced at the Hackathon Wrap Party and the event winners will be notified via email and announced at Rain.
Participation is completely complimentary and if you still need to register, please use promo code "Passport" at checkout. For more information on how to navigate the event, please see our Survival Guide and Indispensable tips. We look forward to seeing you next year at the 2016 AT&T Developer Summit and Hackathon. To learn more about devs experiences at hackathons, check out the Developer Showcase. Have any advice for fellow attendees? Be sure to let us know in the comments section.
We are broadcasting live at #ATTDevSummit on Periscope January 2nd – 5th. Just follow us on Periscope (@attdeveloper) to join the fun.
---
Share this post