Updated: Sep 20, 2011
Published: Sep 20, 2011
Native+Web Hybrid App: HTML5 & JS in Mobile Apps and The Shift in Web Server Strategy with the New LinkedIn Mobile App
The new linkedin.com app does a great job of showcasing what is possible with HTML and how slick a mobile app can be. The app underscores an interesting concept that I have been promoting which is that the proliferation of mobile apps will decrease server requirements for heavily trafficked sites. With mobile phones, you can order pizza and buy movie tickets all through an app. This app enables a business to shift a certain portion of its business off of their main website and reduce the capital expenditure on servers because your website is essentially already on the phone of your customer.

In a recent interview, Linkedin's head of mobile development, Kiran Prasad, mentioned that "the way our mobile web app works is it's all rendered on the browser side. The value of that is you send less data back and forth, so it's much faster." The core of this insight is that back-end infrastructure doesn't have to be as complex if you can get a portion of your users to shift onto a mobile app.

On the flip-side of the coin: will these apps have an effect on your site traffic? You betcha! If you don't already use Yelp's mobile app, download the Yelp mobile app and notice how you can't post a review from only your mobile phone. Odds are that they monetize their website because of traffic and they force you to log into their website to complete your review so that they can keep their numbers high. As a strategy for nascent companies, mobile only or mobile/website presents an interesting proposition because of reduced server load and thus reduced headcount for server-type gurus.

As for the linkedin.com app, make sure to go download the application and pay attention to the richness of the design as well as how smooth the interface is. The app sets the bar high and really shows how the latest opensource javascript libraries (backbone.js, underscore.js and Zepto.js) can be used to weave together a top notch interface that is as good as a native app. Better yet, the entire app is less than 50k when zipped, even with all of the great functionality. Here are a couple of screen shots of the new app: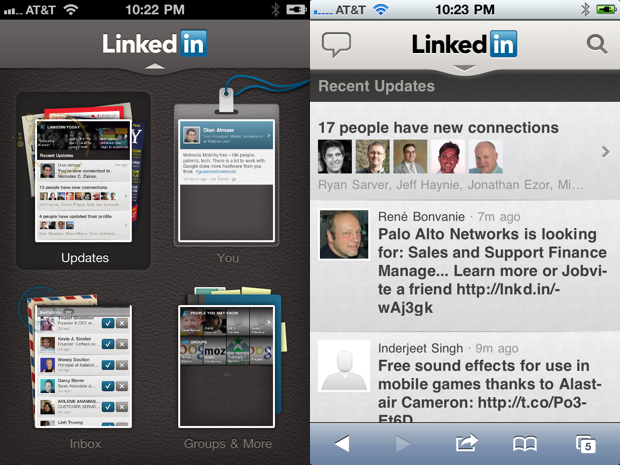 From a cross platform stand point, Linkedin.com chose to go with this hybrid approach so that they could re-use their code across the different smartphone platforms. Since most smartphone browsers are based on Webkit, this approach can dramatically speed up development for these different platforms.

Additionally, linkedin.com deployed the Node.JS as the back-end server and was able to reduce the number of servers from 225 virtual servers down to just four (4) virtual servers that handle double the traffic. The reduction in the number of servers is staggering, so here is the link to the article where I am quoting this from (http://venturebeat.com/2011/08/16/linkedin-node/) and make sure to do some digging yourself. I am currently trying to get a hold of Kiran and will update when I can confirm these numbers myself.

In the meantime, let me know your thoughts on native + web apps, mobile app strategy and node.js!

Resources:
---
Share this post