Updated: Oct 16, 2015
Published: Oct 16, 2015
Mobile App Created at Atlanta Hackathon Turns Walking Path into Interactive Experience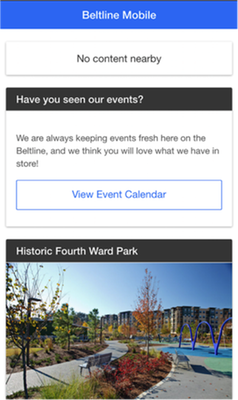 Guest post by Steve Bussey, a Software Engineering Manager at SalesLoft
Midtown Atlanta is defined by Piedmont Park; there is something special seeing the people there each weekend. A recent addition near Piedmont, the BeltLine, is a rails-to-trail walking path that has attracted people, art, food, and culture. As I have walked it many times, I always thought it would be great to have a mobile app experience connect people to their surroundings. The AT&T IoT Hackathon at The Foundry in Atlanta gave me a chance to try building this idea.

I've had these awesome Gimbal beacons for a while, but no use for them. I quickly realized they are the key to connecting people to things. Placing beacons around the walking path could craft the user's experience for their location in a way that won't kill their phone battery.

A plan was drafted for a feed-style system where content is pushed down to users when they pass a beacon. By using the Ionic Framework, I quickly had a mobile app on my phone that would ping me when I came in/out of beacon range. I remember leaving the hackathon super excited, and talking about how cool it was that the beacons worked!

The next day, I was at the point of developing the actual application on top of the beacons. This involved an online server, lots of code, and thinking about how to store the data that will be pushed down to users. I saw that AT&T was promoting an IoT product I had never heard of, M2X. Looking into it, I realized it is a pretty cool platform for managing devices and collecting streams of data. This didn't really suit me, however, as I needed a place to store a single blob of JSON data. Thinking quickly, I realized I could use the description field of a device and put JSON data in it. By doing this, I could put the JSON dump of a beacon on M2X and serve it in my application! After a quick prototype and some changing of my original plan, I had a working application that pushed content when I came close to a beacon!

All of this could have happened without a hackathon, but it didn't. The idea sat stagnant for months until the right opportunity was finally presented to me. Really cool things are possible with the smallest motivation and a two-day deadline, so get out there and hack!
About the Author:
Steve Bussey is a Software Engineering Manager at SalesLoft. Don't let his manager title fool you! He spends the majority of his time coding, and loves to get back to his roots at hackathons, where he can utilize his specialty of building MVPs quickly to solve problems for businesses and people.
---
Share this post