Updated: Aug 11, 2015
Published: Aug 11, 2015
Malaysia Developers' Day Helps Asian Innovators Make the Most of the Internet of Things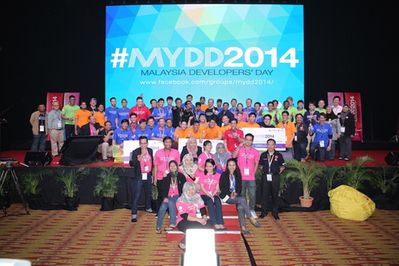 By Carlton Hill, Vice President, Device Operations and Developer Services, AT&T
The Internet of Things (IoT) promises to improve our lives through a world of connected devices we can control with a mobile device. But the IoT revolution is still in its infancy worldwide. What new app will be the next big thing in IoT? And who will create it?
This year's Malaysia Developers' Day will give innovators from across Asia the tools, knowledge and support they need to make the most of IoT. The challenge will be to use IoT technology to build a new app for Connected Life, Connected Car or Connected Home in just 24 hours.
Organizers with AT&T and the Malaysian Communications and Multimedia Commission will make sure the developer teams that come together in Kuala Lumpur on Aug. 27, 2015 have everything they need to quickly create new apps. This includes the AT&T M2X IoT development platform, which offers powerful tools and cloud-based data storage. They'll also provide advice and encouragement from visiting experts – and plenty of snacks and drinks, of course.
Last year, more than 120 people joined the 2014 Malaysia Developer's Day. The mix of veteran developers and first-timers created 21 new app ideas in just 24 hours. They displayed promising talent and innovation. I can't wait to see what happens this time.
Anyone considering joining this year should remember that energy and creativity are more important than the technical skills you take in. There will be lots of learning opportunities during the event. Teams need a range of talents to succeed. Those that include people with technical, marketing and business backgrounds often do well.
The key is to be bold and think out of the box. Drawing on a variety of careers and cultures, your team will have a good chance of creating something amazing. Focus on a pressing issue you want to tackle. Don't hold back or limit your thinking. And once you've come up with your big idea, get going. You only have 24 hours to create your new app, so teamwork and time management are crucial.
This year's teams will have a chance to win cash prizes worth US$13,000 (~MYR49,400), Nanodegree scholarships worth US$20,000 (~MYR76,000) from AT&T and Udacity, and mentoring from Southeast Asian seed fund Golden Gate Ventures.
Everyone who joins this competition will gain valuable new knowledge and the chance to extend their network of friends and business contacts. Being in an environment that celebrates innovation and collaboration can help spark new ideas and energize your current projects. We also see this as a way to strengthen the developer community in Asia to drive innovation in the region as the IoT revolution continues.
Malaysia Developers' Day is going on for its third year. It will be at the Kuala Lumpur Convention Centre from 9.00 a.m. on August 27 to 5.00 p.m. on August 28, with winning teams invited to present their apps at the KL Converge! gala dinner on August 29.
To register, visit: http://soc.att.com/1FNPq02. We hope to see you there.
---
Share this post