Updated: Mar 13, 2013
Published: Mar 13, 2013
Keeping Austin Weird AT&T Style!
SXSW Interactive is definitely a conference to bookmark on your calendar every March. Developers have several options available to them throughout the 5 day conference (March 8th-12th this year). Here are a few highlights from SXSW Interactive 2013:
AT&T Mobile App Travel Hackathon
The AT&T Developer Program team conducted our 2nd annual hackathon in conjunction with our friends at American Airlines. The event was invite-only for 100 developers from the US and abroad. With $10K and 25K AA miles at stake for the winning team, developers had approximately 30 hours to break up into teams and build a travel application. Devs were required to integrate AT&T's Location Information Services API along with American Airlines' API into their apps. Along with AT&T and American AIrlines, we also had co-sponsors who were exposing their APIs, including Hertz, Nekomimi, Trip Advisor, dot CO, and Voice Park.

The quality of the apps to come out of the hackathon were amazing. To get a complete rundown of all of the apps, including the winner and finalists, check out the
SXSW Hackathon Blog here
.
SXSW Interactive Accelerator
Every year, SXSW runs the SXSW Accelerator, where the year's freshest startups launch their ventures before a panel of judges comprised of industry professionals. The three-day competition allows startups to take the stage and pitch their wares in front of the judging panel, VC's, media and bloggers. SXSW Accelerator brings in entrepreneurs representing multiple technologies including News, Social, Mobile, Innovative Web, Entertainment and Gaming, Music, and Health. 48 companies showcased their ventures on Monday, and 18 finalists were selected to participate during the Tuesday sessions. Check out sxsw.com/accelerator for more details about participating companies and get the skinny on the finalists and winners.
If you're interested in participating in SXSW Accelerator 2014, stay tuned to the SXSW Interactive website over the summer for more details on how your company can be involved.
SXSW Interactive Show Floor, Panels and Sessions
Attendees are definitely encouraged to walk the conference show floor. Developers looking for cloud solutions, mobile marketing and analytic solutions, and more are all available in the Austin Convention Center Main Hall. Just checking out some of the cool new apps and technologies being showcased from companies around the world was worth the stroll. In the spirit of keeping Austin weird, it was commonplace to find exhibitors with crazy attention-grabbing themes (i.e. Check out the scary harp-playing Cupid!).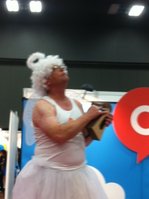 The speaking sessions and panels are aplenty at SXSW. If you timed things correctly, you could catch sessions from speakers such as Bill Gates, Al Gore, Shaquille O'Neal, Dave Grohl, or Matthew
McConaughey,
just to name a few. Google had a deep-dive session on Google Glasses and a preview of their API and some of the initial apps being created.
AT&T Presence @ SXSW
In addition to our Mobile App Hackathon, AT&T was one of the premier sponsors of SXSW 2013. Not only did we have charging stations at numerous venues around the event, but we also had a pretty cool "AT&T Teleporter" themed booth where attendees could "teleport" to several cool locations around Austin, all with the simple push of a button!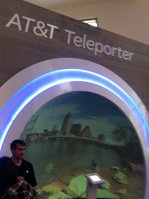 Food Trucks and 6th Street
SXSW and Austin are great for both foodies (amazing food trucks and restaurants), as well as keeping hydrated at numerous establishments on the world-famous 6th Street. Definitely worth checking out!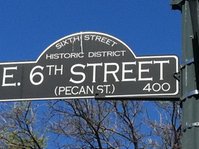 I highly recommend that attendees of SXSW Interactive check out the concert and film schedules and plan their trip accordingly. So on top of participating in hackathons, meeting with VC's, and networking parties aplenty, there are a plethora of amazing concerts and movies to take in at the SXSW Film and SXSW Music events. Savvy attendees can go the entire event without having to purchase food or drinks by planning around all of the free events that going on throughout the conference.
All in all, SXSW is always one of my favorite annual events to attend and one I highly recommend!
---
Share this post