Updated: Dec 11, 2015
Published: Dec 11, 2015
Just another Manic Monday… Don't miss your chance to see Kevin Spacey, Robert Scoble, or T.J. Miller
We know you'll have a great time at the 2016 AT&T Developer Summit Hackathon. The fun and learning is just getting started at the Summit on Monday, January 4th. We want to be sure you have a chance to attend the events and sessions that are most important to you. Many of them will be occurring simultaneously and have limited seating, so you'll need to sign up in advance if you want to secure a spot. Some of the events that occur simultaneously include:
10AM – 3PM Technical Training: These are free training sessions that occur simultaneously, so you can only sign up for one. Choices include Swift, JavaScript, Qualcomm, Enhanced WebRTC, and AT&T M2X.
10AM – 3PM Mentorship: We've lined up three great mentors to speak with you individually. The session lasts 15 minutes, so you can easily step out of technical training to meet with your mentor.
1PM – 2PM Futurecast: We're bringing the popular program we host throughout the year to the Summit. This Futurecast is a talk with tech evangelist and author Robert Scoble.
To sign up for a technical training session, an appointment with a mentor, the Futurcast, to see Kevin Spacey speak, or catch T.J. Miller's comedy show you'll need to add those options during the registration process. For those of you who have already registered, you can simply go into your existing registration and select the options that interest you most.
Monday Schedule at a Glance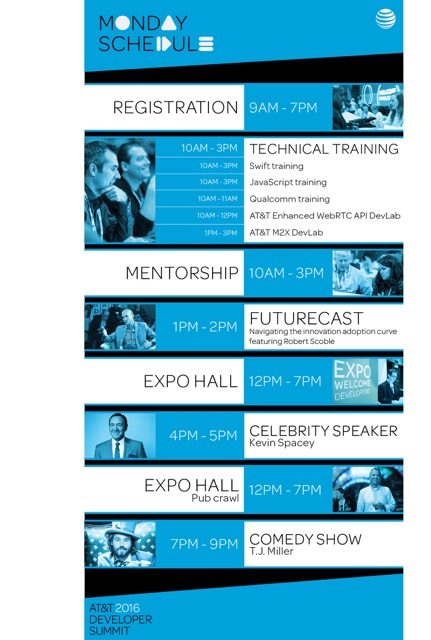 We'll be broadcasting live at #ATTDevSummit on Periscope January 2nd – 5th. Just follow us on Periscope (@attdeveloper) to join the fun.
---
Share this post