Updated: Apr 01, 2016
Published: Apr 01, 2016
Join us at the V4 Hackathon in Prague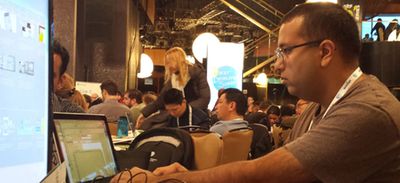 On 22-23 April 2016, AT&T and the Czech Telecommunications Office (CTU) will host a hackathon in Prague to encourage entrepreneurs to create innovate apps. Winners will split cash prizes worth US$15,000.
The hackathon is open to developers and non-developers. The mission? Create new apps to harness Connected Life in 1 of 4 categories—in just 24 hours:
Smart Cities App Challenge: Use AT&T and sponsor technologies to improve the efficiency of city services. Address issues in parking, resource management, and community engagement.
Education App Challenge: Use AT&T and sponsor technologies to create an impactful education-focused app that focuses on enhancing learning in school and/or at home.
Best Use of the Czech Republic's Open Data: Using open data from the Czech Republic's government sources.
Best Use of Open Source by CZ.NIC: Using open source framework with the Czech Domain Name Registry – CZ.NIC.
Cash prizes total US$15,000. The first place winner will receive US$10,000; the second place winner will receive US$2,000; and the third place winner will receive US$1,000. The contestant judged "Best use of the Czech Republic's open data sources and best use of CZ.NIC's open source framework" will receive US$1,000.
Five randomly selected contestants will split US$10,000 worth of Udacity online Nanodegree courses, created by Udacity in conjunction with AT&T (see, https://www.udacity.com/nanodegree). Winning teams will also receive mentoring from CZ.NIC, Credo Ventures, and Y Soft Ventures.
The hackathon will take place at the Orea Hotel Pyramida in Prague. Registration begins at 9.00 a.m. CET on April 22 and the event will end at 6.00 p.m. CET on April 23, during which contestants will have 24 hours to create their apps. To register online, visit: http://v4hackathon2016.eventbrite.com.
The CTU and AT&T V4 Hackathon is the first event of its kind held in the Czech Republic by the two host organizations. The hackathon will provide contestant teams various tools to create new apps. Contestant teams will also have access to the AT&T M2X IoT development platform. It offers a toolset to quickly create and refine prototypes, and cloud-based data storage to help collect, analyze and share IoT data. Tech experts will also be at the event to lend support.
---
Share this post